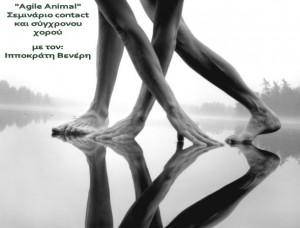 Ippokratis Veneris (Born and grow up at the village of Knossos in Crete-Greece lives in Rome Italy)
– In 2011 he collaborated with the UNIVERSITY OF ROME "Roma 3", department: "Philosophy of Education" giving lectures about "Pedagogy, C.I. and personal researches on teaching".
– In 2009 and 2010 he received an open scholarship in Brussels (PARTS-ROSAS Dance Company) and in Rome by the region of
Lazio to proceed with his research. His original works ("Buongiorno Amore", "Afroditi", presented at Olympic theatre and Theatre Greco) combine together elements of theatre and dance.
– In March of 2014 he was a guest together with Giulio Tremonti (former Italian Minister of Economy), Romano Prodi (the former Italian prime minister and former president of the European community), Ermanno Olmi (film director) in the TV show "the wind whistles" of Gad Lerner for Repubblica television and for the art channel Effe tv (link of the program: http://video.repubblica.it/dossier/fischia-il-vento/fischia-il-vento-no-euro-all-assalto-i-popoli-e-l-unione/162205/160696  The program finish with the interview at Ippokratis Veneris 
– Has collaborated -teaching and making shows of improvisation- with the Italian National Organization of Theatre.
-Is the artistic director of the Jam of Arts festival.  A festival that includes many kinds of arts and is going on twise every year (in Greece every August www.jamofarts.com  and in Italy every January www.romacontact.com/eventi/winter-jam-of-arts-2015)
– Teaches regularly twice a week Contact Improvisation developing his own method.
– Teaches in various places around Europe.
– Has collaborated with Roberto Castello-Aldes for "Narrate" premium UBU as the best dance theatre production of the year in Italy and many others.
– In 2012 decided to stop making shows and concentrate his energies on the research about the human nature and the wisdom of our bodies.
– Co-founder of CORE An association of choreographers of central Italy to promote the rights of the live performing arts
– Co-founder of RomaContact. A collective of dancers who promote and give shows of improvisation and Contact Improvisation.
– Organized many events of art and workshops inviting teachers from all Europe.
– Lives in Rome where graduate at school "l'officina" where study release technique, Dupuy technique, contact improvisation, instant improvisation and composition.
– As a choreographer, dancer and improviser has organized and participated at different events, in the last ten years.
– Has studied for 5 years classical quitar at the conservatorium of Iraklion  
– Has studied Sociology at the university of Rome "La Sapienza"  
– Has studied with many choreographers and participating at numerous workshops of dance, physical-theatre, contemporary dance, choreographic composition and contact improvisation with: 
Jordi Cortes Molina (DV8 company)
Simone Forti (dance-theatre and voice improvisation)
Yasmeen Godder (winning of scholarship in order to study deeper to her job)
Julien Hamilton (dance-theatre and improvisation)
Emma Dante listener to the  physical theater laboratory "the dogs of bancata"
Emio Greco & PC (contemporary dance)
Julian Stanzak (Pina Bausch company)
Daniel Lepkoff (contact improvisation)
Russell Maliphant  
Andrew Harwood (contact improvisation and improvisation)
Norbert Kliesch (company Sasha Waltz)
Genadi Abramov Co-founder with Anatoli Vassiliev of the "School of dramatic art of Moscow"
Patricia Kuypers (improvisation and composition)
Vera Mantero (contemporary dance and dance theatre)
Jess Curtis (contact improvisation – release technique)
Thomas Kamp (feldenkrais)
Khosro Adibi
Rick Nodine
Eszter Gàl
Giorgio Rossi (contemporary dance – dance theater)
Ray Chung (contact improvisation)
Jovair Longo
Ka Rustler (Body mind centering and contact)
and others.
http://www.statcounter.com/wordpress.org/" target="_blank"> alt="wordpress stat" border="0″/>A"http://c.statcounter.com/4006199/0/c474cb1b/1/" alt="" /> alt="wordpress stat" border="0″/>A wordpress.org/" target="_blank">

 alt="wordpress stat" border="0″/>A