In the last 8 years contact improvisation and improvisation became my new source of inspiration.
It all started with me meeting kirstie Simson with whom I performed quite on a regular basis (London, Copenhagen, Italy). I have been influenced a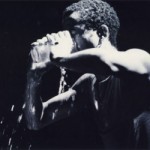 nd inspired by exploring, studying and dancing with teachers such, K.J. Holmes, Andrew Hardwood, Julyen Hamilton, Charlie Morrissey, Lloyd Newson(DV8), Martin Keogh, Nita Little, Keith Hennessy, Adrian Russi among others.
For me the body is the perfect environment for exploration, for it reflects so well our current state of being and the society we're living in. Improvisation and CI are great tools to get in touch with all these different aspects.
The awaken state in which we ought to be in order to achieve the "moment" within our dance is the reason of my current interest in improvisation as a performing art. The honesty and vulnerability of such exchange between performer and audience. Both of them facing the unknown.
Once, while working with Charlie Morrissey and Adrian Russi on "Moving Men" I was asked what was my thought on improvisation and this was my answer:
"Improvisation allows me to be in the moment and to face my fear of the unknown.
There is a feeling of fullness in time and space.
I don't feel the need to please the audience or myself but I am simply responding to what is given to me in that moment.
Preconceived ideas are instantaneously being dissolved by constant change.
The combinations and possibilities are endless;
It could be called freedom."
Jacky Miredin
Right now I am mostly teaching workshops and taking part in festivals over Europe and Italy. I am performing with RomaContact and whenever the opportunity arises.
This year I am as well in the making of my first solo work on myself "No man's land"
for contacts: +39-333-8461942
jeanhugues1@gmail.com
www.jeanhuguesmiredin.com