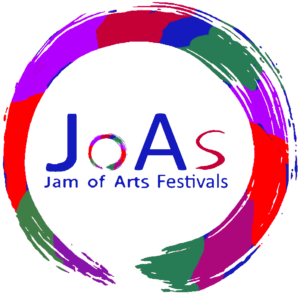 9th Rome's New year Winter Jam of Arts 2022 – 2023!!
First event: 27-28-29-30 December
Second 30-31 December  1-2 January
Third 2-3-4-5 January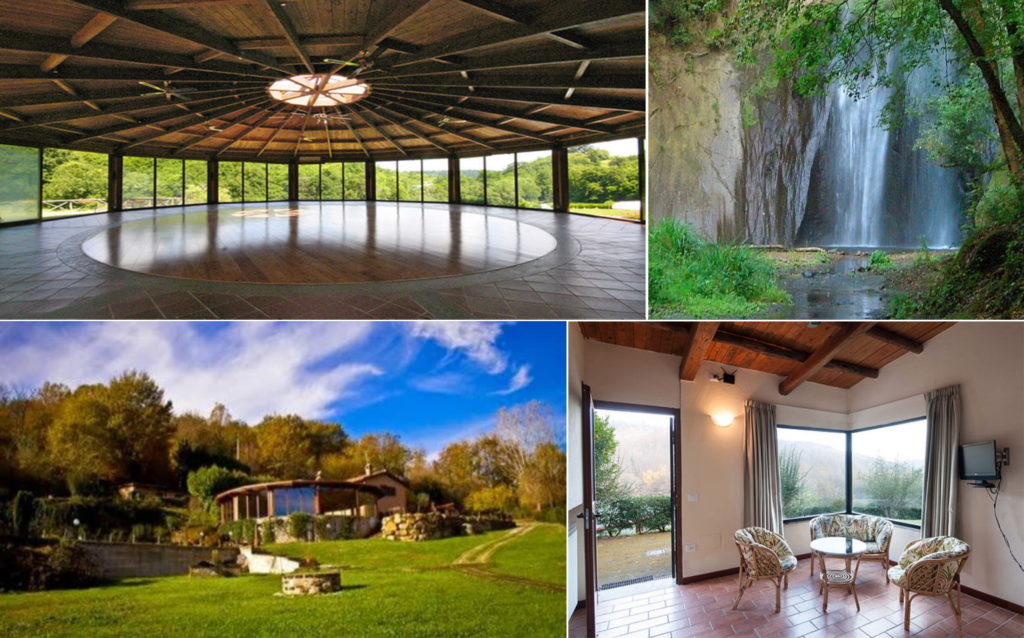 Hello to everyone!
We are very happy to announce you the 9th edition of Winter Jam of Arts 2022-2023 festival in a wonderful farm in north Rome, surrounded by a big forest, springs, cascades, ancient roman bridges, a cave and much more!
The farm is full of energy! For more informations and photos about this wonderful place see below!

The event includes labs of Contact improvisation, of Boby Mind Centering, of Somatics, of Harmonic song, of Indian and sacral chants, of experiential anatomy, of Feldenkrais, many jams, live music and plenty of traditional Italian and vegetarian food!
You are all invited to dance, sing, relax, connect with the nature, meet people from all around the world and improvise!
The festival will be on 27 December – 5 of January and is composed by 3 events,
First will be  27 – 30 December 
Second 30 December – 2 January
Third  2 – 5 January.
You can participate to one, two or three events!
The event includes:
– 30 hours of lessons
– More than 72 hours of jam in the 2 dance rooms
– Live music.
– Excursions in the nature.
– Big, well heated apartments and dormitory.
– Traditional Italian and vegetarian food.
The teachers are: (see below curriculum of teachers and musicians)
Marisa Brugarolas (Spain)
Mauro Tiberi (Italy)
Ippokratis Veneris (Greece)
Mariella Celia (Italy)
Elena La Puca (Italy)
Marta Iucci (Italy)
Musicians:
Mauro Tiberi
Note: We remind you that  booking in all previous festivals filled up quickly, and we had a waiting list of people who unfortunately we could not accept so we recommend you to book in time!
(Some short videos of last end of the year festival)
Waiting for the dinner!!!..
In line to have the meal..
eee
Arrival:
From Rome Fiumicino Airport and from the center of Rome trains depart every 30 minutes. The journey takes about 55 minutes and the railway station is close to the farm.
Ticket travel advice's: If airplanes becoming expensive, good alternative ways to come to Rome are: night trains, Flixbus, Blablacar.
ooo
Note: To participate to the festival you don't need to be dancers or artists since the idea of the Jam of Arts festivals is aimed to people who want to experiment with arts and movement, regardless having or not prior experience. The goal is to explore different skills and capabilities that exist within us, study various disciplines and enjoy!
Hall 1   –   (heated floor – 200 square metres)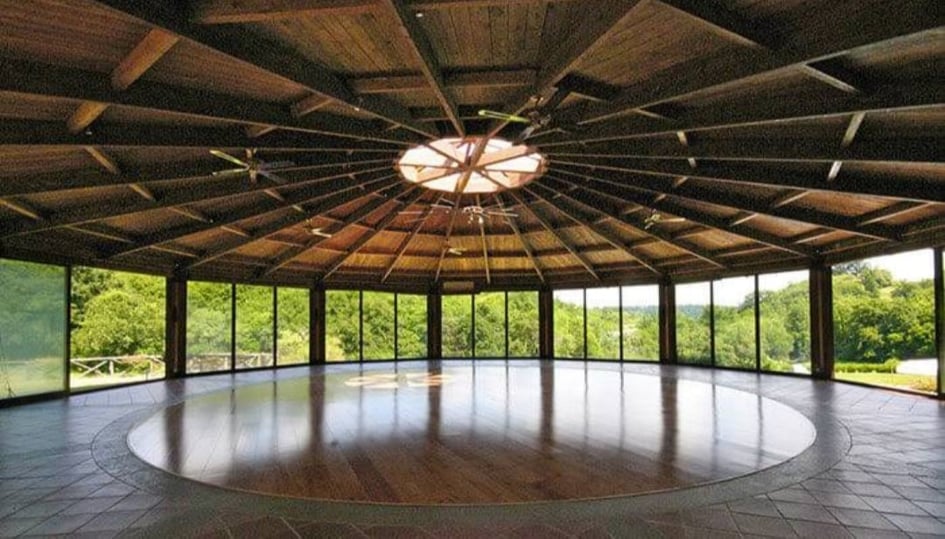 ikkkkkkkkkkk
Hall 2   –   (heated – 80 square metres)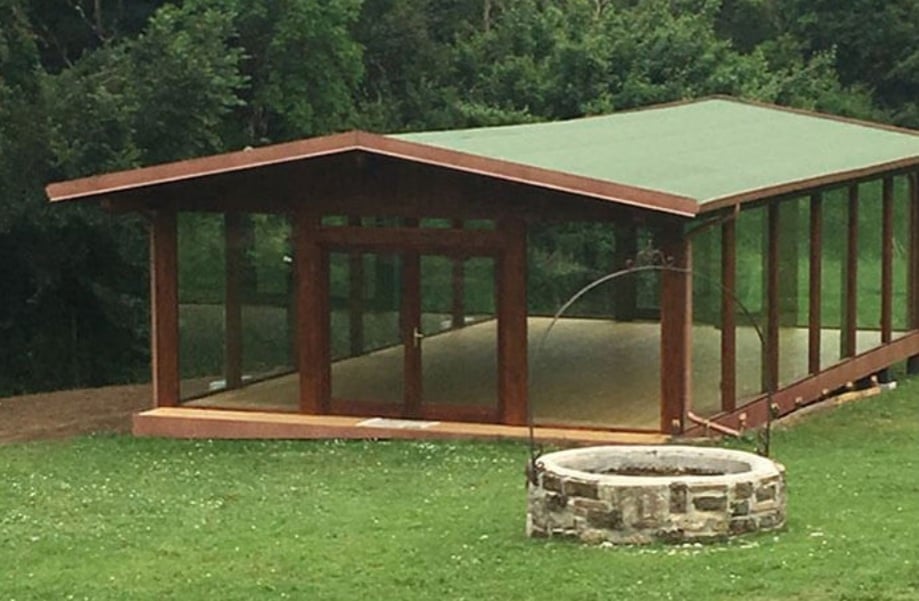 kokikko
Theatre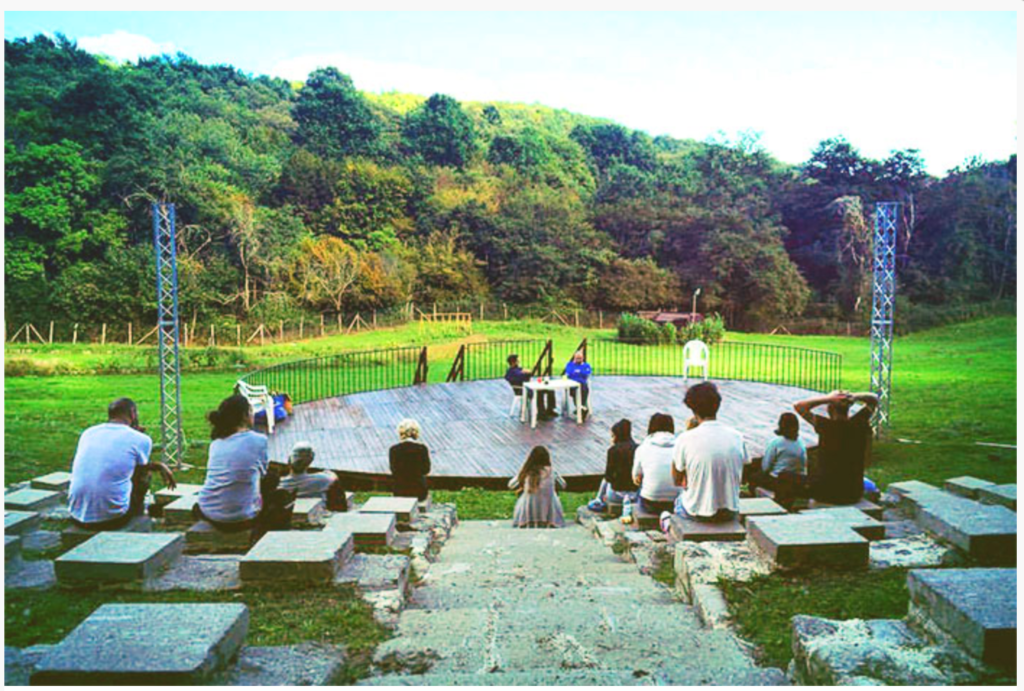 Program
Event 27-28-29-30 December
Tuesday 27 December

Wednesday 28 December
Thursday 29 December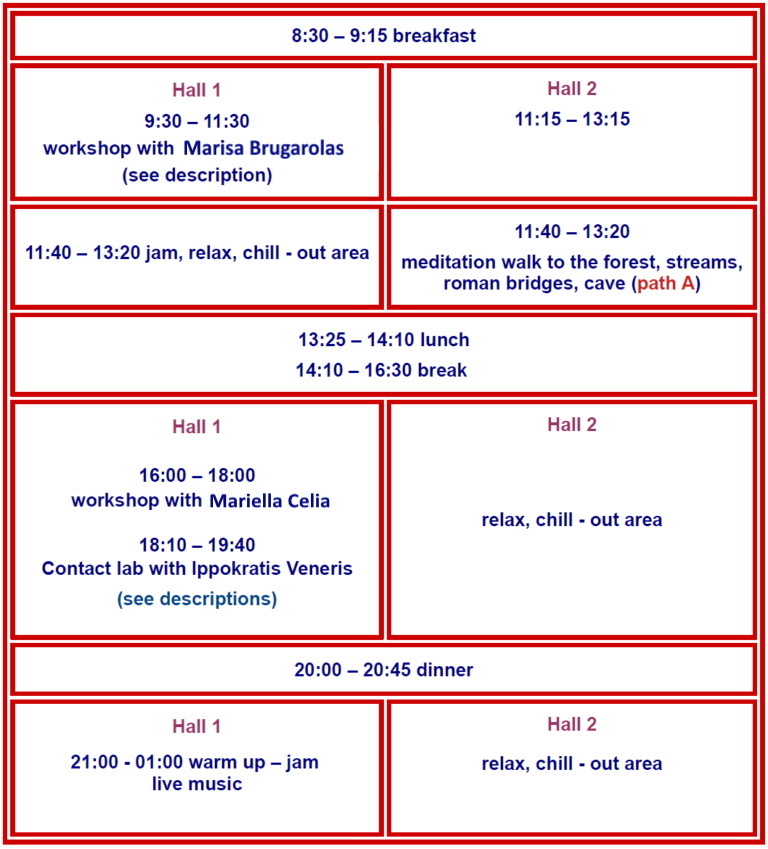 Friday 30 December

Event 30-31 December 1-2 January
bbbbb
Friday 30 December

Saturday 31 December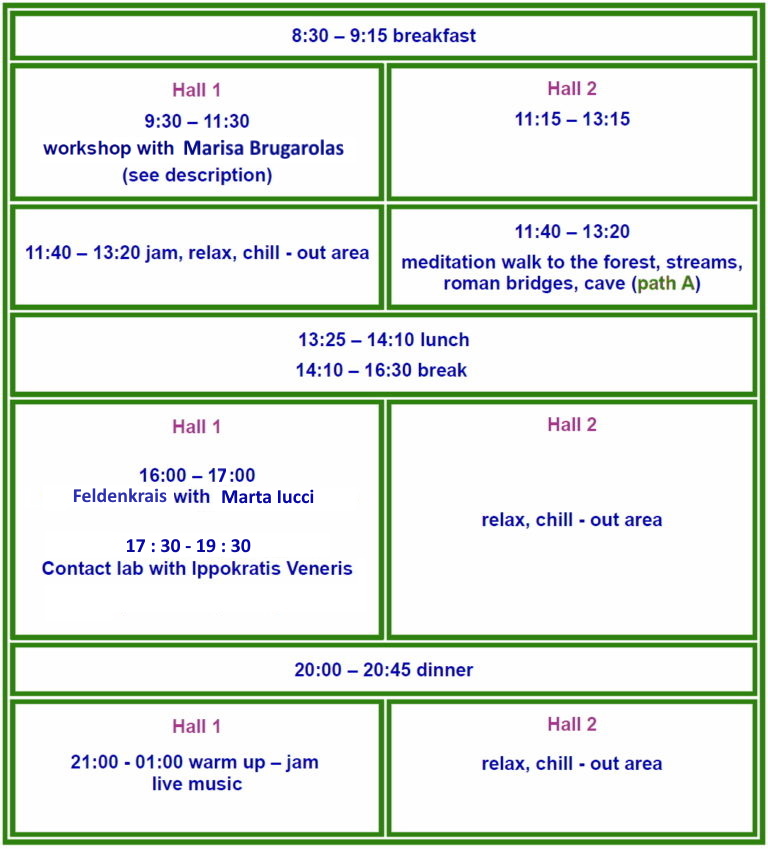 Sunday 1 January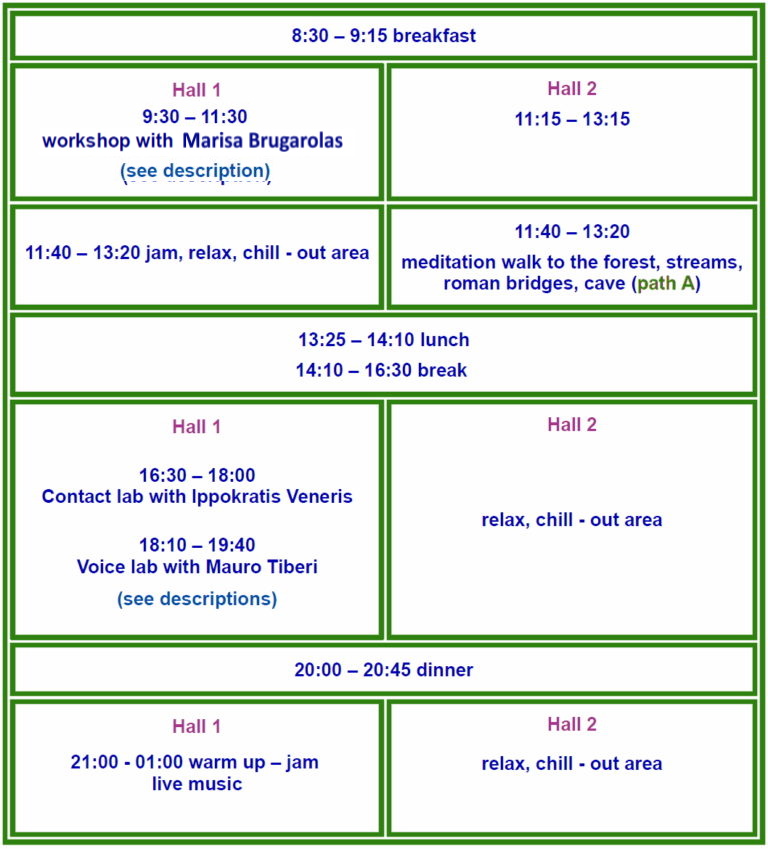 Monday 2 January

Event 2-3-4-5 January
Monday 2 January

Tuesday 3 January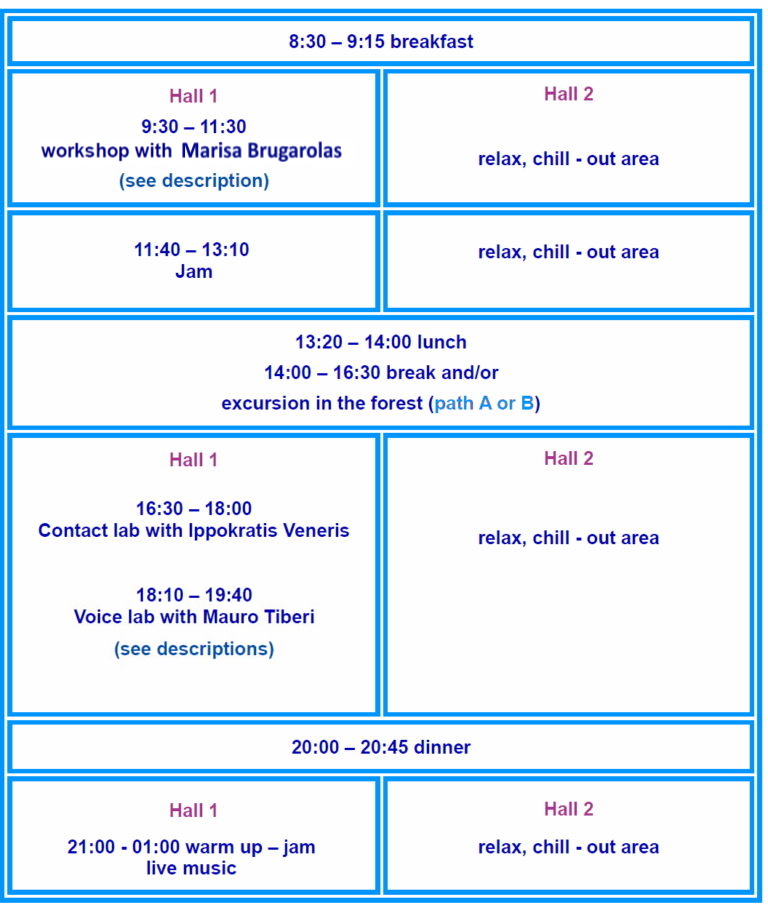 Thursday 4 January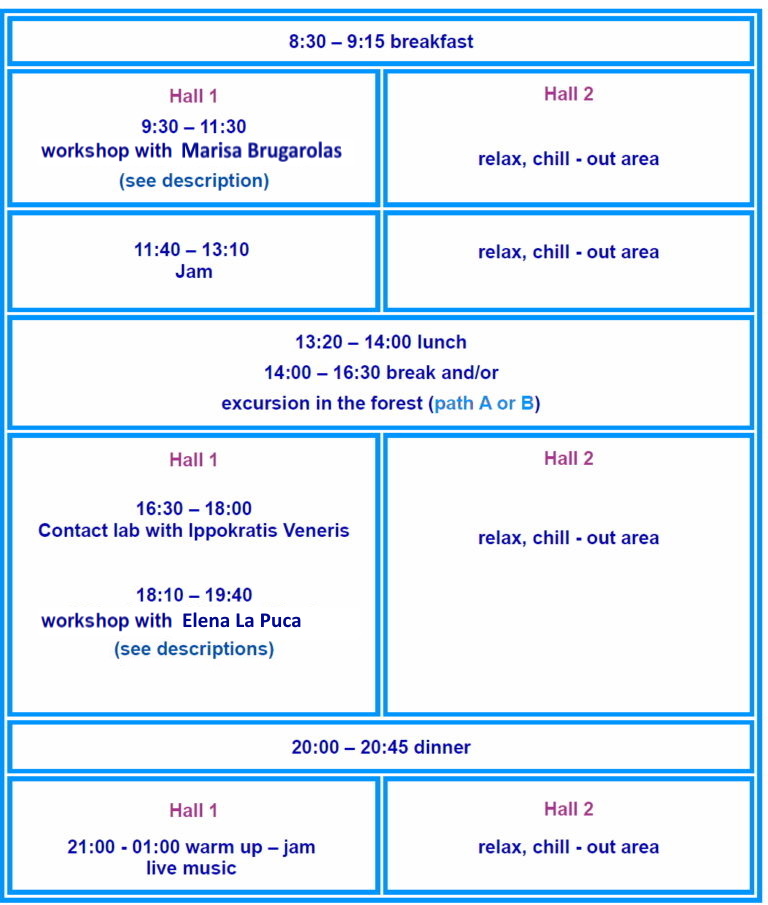 Friday 5 January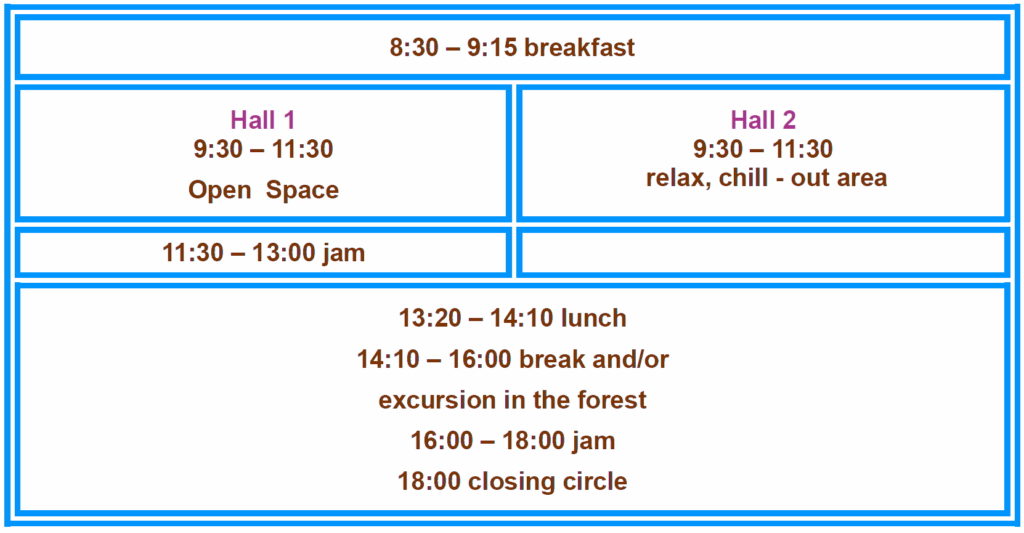 Hall 1: the circular dance space
Hall 2: the rectangular dance space
Prices A:
–  the fee for one event  (27 – 30 December or 30 December – 2 January or 2 – 5 January) sleeping in dormitory is 220€.
— the fee for participating at two events (7 days, 27 December – 2 January or 30 December – 5 January) sleeping in dormitory is 400€.
— For three events, (10 days, 27 December – 5 January), the price is 570€.
In the fees are included all the workshops, all the events, all the meals, single bed in dormitory. (places are limited, see photos).
NOTE: For the organisation of the festival we will need some helpers who wll have a reduction of the fee. If you want to candidate yourself, please send an email, specifying  which event/events you want to join at: info@jamofarts.com
dormitory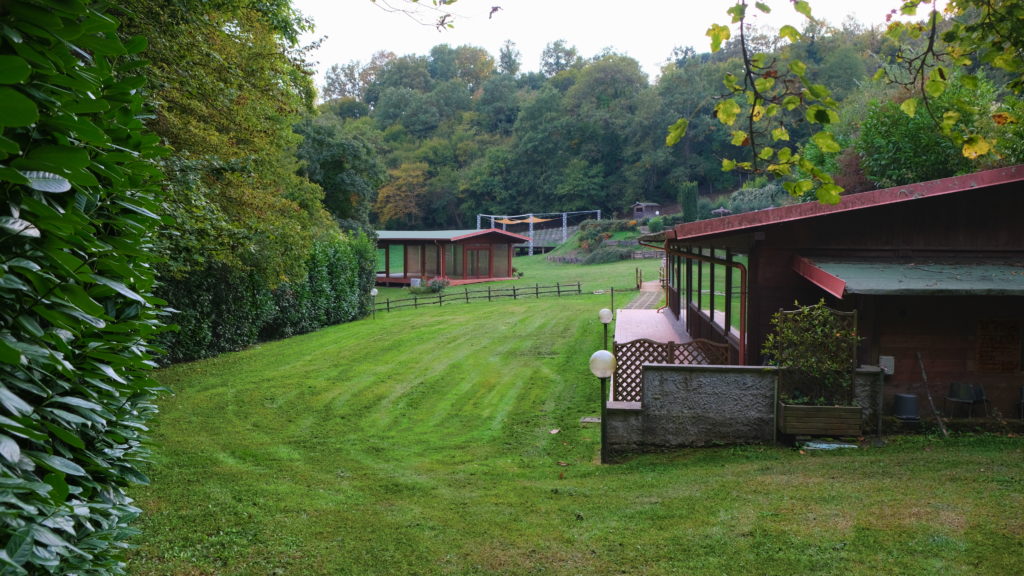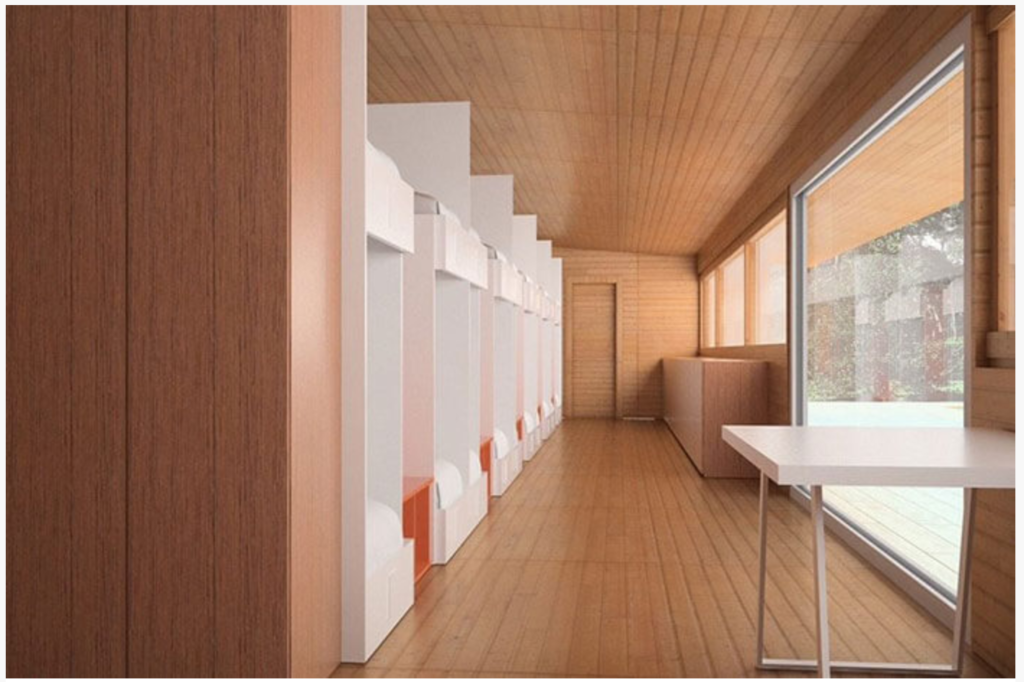 Prices B
–  the fee for one event  (27 – 30 December or 30 December – 2 January or 2 – 5 January) sleeping in apartment is 255€.
— the fee for participating at two events (7 days, 27 December – 2 January or 30 December – 5 January) sleeping in apartment is 465€.
— For three events, (10 days, 27 December – 5 January), the price is 670€.
In the fees are included all the workshops, all the events, all the meals, single bed in apartment. (places are limited, see photos).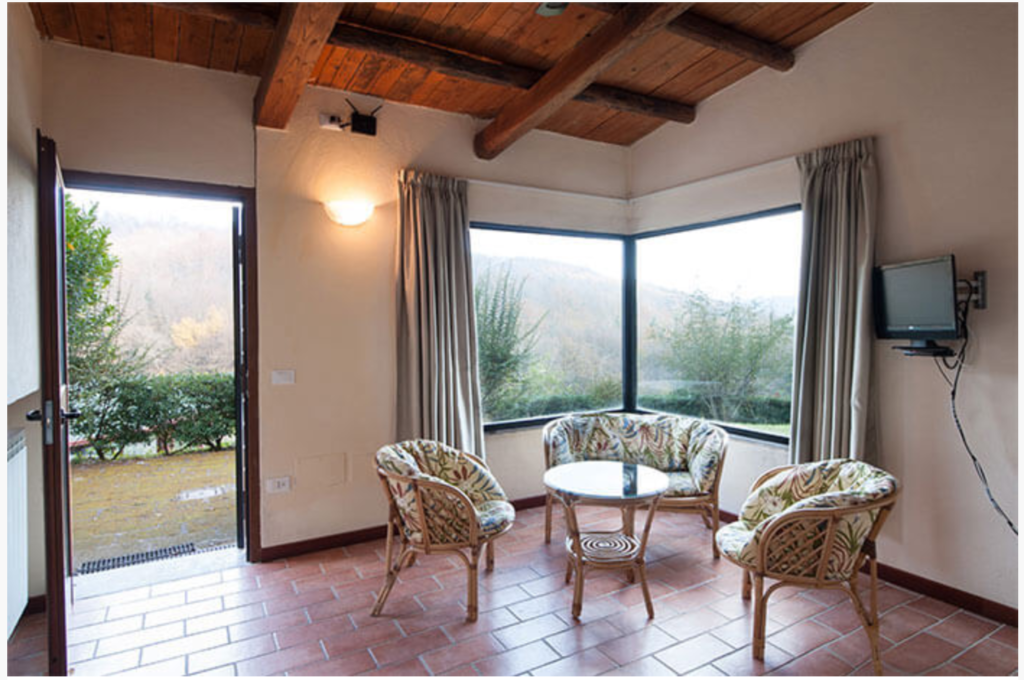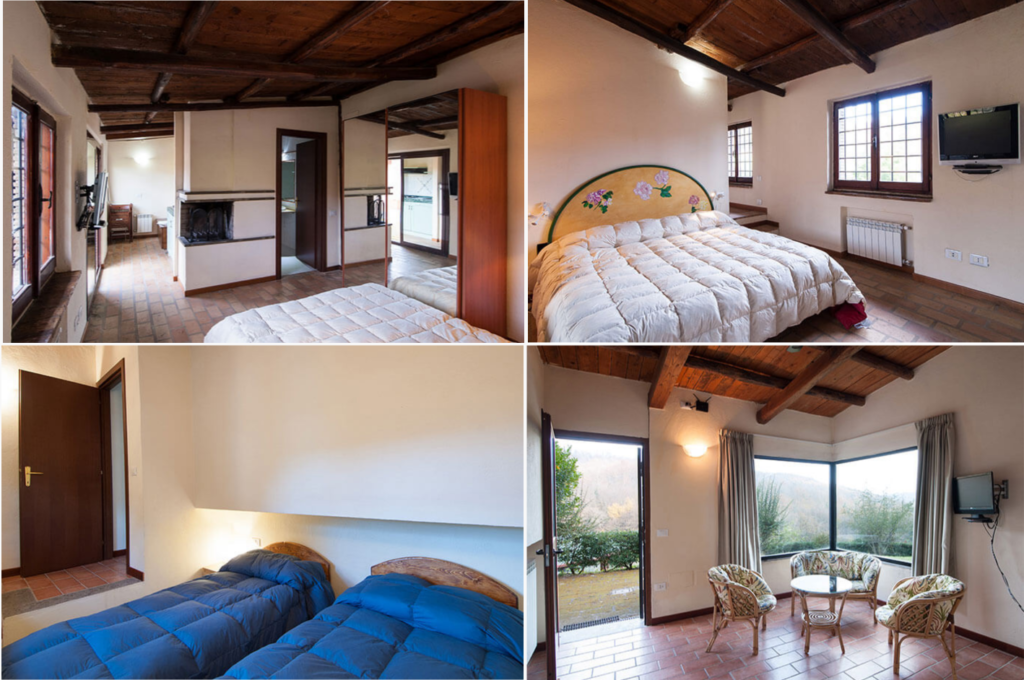 For more information's and registration, you have to write an email to: info@jamofarts.com.
tel: 0039 3287213546
VERY IMPORTANT:  OFTEN  OUR  REPLIES  ENDS TO THE SPAM, SO CONTROL OFTEN YOUR SPAM SECTION. IF YOU DON'T FIND A REPLY, WRITE US AGAIN WRITING ALSO YOUR PHONE NUMBER.
A few words about the place that hosts the festival. Under the ground of the farm is flowing a famous water source that is creating much energy in the place.  Next to the farm we find two ancient roman bridges, water cascades, a big cave, streams, many many trees and a bit farther a big lake.. follows some photos of the landscape.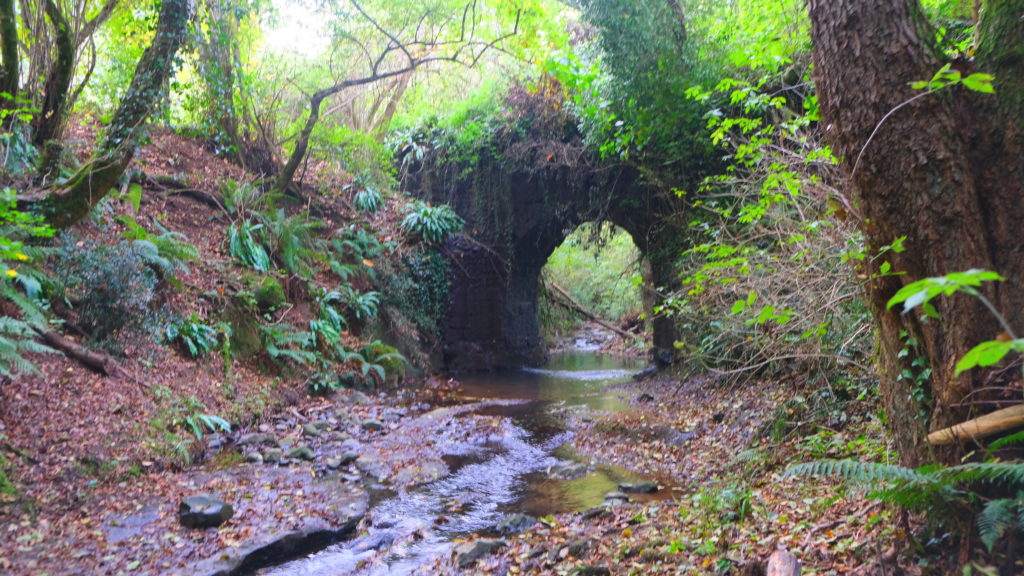 P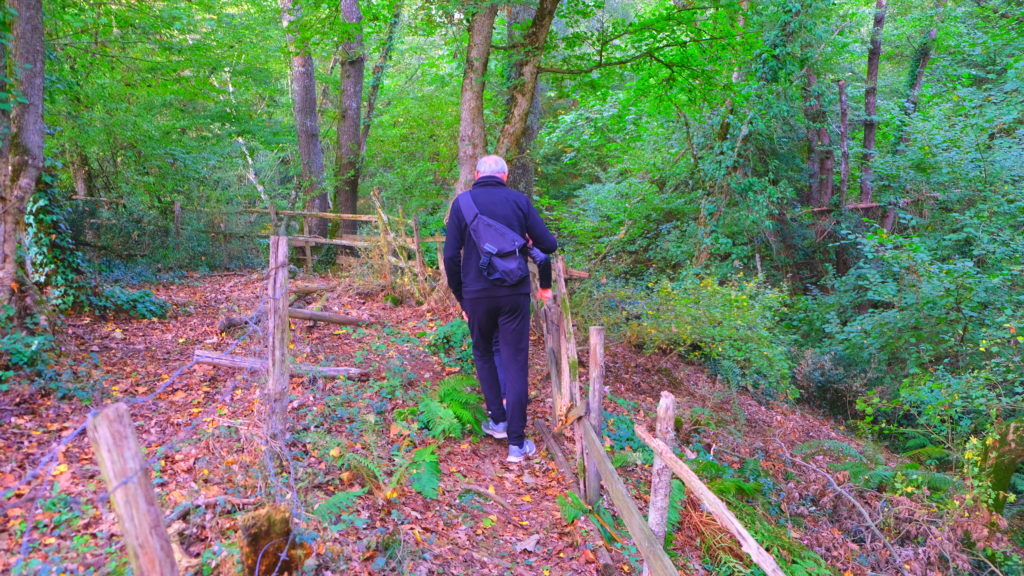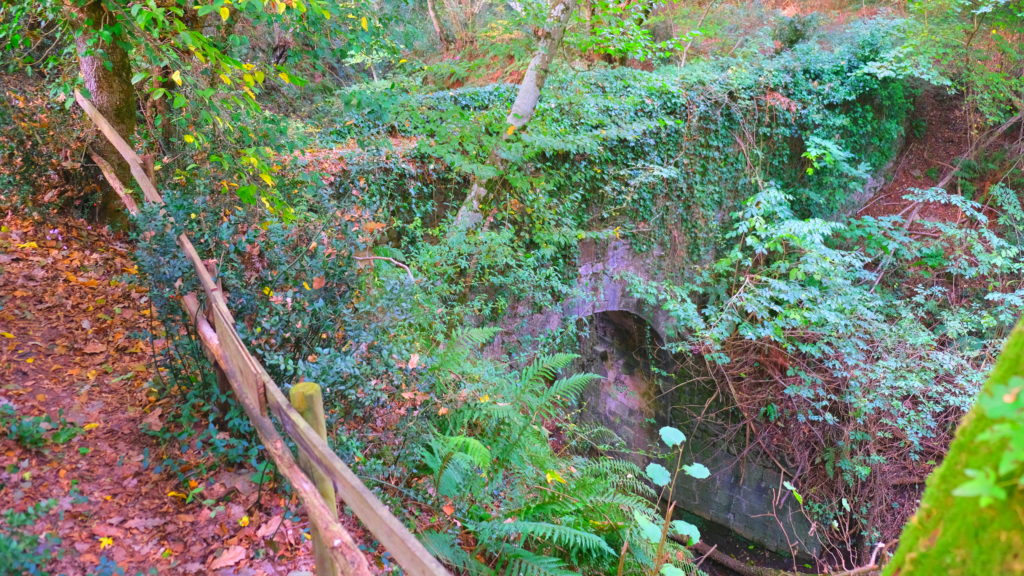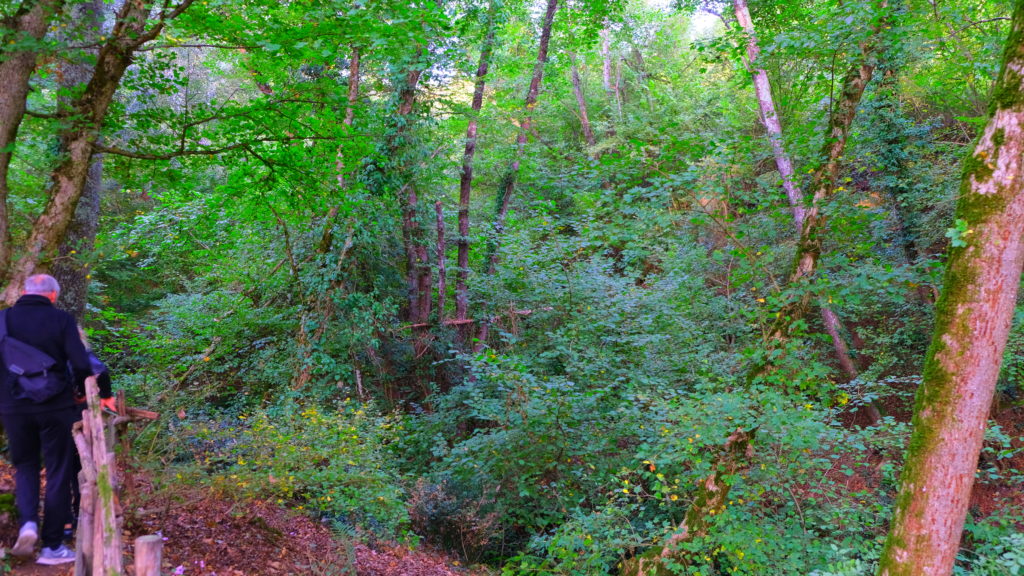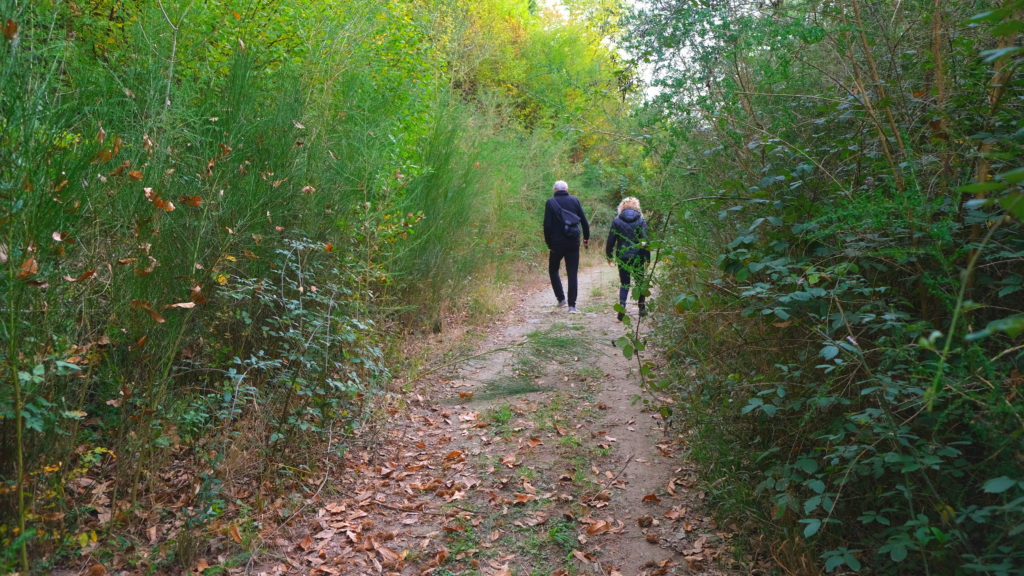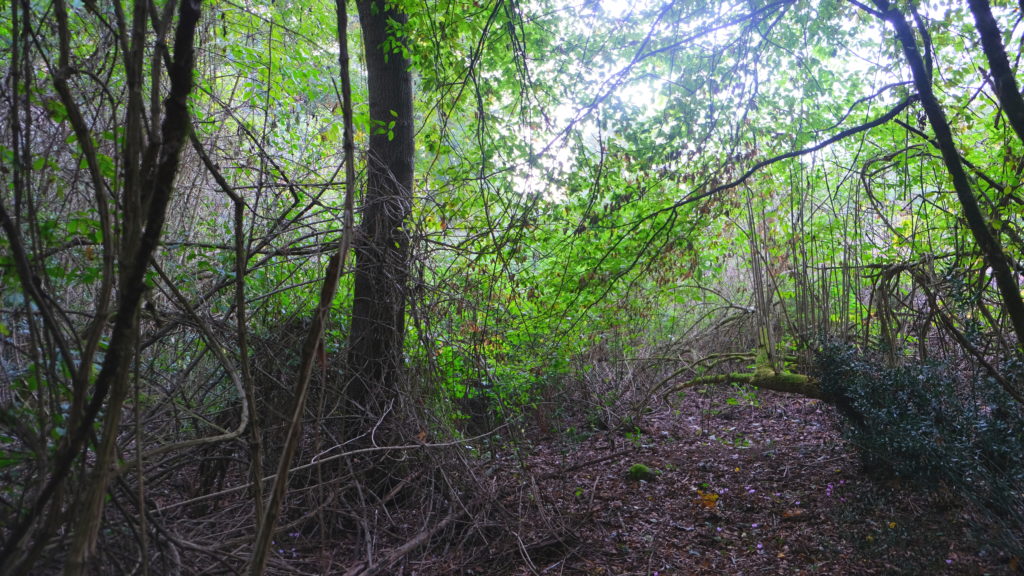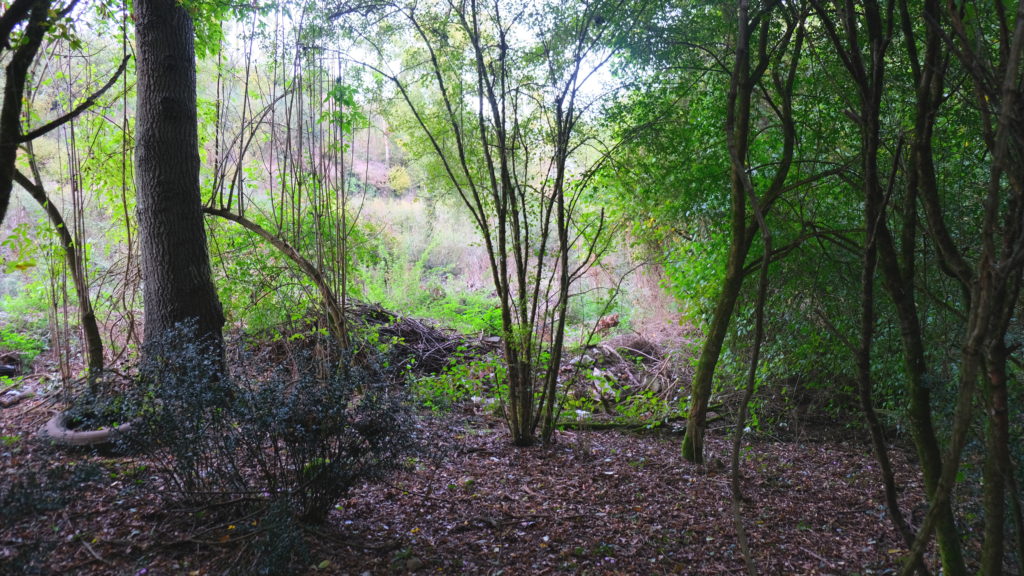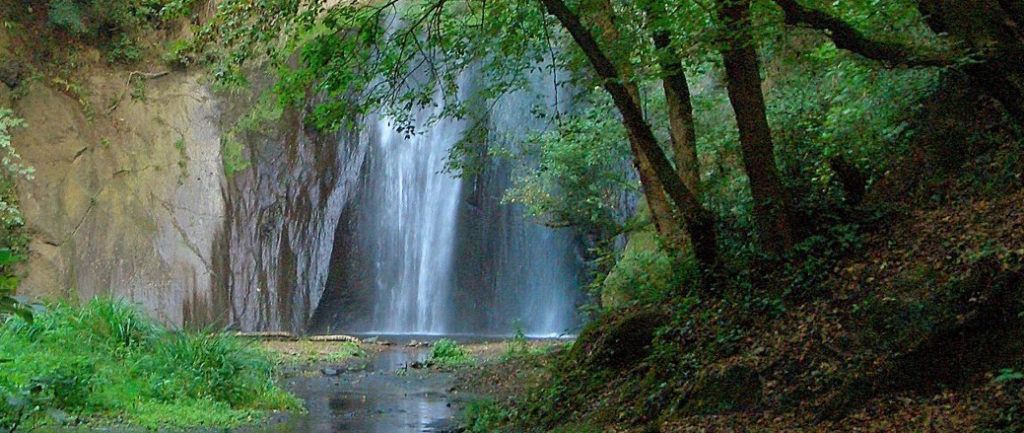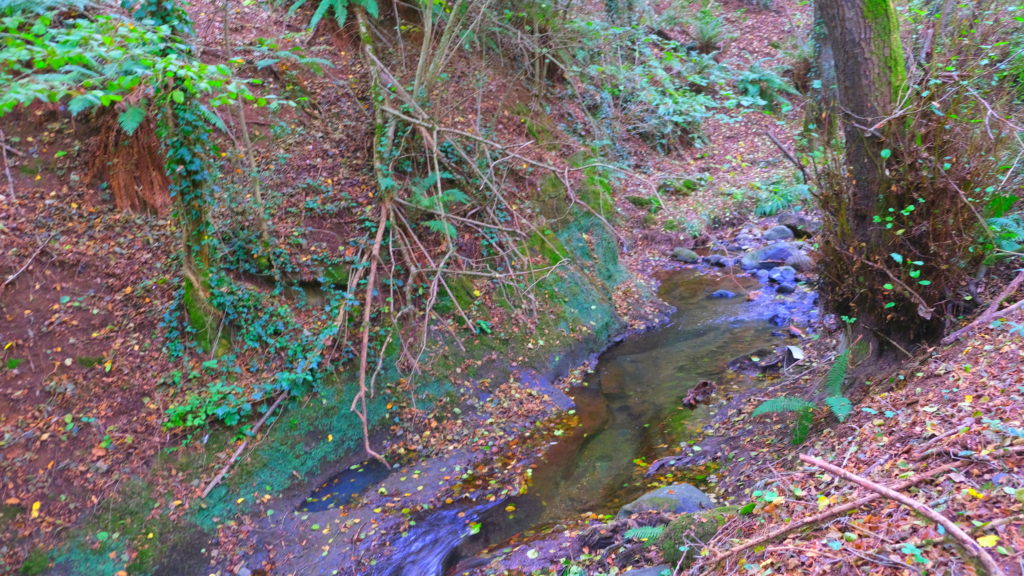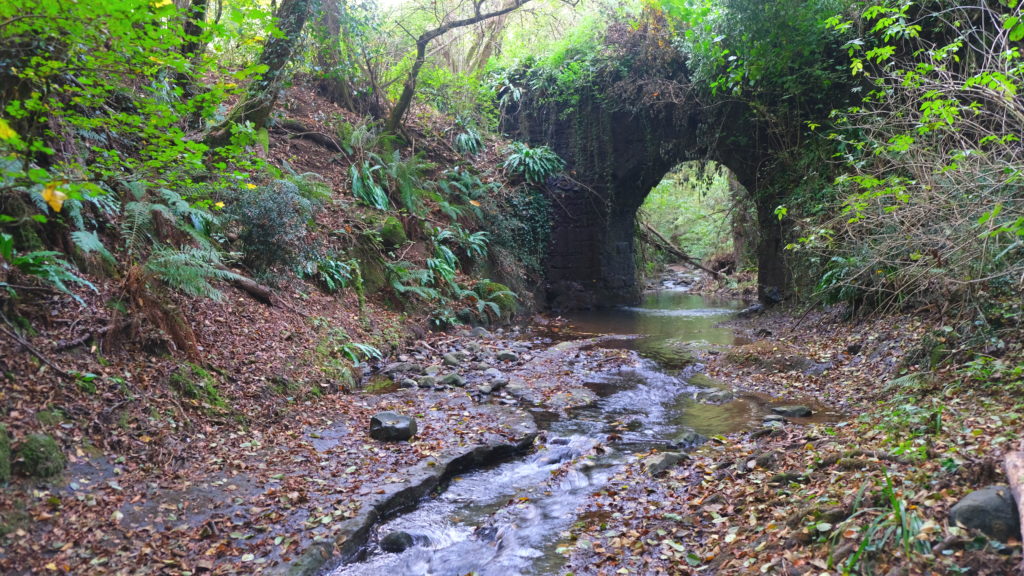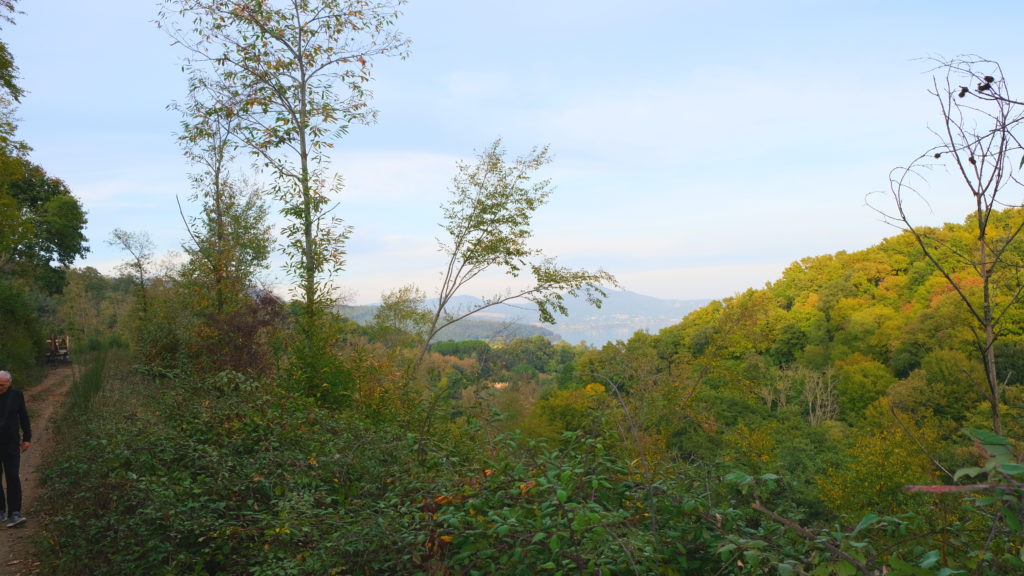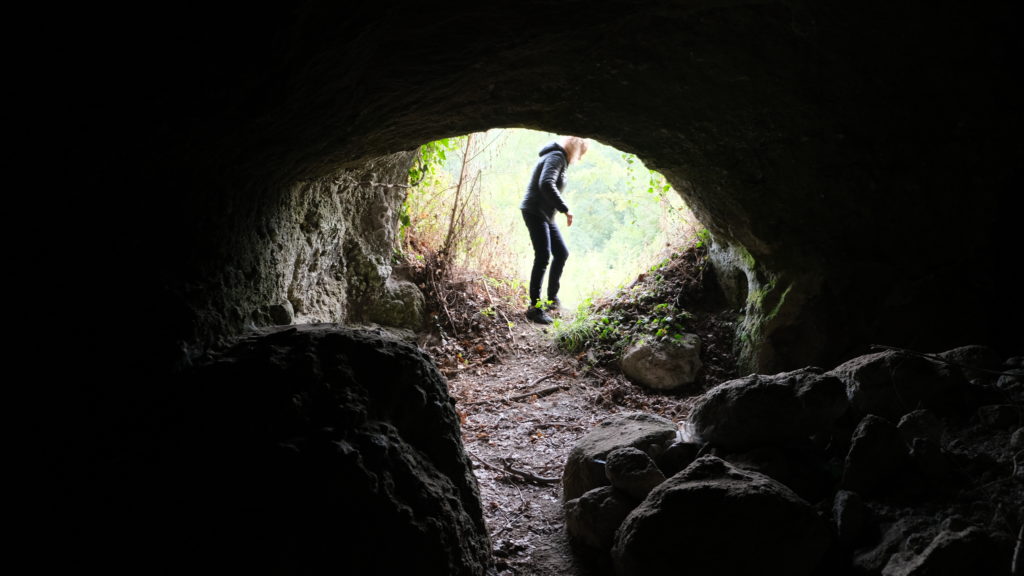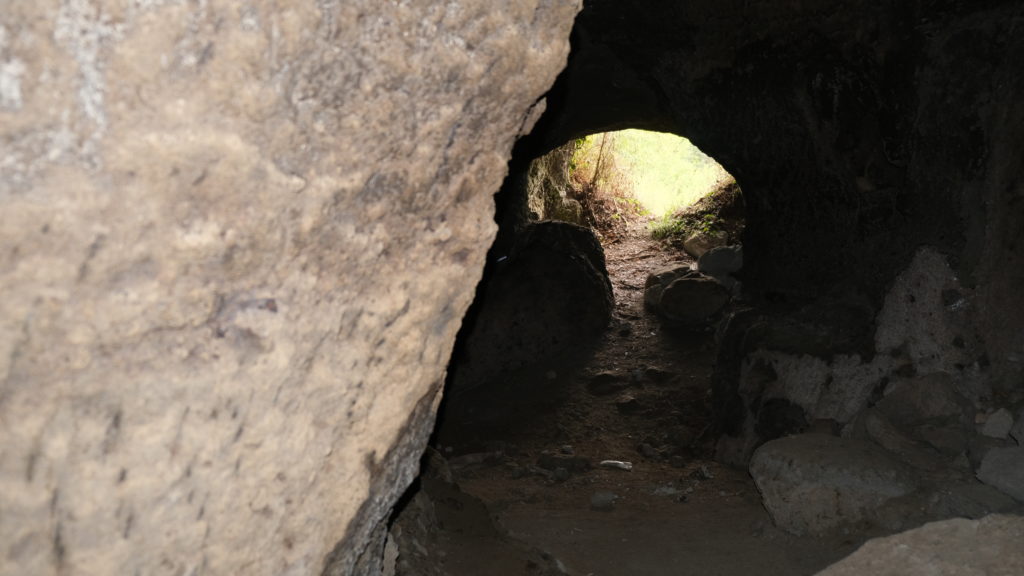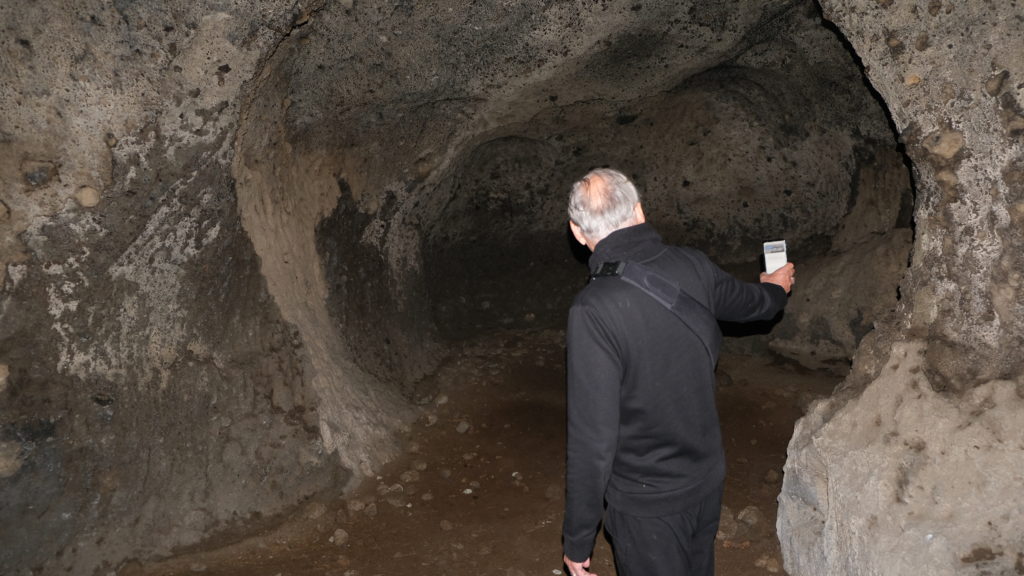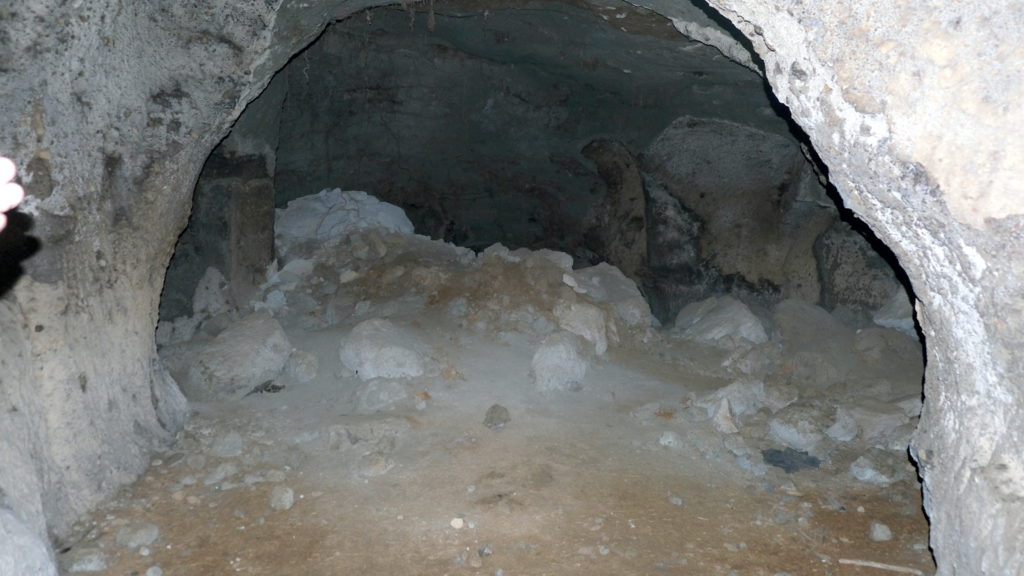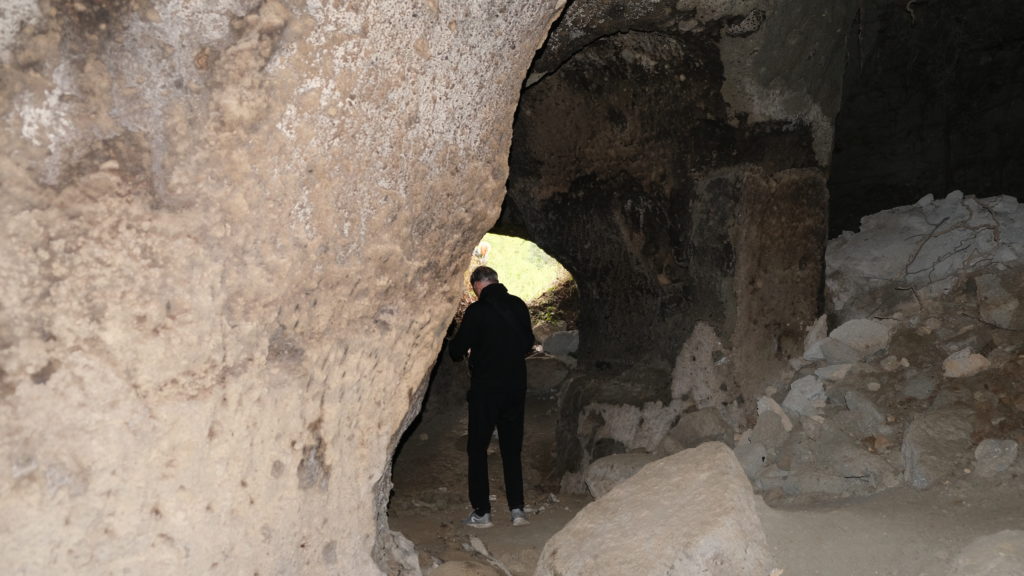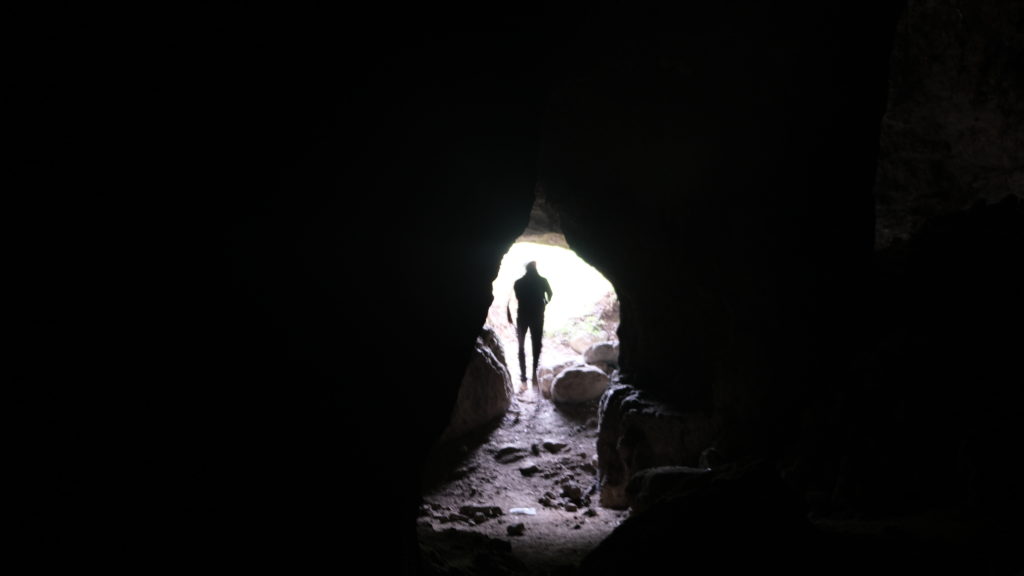 mmmmmmmmmmmmmmmmùùùùùbbbbbbbbbbbbbbbbbb
nnnnnnnnm
                                                     Restaurant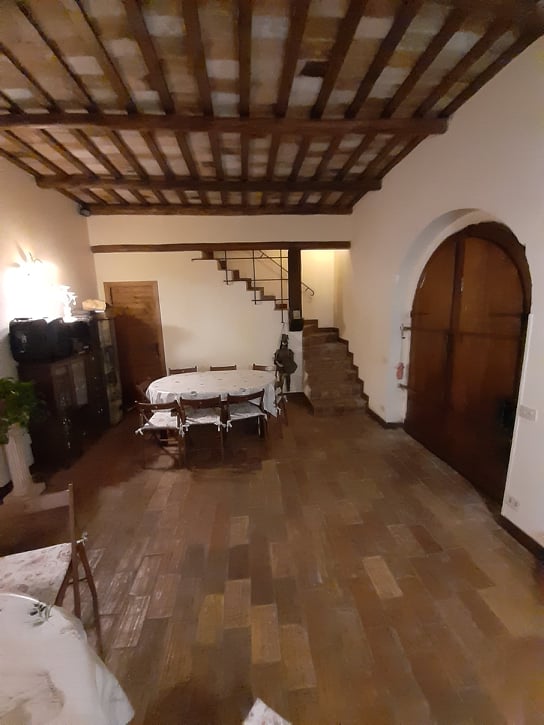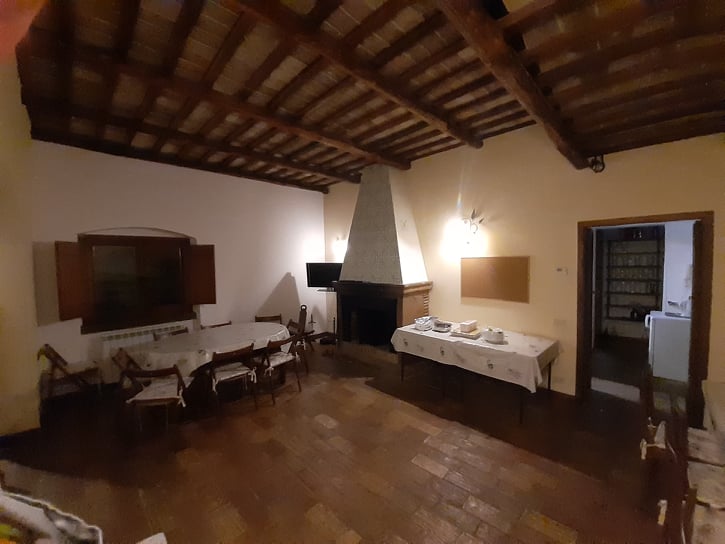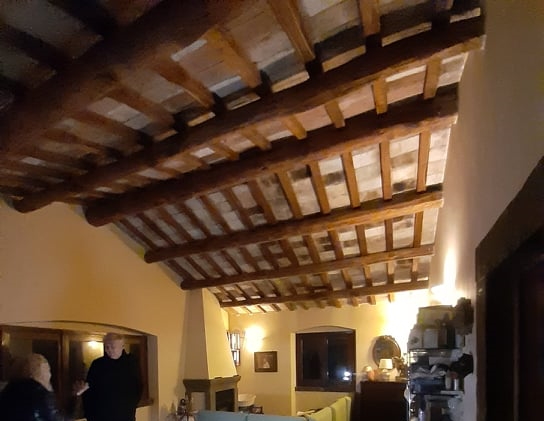 …………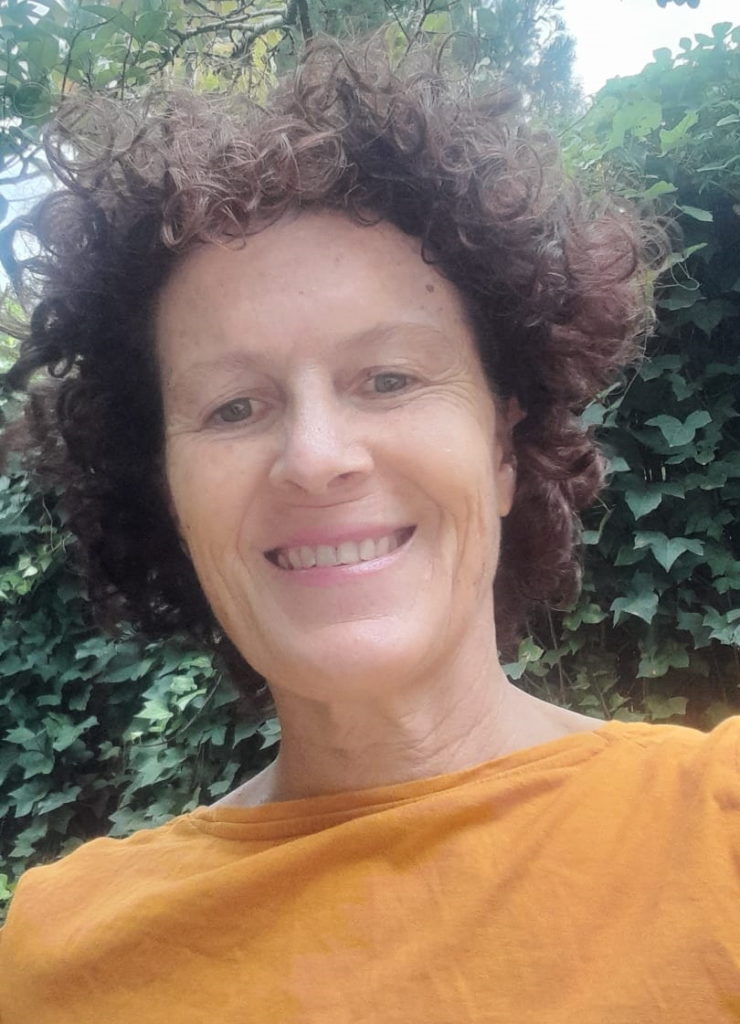 Marisa Brugarolas (Spain)  is a Stage creator, choreographer, teacher and researcher of creative and pedagogical processes in the contemporary scene, dance and in inclusion. Her creation and her teaching are based on the new scenic languages, developing an inclusive teaching methodology based on Somatic Movement with an emphasis on Body Mind Centering, Alexander Technique, Improvisation, Instant Composition, Contact, Release Dance and Inclusive Dance.
She directs from 2005 to the present Ruedapies Danza, an inclusive interdisciplinary arts project that brings together artists with and without functional diversity in the creation and teaching of new scenic languages. She has directed a wide variety of performances with an international cast of artists and with students. Her work combines choreography and structured improvisation with interdisciplinary elements, using non-conventional spaces for dance. In recent years she has developed inclusive dance projects at the Museums of Fine Arts in Madrid and Murcia.
She is a specialist teacher in Dance and Functional Diversity in the Dance Pedagogy Degree at the Superior Dance Conservatory of Alicante (Spain).
Teaches regular classes and workshops on Creative Dance, Somatic Movement and Inclusive Dance.
Regularly participates in congresses and conferences on dance and diversity.
Artist commissioned by the Ministry of Foreign Affairs -AECID at the Royal Academy of Spain in Rome to develop the Corpo in Divenire inclusive stage intervention project.
Had been co-director of Unexpectedly International Improvisation Festival. Murcia. 2013-2015. And a dance teacher several universities as the National University of Costa Rica, as well as in Spain in Miguel Hernández University; Superior School of Dramatic Art in Murcia and at the UCAM Master of Arts.
Her training comes from the academic and artistic world:
Therapist specialized in Somatic Movement. (Somatic Movement Therapist) Moving On Center Oakland, California. USA.
PHD in Arts from the Polytechnic University of Valencia, with her doctoral thesis: The plural body. Integrated dance in inclusion. A renewal of the look.
Master in Interdisciplinary Arts. San Francisco State University (SFSU).
Bachelor of Dramatic Art. Higher School of Dramatic Art Murcia. Spain.
Studies of Choreographic Composition and Improvisation. School for New Dance Development (SNDO). Program for invited students. Amsterdam University. Holland.,

ggggggg
Title of the workshop of Marisa Brugarolas (event 27 – 30 December):  
DEVELOPMENTAL PATTERNS: THE GROUND OF MOVEMENT
In the development of babies development patterns are the bases not only of movement but also of the activation of the senses, fundamental to explore new territories. We evolve in a series of stages, in which each one is the basis of the next. The radial symmetry pattern activates the center and its relationship with the extremities, sustained by cellular breath. The spinal pattern gives us an awareness of the spine as the axis of the body.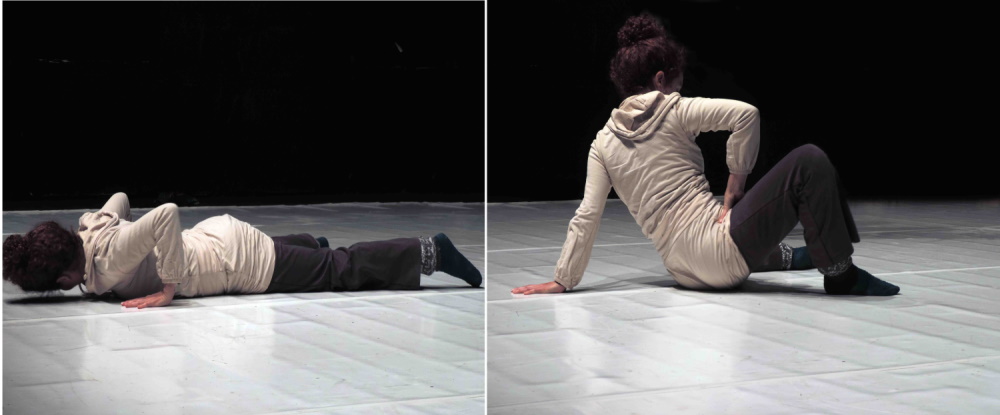 The homologous and homolateral patterns organize us in the spatial dimensions of the body kinesphere until we reach the contralateral pattern manifested in the spiral, as expression of the three-dimensionality of movement.
In this workshop we will explore them from our adult body, experiencing the organization of each pattern along with the quality that each one contributes, from an intention focused on sensomotor pleasure to activating the push and extension patterns that propel us into intentional space. By activating them we will feel that our movement acquires presence, grounding and projection.
hhh
Title of the workshop of Marisa Brugarolas (event 30 December – 2 January):
FROM PERCEPTION TO DANCE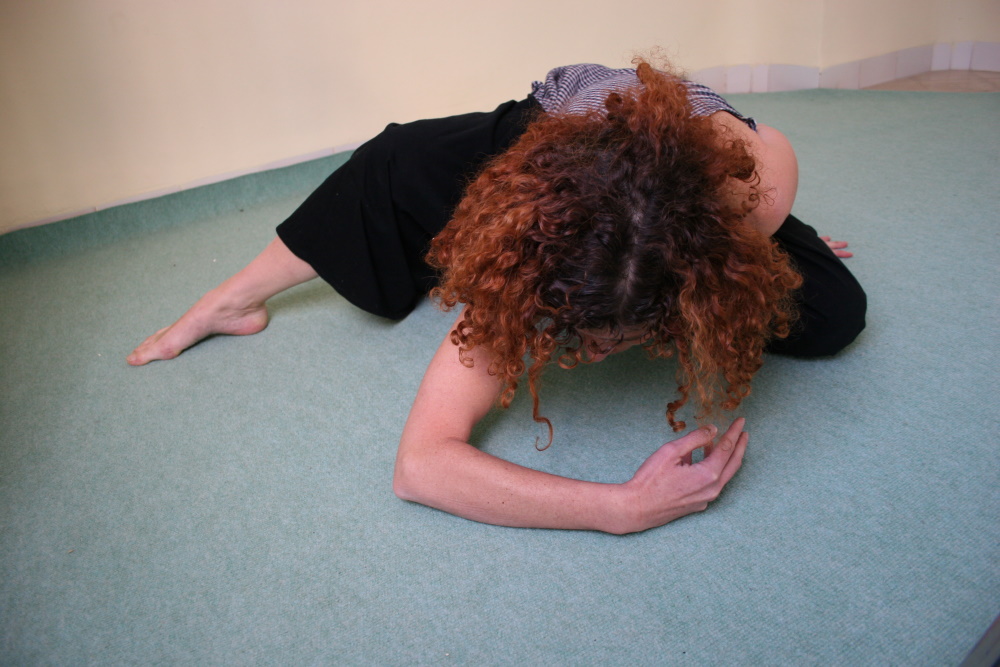 Our bodies are a reflection of our life. Every thought and emotion produces changes in the energy and mobility of the body. Starting from the somatic movement, especially from the approaches of the Feldenkrais, Alexander and Body Mind Centering techniques, simple exercises will be proposed that will activate the sensory perception towards the micro movements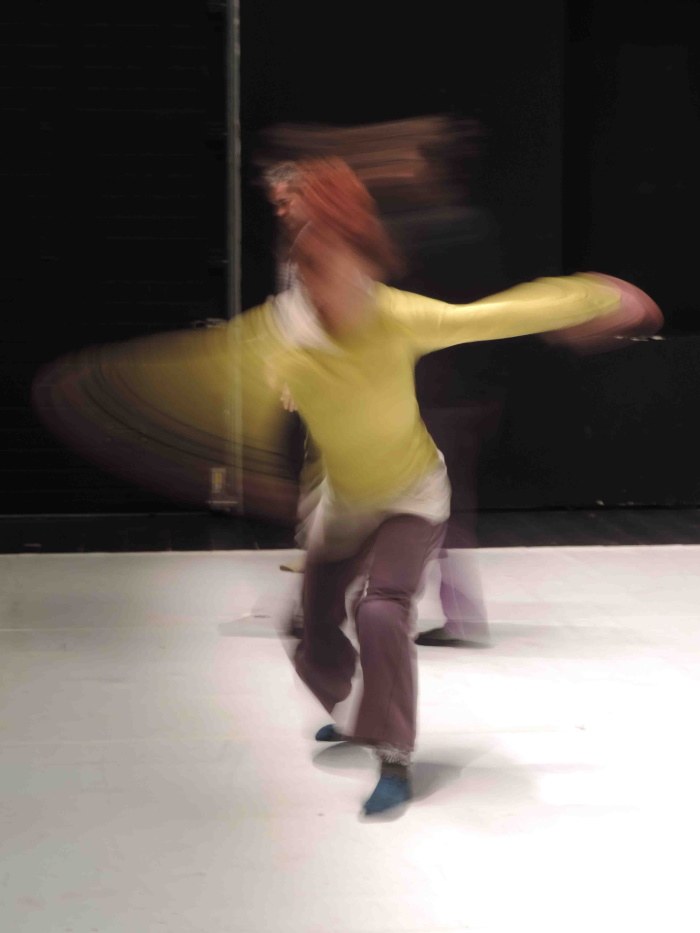 and their connections inside the body. This will bring us to our present as well as will help to clarify the starting, projection and movement zones, together with the quality of the muscular tone.
The sensation of internal space will allow the flow of movement and expression, evolving in each session to a wide dance in space, sustained by internal and group time. The proposals will be individual and in pairs, sometimes using contact as a way of listening, connecting and learning.

Title of the workshop of Marisa Brugarolas  (event 2 – 5 January):
CREATIVE SCORES FOR IMPROVISATION IN DANCE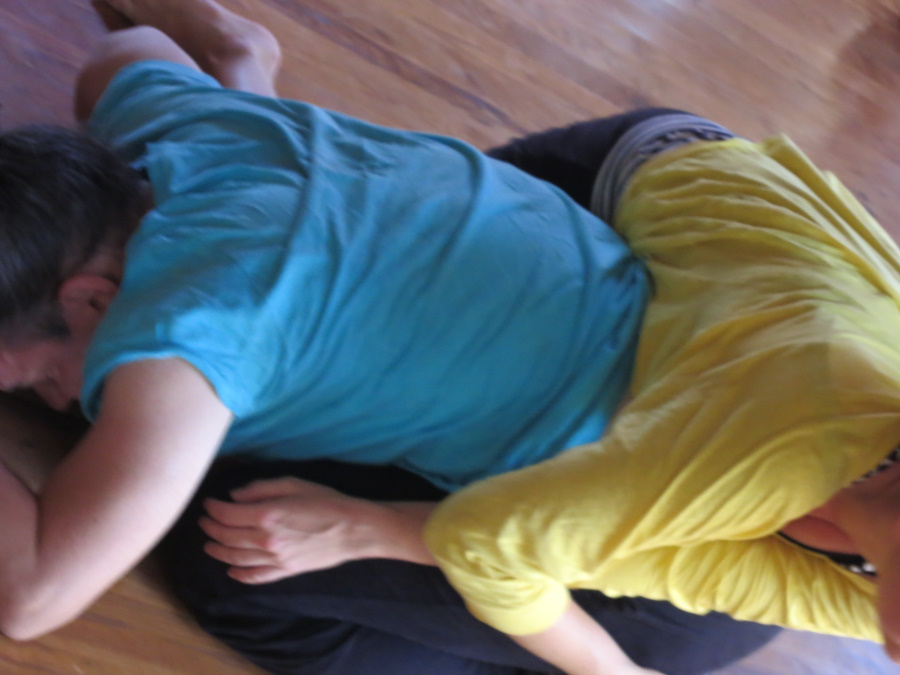 Improvisational scores are useful tools to focus our attention, practice group listening and transform the usual limits of our movement and perception of dance. Scores offers a territory through which improvisation runs. The agreements we make give us a physical, attentional and emotional framework that propels the necessary freedom for creative imagination. Sometimes we will start from a group physical action, and others from a particular landscape.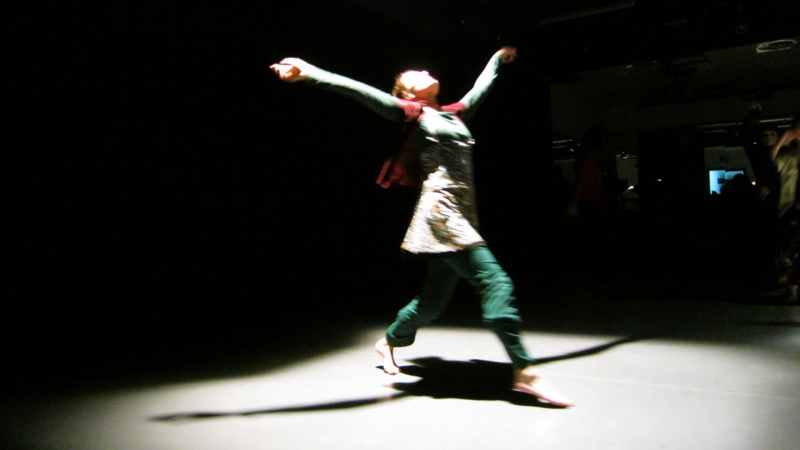 The scores will offer will be concrete, but elastic enough to allow us to leave our comfort zone. If weather allow us, we will develop part of the workshop in nature, to activate our senses to the landscape architecture, the sounds, textures and smells that it offers.
This will be a stimulus that will transform our way of perceiving space and relationships, developing new qualities in our personal and group movement.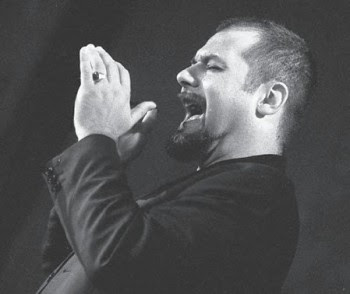 Mauro Tiberi (Italy): teacher of psychophysical and vocal techniques for the development of the person. Cantor, percussionist, double bass player and scholar of arch and string instruments.
Researcher in shamanic vocal traditions, scholar and pratitioner of diphonic singing (harmonic singing), oriental sacred vocality (Byzantine song), of Indian singing in the dhrupad, kyal and qawwali styles, plus other ancient styles of Indo-European singing and primitive songs.
Cultural divulger in the field of ethnomusicology, and cultural anthropology. Organizer of educational courses focused on the relationship between the voice and the unconscious, overtone singing, vocal yoga, voice. Expert of psychophysical empowerment techniques through breath and voice, using music, speech therapy, biomechanical, martial arts and hypnosis  elements. Many artists took part in his musical projects as: Markus Stockhausen, Michiko Hirayama, Sainkho Namtchylack, Ille Strazza, Jamaaladeen Tacuma and many others.As an extemporary musician, performer and composer he has participated in various festivals in Italy and abroad, such as Musica 2000 in Rome, Fadjr Festival in Teheran, Operakantika Festival in Monselice, Rome meets the world, Theaters of Stone,
Active for over 20 years in seminars in Italy and abroad, his vocal research has been cited in several graduate and postgraduate theses.
Title of the workshop of Mauro Tiberi  (event 27 – 30 December): "Psychophysical empowerment through breath and voice":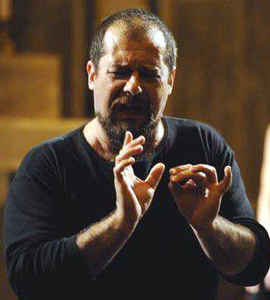 Breathing techniques capable of developing energy and strengthening the deep muscles through the ecstatic element induced by the breath. These techniques were formerly developed by various cultures such as Sufism, yoga and some martial arts such as "Kiai Do or Aiki Do" and also Russian biomechanics and later specially reworked by Mauro Tiberi by combining them with the voice and some vocal exercises. of Tibetan origin in which through the muscularization and the emission of the voice it is possible to develop a new power both physical and vocal.
Theme of the workshop of Mauro Tiberi (event 30 December – 2 January): "The harmonic voice"
With the name Harmonic singing, a set of vocal techniques practiced in particular in Siberia, Tuva and Mongolia, are known in the West, able to make the voice emit more sounds at the same time using the resonators, the skeleton of the skull. Harmonic singing is divided into two branches: the Eastern Way, of shamanic origin which later also enters the traditional music of these people. In this case we are dealing with extreme guttural techniques capable of producing more sounds at the same time as the voice, on the other hand the western way, softer influenced by religious vocals, such as Gregorian chant or even some techniques of emission of bel canto derivation. In this case the voice produces a fundamental tone and a flute melody produced simultaneously by the overtones of the voice.
Theme of the workshop of Mauro Tiberi  (2 – 5 January):"the voice in the world and vocal improvisation"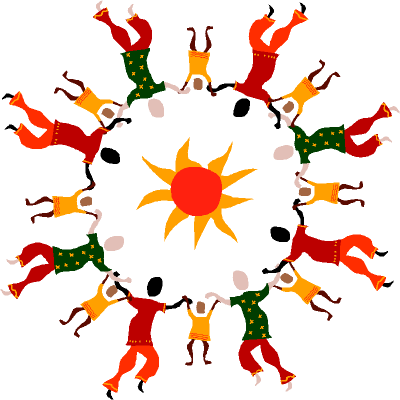 Ethnomusicological and cultural anthropology elements within this small seminar. Starting from choral singing in a circle, we will work on an approach to voice and singing that focuses on the social, spiritual, ritual and community experience of singing. A song practiced first of all by men and women and not by musicians or singers. Learning to put the strength of our history, of our human experience into the voice and profound song of being, and not having the need for academic musical training. The important thing is to have your own story to tell linked to our experience and not necessarily linked to words, but with pure vowel and syllabic sounds.
uuuuuuu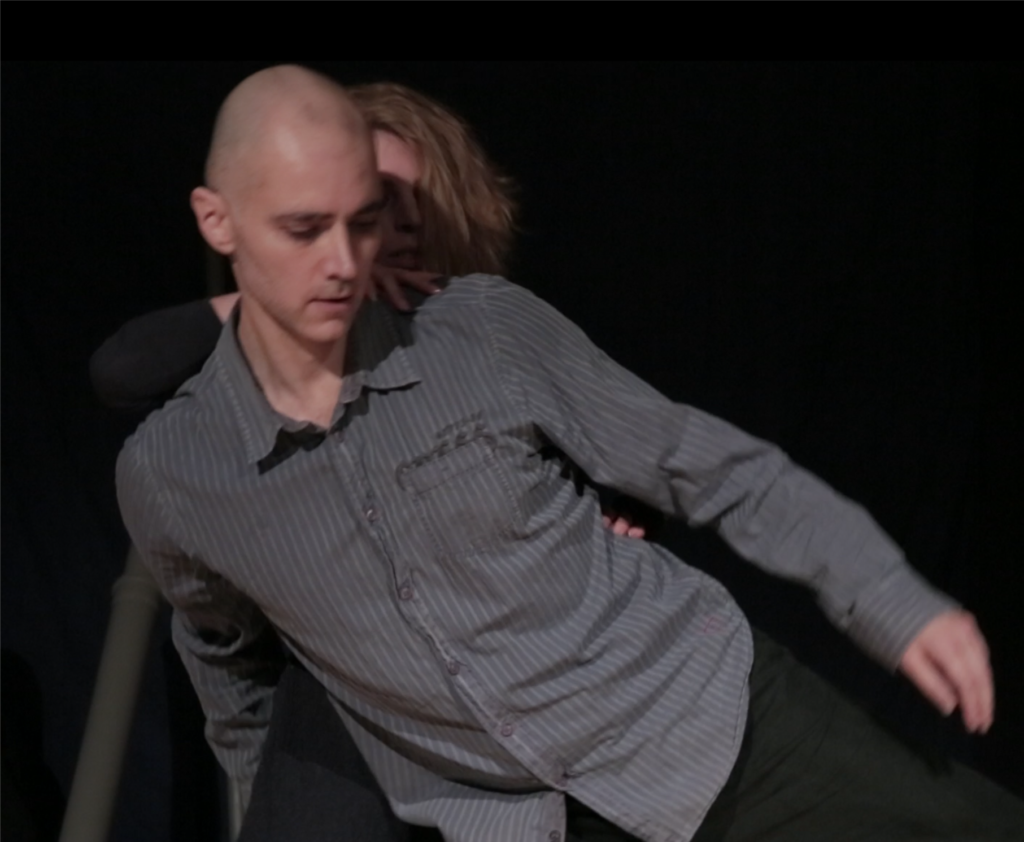 Ippokratis Veneris (GRE/ITA) teacher, dancer, choreographer, deepen and studies dance and other arts for more than 20 years. In his lessons of contact inserts elements from the various disciplines that has studied extensively over the years as: floorwork, release technique, experiential anatomy, applied anatomy, dupuy technique, acrobalance, martial arts, afro dance, ballet, alexander technic, chi kung, dance theatre and much more.
– In the past collaborated with the UNIVERSITY OF ROME "Roma 3", department of "Philosophy of Education" giving lectures about "Pedagogy, C.I. and personal researches on teaching".
– for two years he received an open scholarship in Brussels (PARTS-ROSAS Dance Company) and in Rome by the region of Lazio to proceed with his research on dance theater projects. His original works ("Buongiorno Amore", "Afroditi", presented at Olympic theatre and Theatre Greco) combine together elements of theatre and dance.
– Was professor in the theatre school "il Cantiere Teatrale".
– 2018 award: His work as choreography director for the Pina Bausch "The Nelken line in Rome". An international project of 25 dancers of 11 different countries. Receives the second award of Lazio Film Festival Commission.
– In March of 2014 he was a guest together with Giulio Tremonti (former Italian Minister of Economy), Romano Prodi (the former Italian prime minister and former president of the European community), Ermanno Olmi (film director) in the TV show "the wind whistles" of Gad Lerner for Repubblica television and for the art channel Effe tv.
– Has collaborated -teaching and making shows of improvisation- with the Italian National Organization of Theatre.
– Teaches regularly twice a week Contact Improvisation developinghis own method.
– Teaches in different places around Europe.
– Has collaborated with Roberto Castello-Aldes for "Narrate" premium UBU as the best dance theatre production of the year in Italy and many others.
– In 2011 decided to stop making shows and concentrate his energies on the research about the human nature and the wisdom of our bodies.
– Co-founder of CORE an association of choreographers of central Italy to promote the rights of the live performing arts.
– Co-founder of RomaContact a collective of dancers who promote and give shows of improvisation and Contact Improvisation.
– Organized the last years many events of art and workshops inviting teachers from all Europe.
– Lives in Rome where graduate at school "l'officina" where study release technique, Dupuy technique, contact improvisation, instant improvisation and composition.
– As a choreographer, dancer and improviser has organized and participated at different events, in the last ten years.
– Has studied with many choreographers and participating at numerous workshops of physical-theatre, contemporary dance, choreographic composition and contact improvisation.
Theme of the workshop of Ippokratis Veneris (event 27 – 30 December) "are you in axis?"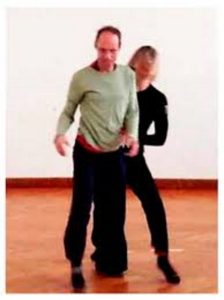 In this workshop we will explore a very important principle of dance and Contact Improvisation, the use of own axis and the duet axis.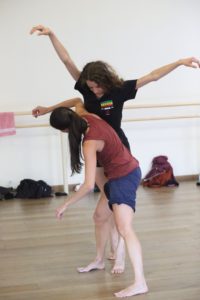 We will start with individual work on: How been in axis and centered, how to use the dynamics to dance out of axis with in and out-of-balance movement. As duets we will work on: finding and moving in space through the common axis, the centripetal and centrifugal dances, accepting and enjoying the challenge of the common out of axis, creating small "flights" using the out of axis movement of the duet.
The focus of the workshop will be on how to enrich our dance, enrich our creativity and dance in a more playful way.
Theme of the workshop of Ippokratis Veneris (event 30 December – 2 January): 
In – Out, Out – In, listening and communicating, giving and receiving, accepting and offering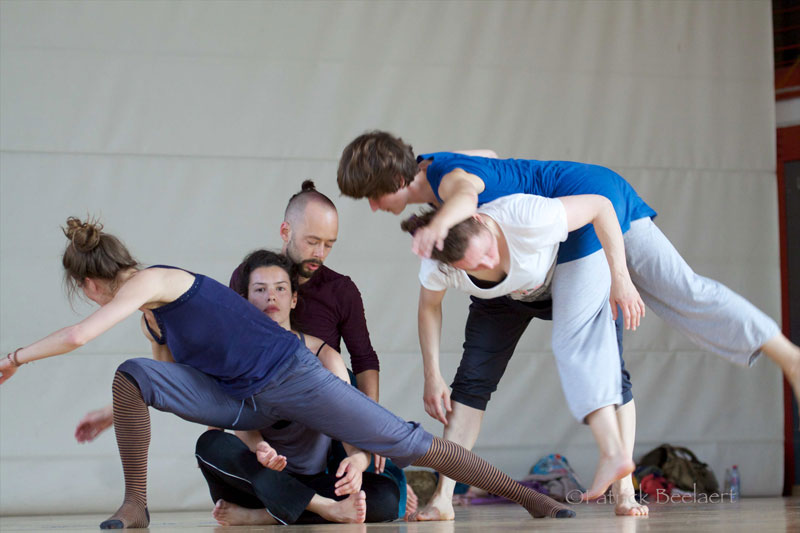 How can I give, offer my presence to my partner being available and open physically, mentally, energetically to communicate?
We will work on how to be present – here and now – and listening been focused contemporary to ourselves and to our partners. We will explore, as we dance and improvise, how to accept and how to offer, becoming our meeting a communicative, fluid and open dance; become our dance a real meeting and a journey.
The key words of these meetings will be: energy, freedom, openness, acceptance, empty-full.
Theme of the workshop of Ippokratis Veneris  (2 – 5 January):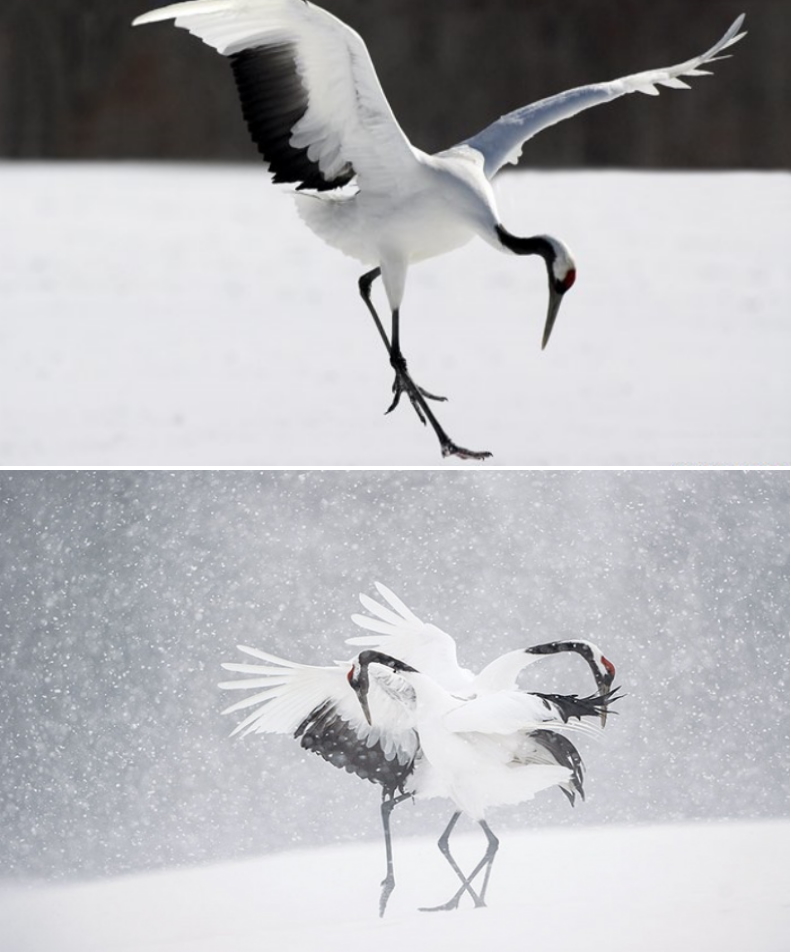 "Lightness"
In this laboratory we will explore the various ways in which we can make our body light dancing with our partners.
Breath, body and movement integration, sensibility – agility, anatomy, suspension, "body engineering" exercises and listening will be some of the themes that we will focus in these meetings with the aim of dancing in a more free, light, aerial and creative way.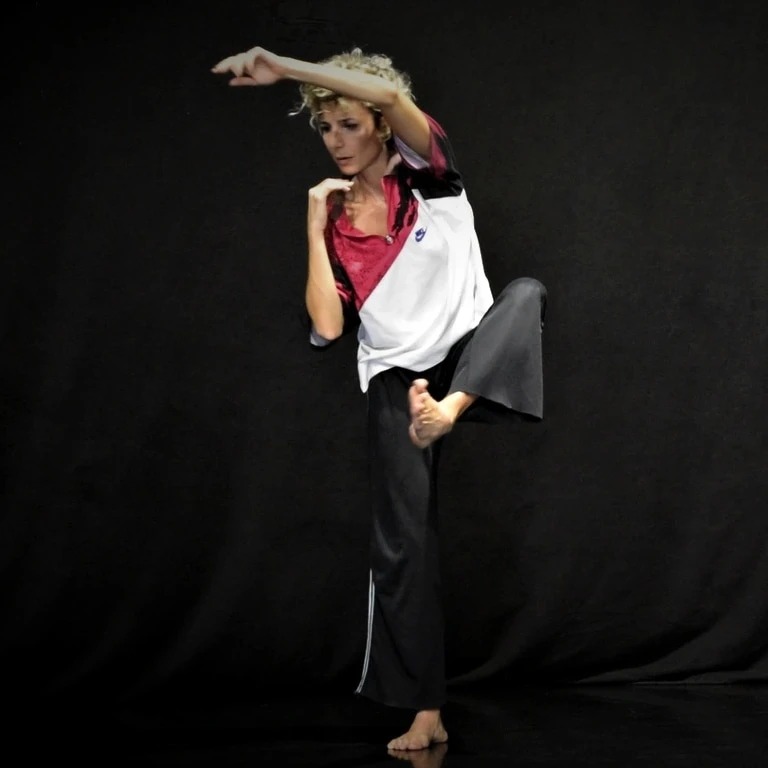 Mariella Celia (Italy) , Dancer, trainer, choreographer, Mindfulness educator, graduated in 2008 from the National Academy of Dance in Rome. Alongside her academic studies, she pursues a personal training path, gaining various experiences in release technique, floor work and improvisation dance in Europe and received a scholarship for the Impulstanz Festival in Vienna for two years.
In 2013 she obtained her Masters in Art Therapy at the University of Roma Tre.
Over the years she has studied various somatic disciplines including Feldenkrais, Ideokinesi and Body-Mind Centering®, graduating in 2019 in London as a Somatic Movement Educator (BMC®).
She continues to work as a dancer / performer with various choreographers and directors in Italy and abroad including: Emma Dante, Raffaella Giordano, Giorgio Rossi, Mario Martone, Stefano Mazzotta, Emanuele Sciannamea (Compagnia Zerogrammi), Oretta Bizzarri, Patrizia Cavola (Compagnia Atacama), Ismael Ivo (Brazil), Modjgan Hashemian (Berlin), Vimprodanco, Vienna Improvisation Dance Company, Luca Silvestrini (UK), E-motion group company, informal collective ADA.
From 2008 to 2011 she lived and worked in Berlin where she collaborated with the artist Enrico Pietracci and the photographer Susanna Kraus, among others, with whom he created site specific performances based on the relationship between dance and visual arts. With the musicians Andreas Waelti, Oliver Ruth and Tobias Backhaus, she created an improvisation group of dance and live music (Free Jazz), guest in prestigious international music festivals.
From 2013 to 2021 she was a collaborating artist with Sosta Palmizi. In 2014 she was the author and performer of "Sleep elevation", co-produced by the Sosta Palmizi and Atacama associations. In collaboration with Giorgio Rossi she was the choreographer of "Cielo di Marzo", a creation for the corps de ballet of the Teatro dell'Opera in Rome; and as Giorgio Rossi's assistant in "Le Mélange des Anges", creative residency at the Ecole des Sables in Dakar as part of the exchange project "Italie, Culture, Afrique" promoted by MIBACT, National Academy of Dance, Italian Embassy in Dakar, Italian Cultural Institute; "A city of water", Cantieri dell'Immaginario, L'Aquila (2012); "Carmen" Opera Opera with the Orchestra of Piazza Vittorio, Opéra Théâtre de Saint-Étienne (2013).
Her latest creation, "Bisbigliata Creatura", in collaboration with Cinzia Sità, won the InDivenire Award (dance section), 2019 and the Visionaries selection of the Kilowatt Festival 2021.
In 2022 she created "Cell" a choreography for the Compagnia dei Licei Coreutici della Campania.
She currently collaborates with the sound artist Ivan Macera in a project on the relationship between artificial intelligence and body language.
She is a movement coach of prose theater productions : "Pilade è morte", directed by Daniele Nuccetelli, Rome, 2016; "L'inciampo", directed by Eduardo Ricciardelli, Rome, 2017; "Anastasia", directed by Martina Badiluzzi, winning project of the Biennale Teatro 2019 call.Tutor of the project Untitled (mâcher ses mots) by Elena Bastogi, one of the selected works of the 2022 edition of Powered by Ref, Rome Europa Festival.
Her experience in the didactic and pedagogical field began in 2006 and continues, with a view to constant research and renewal up to the present day, conducting lessons and seminars aimed at actors, dancers and performers in various Italian structures including, Balletto di Rome, Carrozzerie Not, Action Theater, Rome, School of the performing arts of the Biondo Theater of Palermo, directed by Emma Dante, UNICAL University of Calabria, Viagrande Sudios, Catania, MuVet, Dance space, Bologna, TeatroIndia – Teatro di Roma From 2018 to today she is part of the teaching staff of the Master Theater, Pedagogy and Didactics of the Suor Orsola Benincasa University of Naples.
www.mariellacelia.com

Theme of the Body Mind Centering workshop of Mariella Celia: "Be brave by being soft"
In this class we will use some principles of BMC embryology to reinforce the sense of the internal space of the body, differentiating the areas (anterior / visceral, posterior / neural, intermediate) and then integrating them.
Starting from the fluid origin of our central axis, we will explore its relationship with the limbs, to embody our longitudinal center, the home from which everything originates and to which to return, after every brave action in the world.
(photo of Mariella's BMC worrkshop in Africa)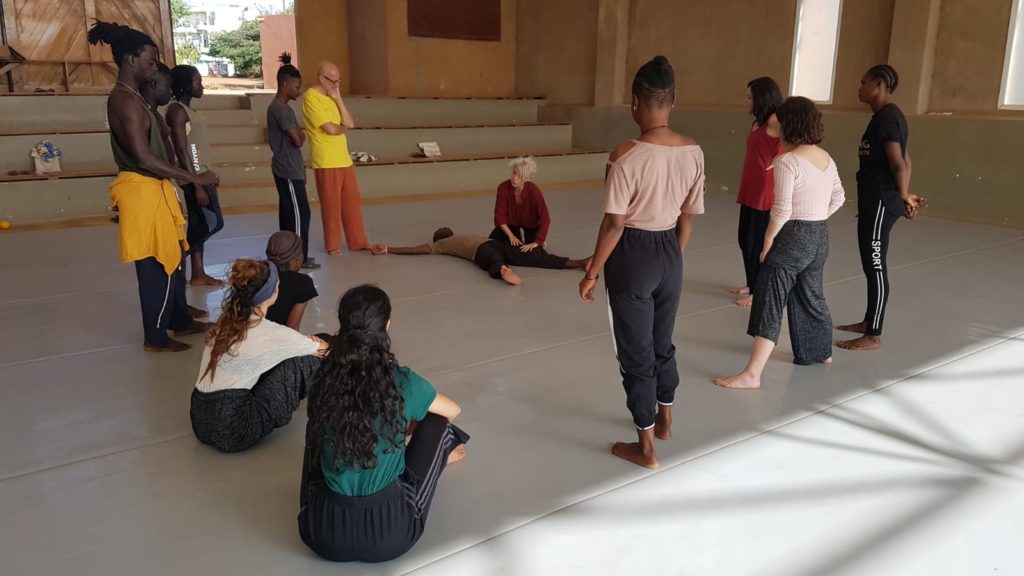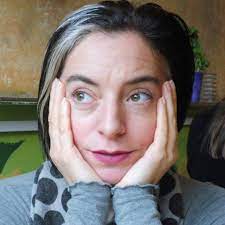 Elena La Puca: dancer, "tailoring" psychologist, art and Dance Movement Therapist.
For more than twenty years she has been involved in research around the expressive and therapeutic possibilities of movement, from the invisible one within the body, through small or large gestures, to dance as commonly defined.
She studied classical, modern, contemporary dance and Contact Improvisation.
For several years she went through the experience of research theater that brought her to meet the Buto dance of Tetsuro Fukuhara, Ko Murobushi and Masaki Iwana.
The curiosity for the poetics of this expressive modality led her to Japan, thanks to the winning of a post-graduate specialization scholarship, where she deepened the study of its aesthetic, performative and therapeutic aspects by studying with Natzu Nakajima, Yoshito Ohno, Min Tanaka, Itto Morita and Mika Tacheuchi.
The free research bridging art and therapy has acted as a compass pointing towards her increasing curiosity for the practice of improvisation, specifically in the interaction between dance, theater and live music, where she continues to focus on their development and potential.
She organizes didactic and experiential workshops focused on the relationship between internal and external space in movement and dance, as well as on the use of Art Therapy as a tool for psycho-physical well-being through the exploration of the deep breathing, the use of drawing, the vocal skills and the handling of clay.
Sheis a teacher of "Experiential Anatomy" in the 3-year Master in Art Therapy with Integrated Psycho-physiological orientation in Rome and "Dance Therapy" at "Imago" – School of Psychotherapy, Psychodrama and Arttherapy in Naples.
https://www.psicologiasartoriale.it/

Theme of Elena La Puca's workshop: The Skeletal System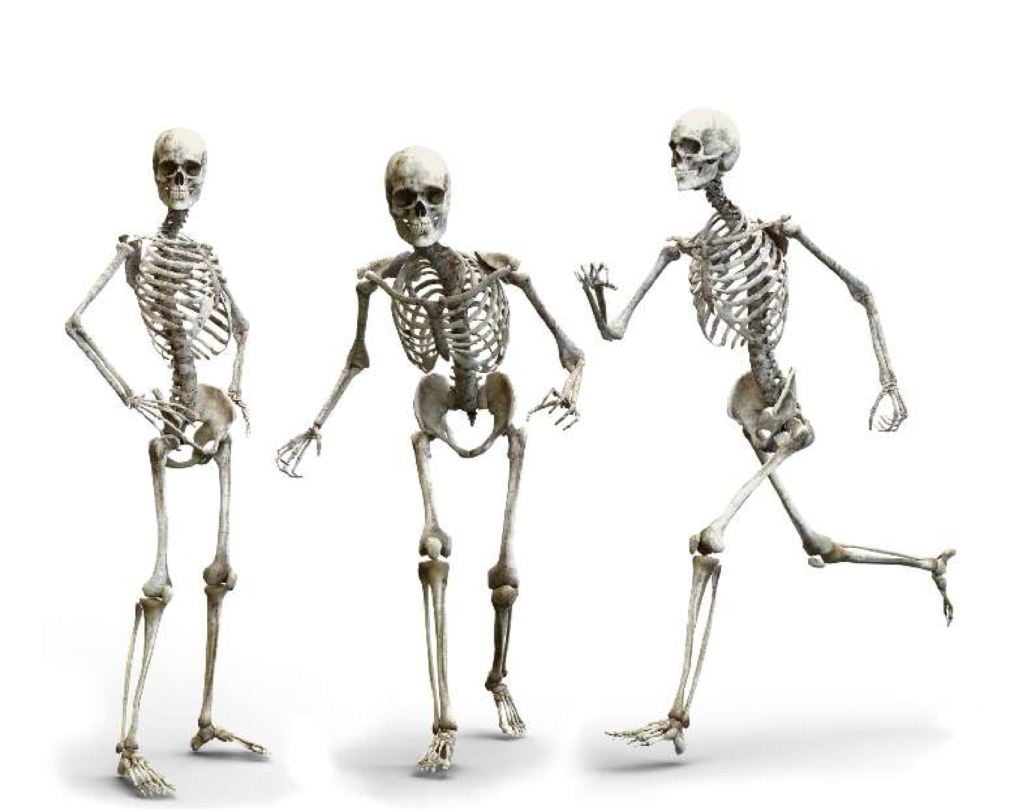 From the "macabre dances" of medieval Europe to Josè Guadalupe Posada's illustrations, we observe how the iconography of death is always associated with the presence of the skeleton … probably because it is what remains of us longer!
The workshop is dedicated to the exploration of one's skeletal system, to the characteristic quality of movement in space that is stimulated by the profound perception of its presence.
We will play with its Matters and dance with its Nature!
We will duelve into the Pleasure of Article-Action and rediscover how, despite the association with death, the skeleton represents a very vital dimension of ourselves, giving us support, protection, structure and extremely varied mobility …
I consider this work a "preliminary space" to any work on dance.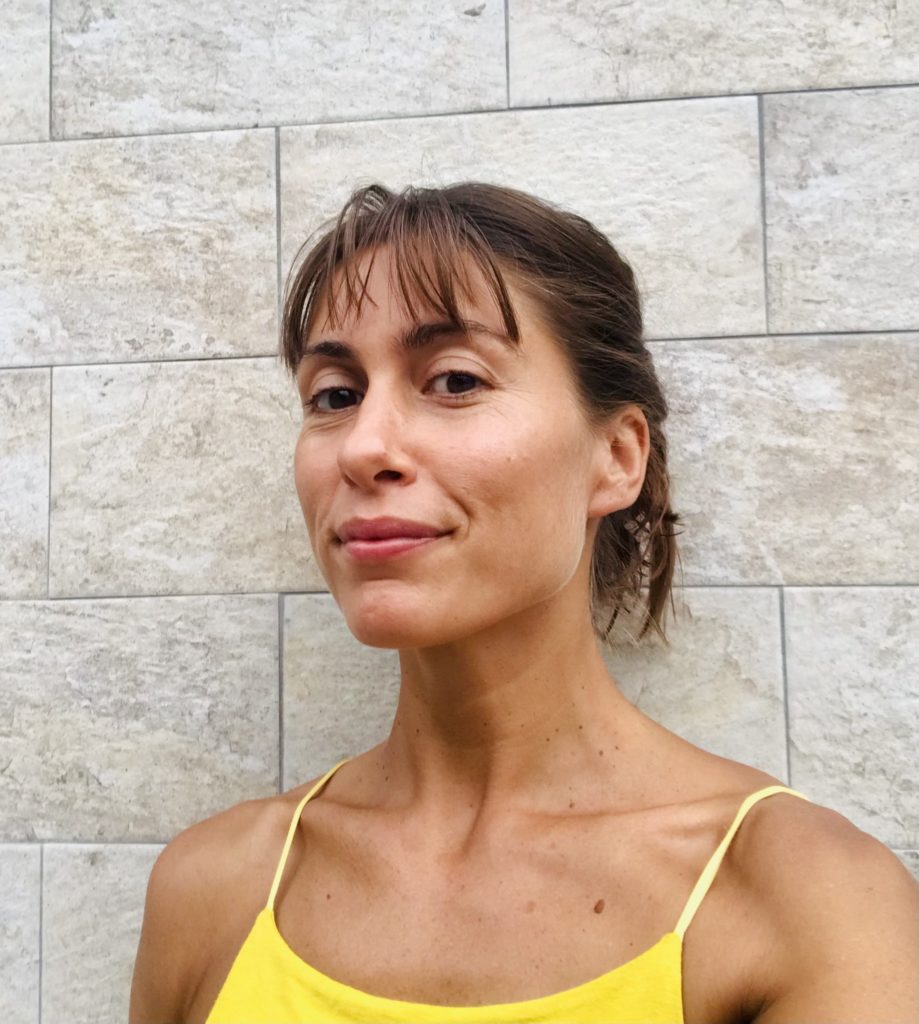 Marta Iucci: She has been practicing sport since she was a child. In 2007 started the Feldenkrais Method training course, which completed in 2011,  in Rome. She graduated in Pedagogy in 2014 in Roma Tre University.
Quickly left the sport's environment to devote herself completely to dance. She studied contemporary dance, floor work, until got totally fascinated by Contact Improvisation, and started travelling throughout Europe for festivals and workshops, studying with different teachers (Nancy Stark Smith, Kirstie Simson, Nita Little, Martin Keogh, Ray Chung, Asaf Bachrach, Otto Ramstad & many more). Since 2014 she settle in Italy, where collaborate with Spazio NU, teaching group lessons, seminars, individual lessons both of the Feldenkrais Method and Contact Improvisation. From 2016 to 2019 collaborated with Mattieu Gaudeau, Asaf Bachrcah and Romain Bigé for "F.A.R.", a project that intertwines dance, somatic practices and philosophy. Recently completed a Master's Degree in Preventive and Suitable Motor Sciences at the University of Florence.
Theme of  Marta Iucci workshop:"Awareness through movement"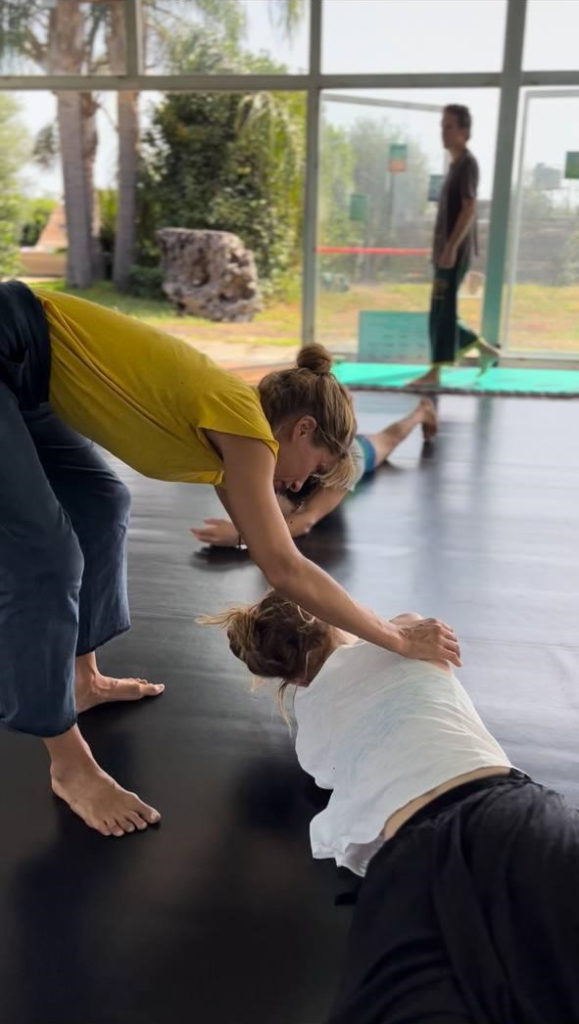 During this class we will deepen the delicacy of movement, fine attention and great expansion of the awareness of our patterns and habits: how to go beyond and over our limitate choices? How could we feel smooth and strong, stable and mobile, light but rooted? This Feldenkrais Method®️exploration will be a moment to go deep in ourselves, without nothing to imitate or "have to do". A space for learning with the great plasticity of our brain. We will focus on the hip joints and pelvis, opening up the power within.Feldenkrais Method®️/
The Feldenkrais Method® uses gentle movement and directed attention to help people learn new and more effective ways of living the life they want. You can increase your ease and range of motion, improve your flexibility and coordination, and rediscover your innate capacity for graceful, efficient movement. Since how you move is how you move through life, these improvements will often enhance your thinking, emotional regulation, and problem-solving capabilities. The Feldenkrais Method is based on principles of physics, biomechanics, and an empirical understanding of learning and human development.