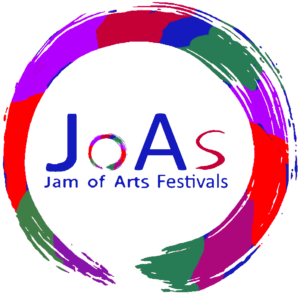 Last news, discount options, offered for participants in some conditions For more informations you can contact us!!
Rome's New year Winter Jam of Arts 2023– 2024!!
First event: 27-28-29-30 December
Second 30-31 December  1-2 January
Third 2-3-4-5 January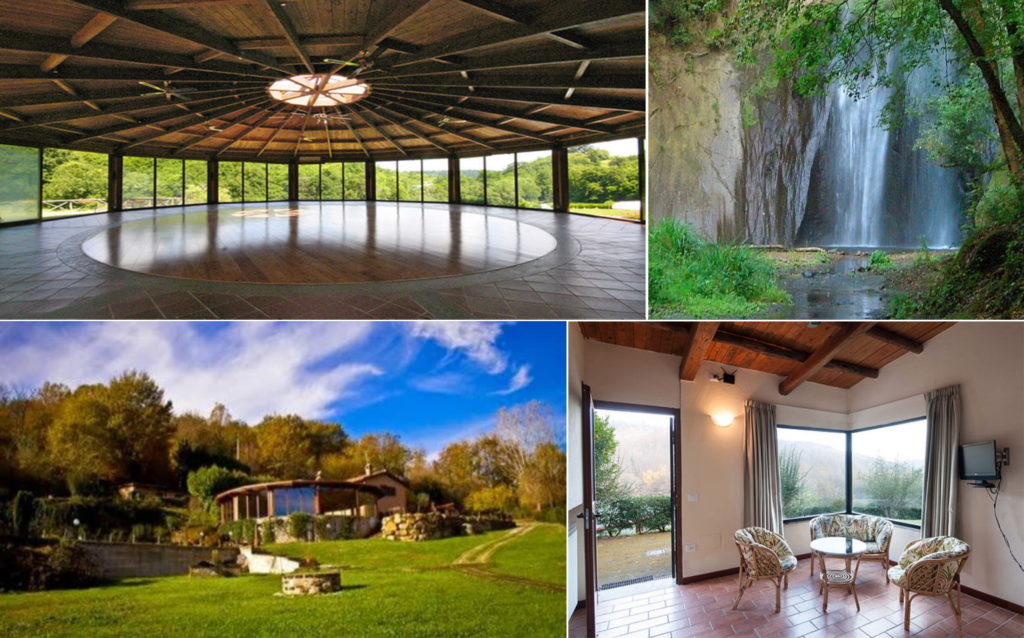 Hello to everyone!
We are very happy to announce you the 10th edition of Winter Jam of Arts 2023-2024 festival in a wonderful farm in north Rome, surrounded by a big forest, springs, cascades, ancient roman bridges, a cave and much more!
The farm is full of energy! For more informations and photos about this wonderful place see below!

The event includes labs of Contact improvisation, of Boby Mind Centering, of Somatics, of performing arts, of CircleSinging, of experiential anatomy,  of vocal improvisation, many jams, live music and plenty of traditional Italian and vegetarian food!
You are all invited to dance, sing, relax, connect with the nature, meet people from all around the world and improvise!
The festival will be on 27 December – 5 of January and is composed by 3 events,
First will be  27 – 30 December 
Second 30 December – 2 January
Third  2 – 5 January.
You can participate to one, two or three events!
The event includes:
– 30 hours of lessons
– More than 72 hours of jam in the 2 dance rooms
– Live music.
– Excursions in the nature.
– Big, well heated apartments and dormitory.
– Traditional Italian and vegetarian food.
The teachers are: (see below curriculum of teachers and musicians)
Iwona Olszowska (Poland)
Ippokratis Veneris (Greece)
Sergey Semichev (Ukraine)
Mariella Celia (Italy)
Barbara Lucarini (Italy)
Daphne Nisi (Italy)
Musicians:
Dapne Nisi

(extracts of jams)
(Some short videos of last end of the year festival)
Waiting for the dinner!!!..
In line to have the meal..
eee
Arrival:
From Rome Fiumicino Airport and from the center of Rome trains depart every 30 minutes. The journey takes about 55 minutes and the railway station is close to the farm.
Ticket travel advice's: If airplanes becoming expensive, good alternative ways to come to Rome are: night trains, Flixbus, Blablacar.
ooo
Note: To participate to the festival you don't need to be dancers or artists since the idea of the Jam of Arts festivals is aimed to people who want to experiment with arts and movement, regardless having or not prior experience. The goal is to explore different skills and capabilities that exist within us, study various disciplines and enjoy!
Hall 1   –   (heated floor – 200 square metres)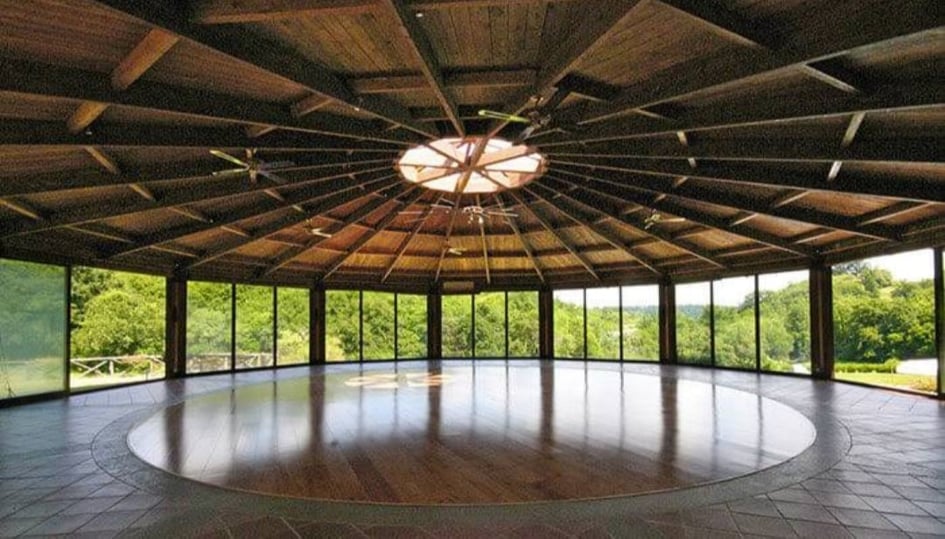 ikkkkkkkkkkk
Hall 2   –   (heated – 80 square metres)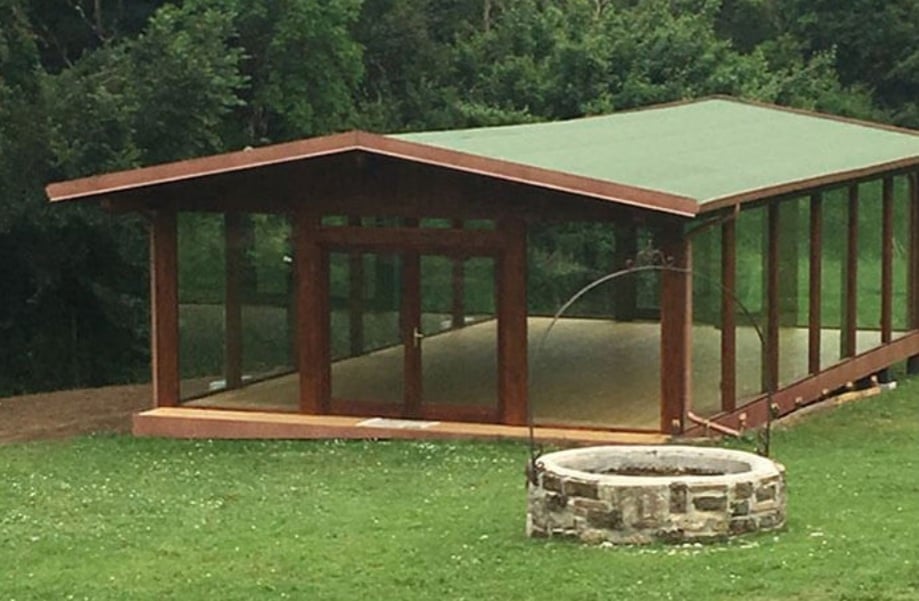 kokikko
Theatre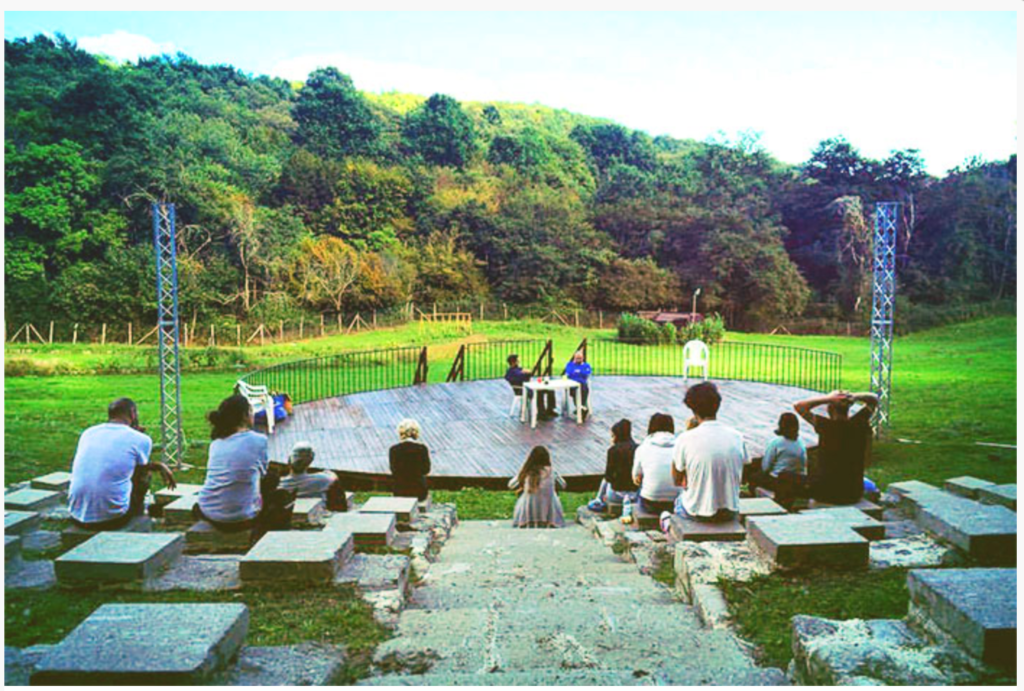 Program
Event 27-28-29-30 December
Wednesday 27 December

Thursday 28 December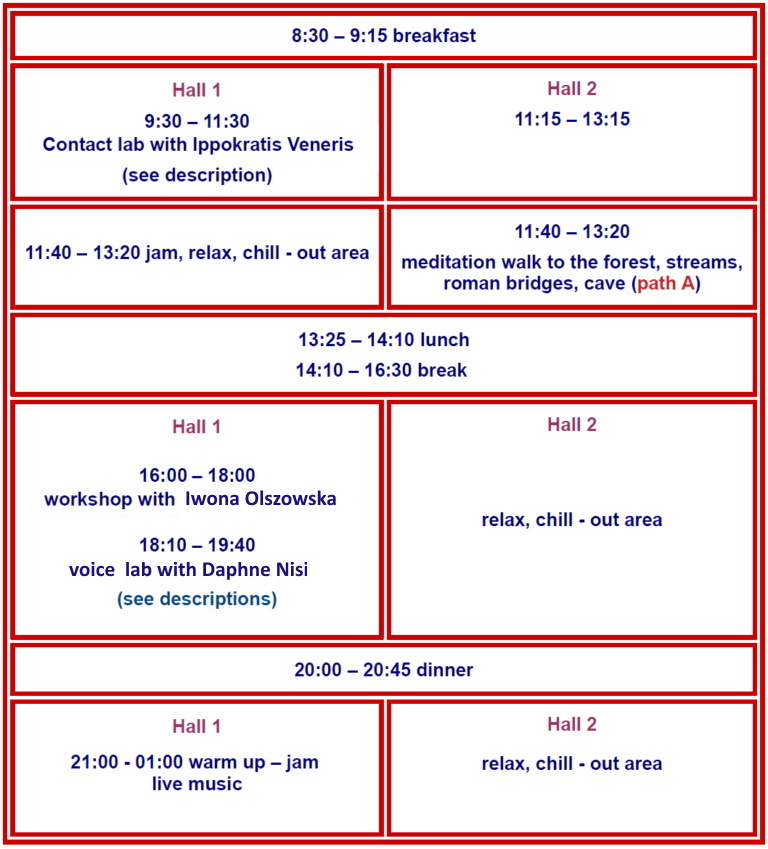 Friday 29 December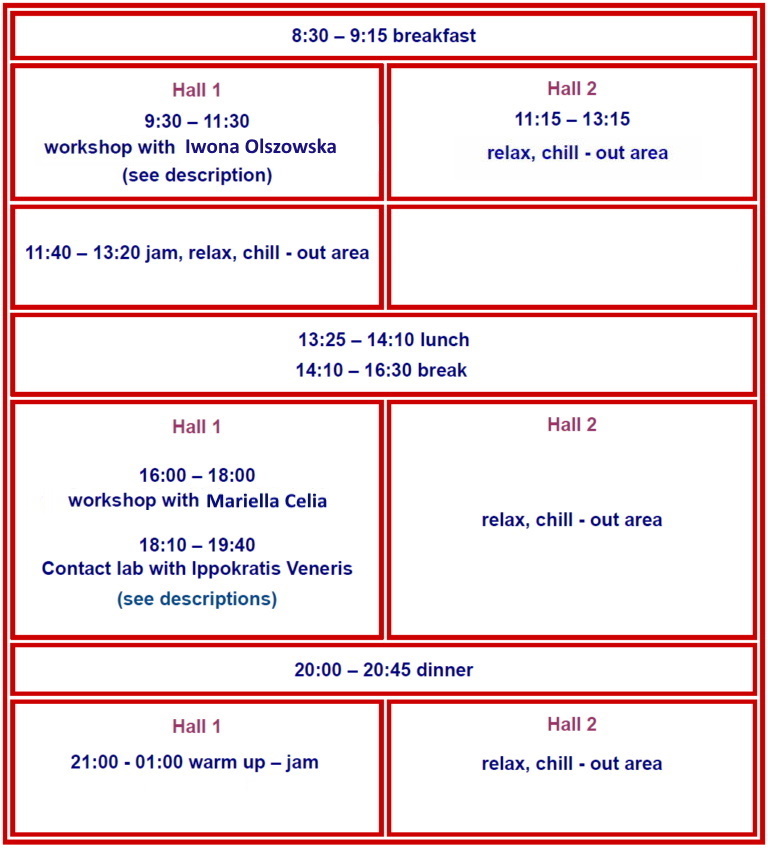 Saturday 30 December

Event 30-31 December 1-2 January
bbbbb
Saturday 30 December

Sunday 31 December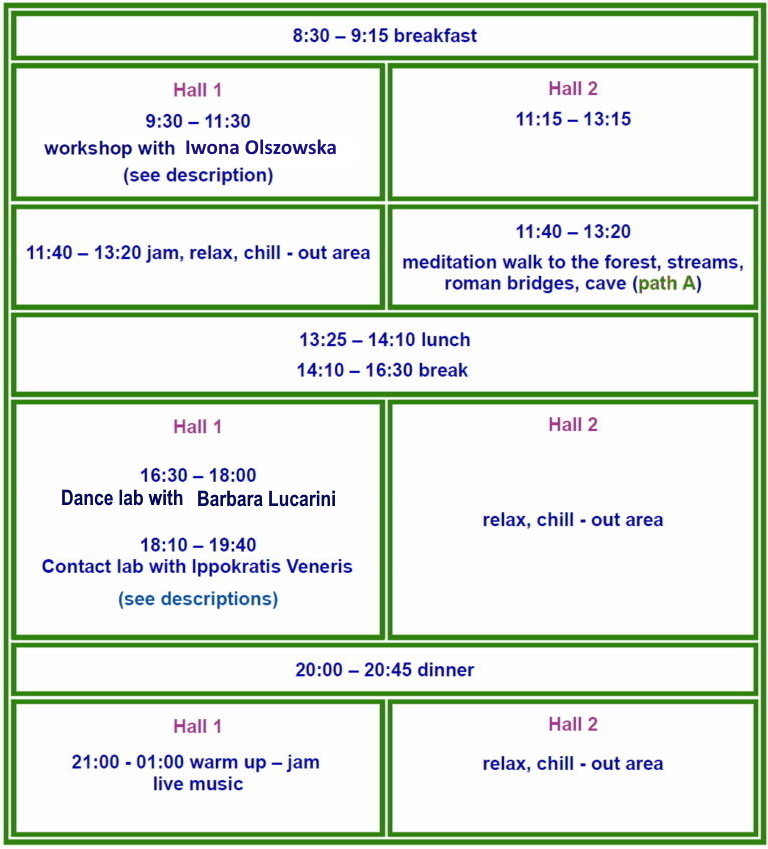 Monday 1 January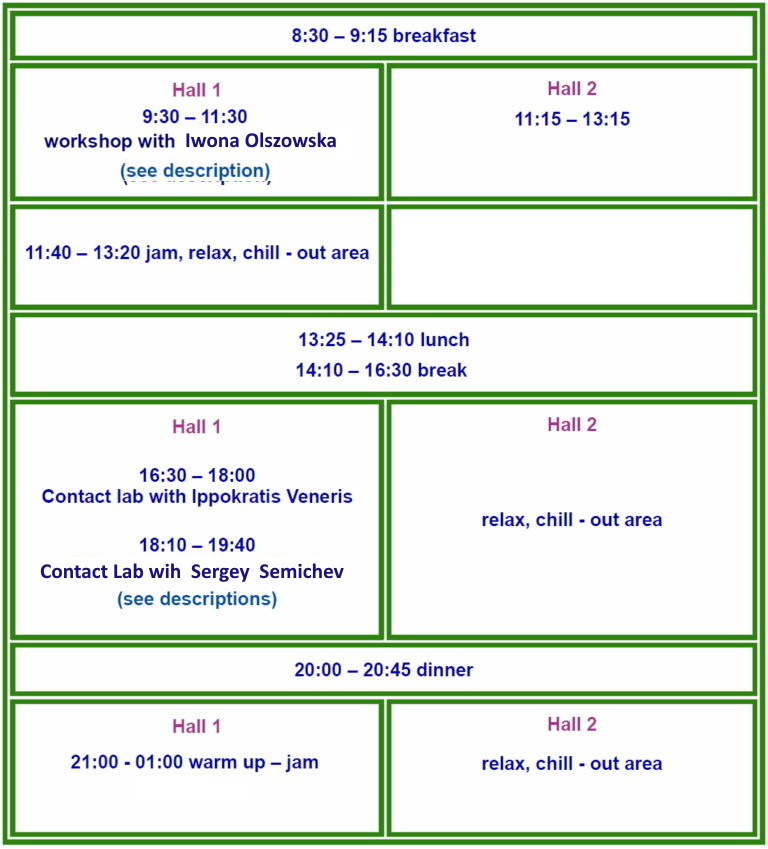 Tuesday 2 January

Event 2-3-4-5 January
Tuesday 2 January

Wednesday 3 January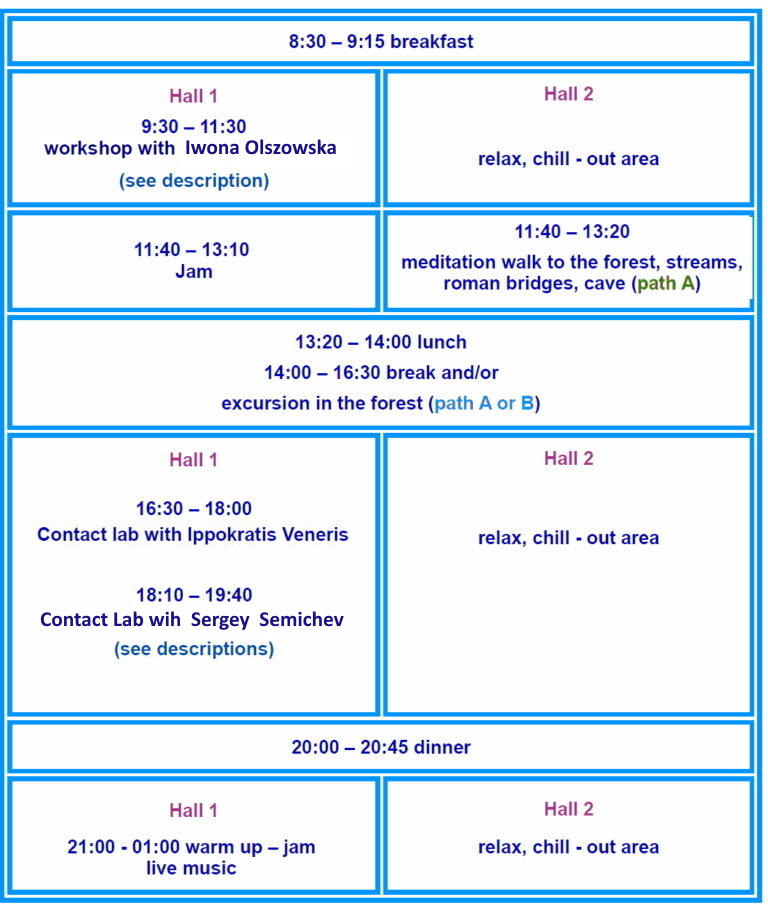 Thursday 4 January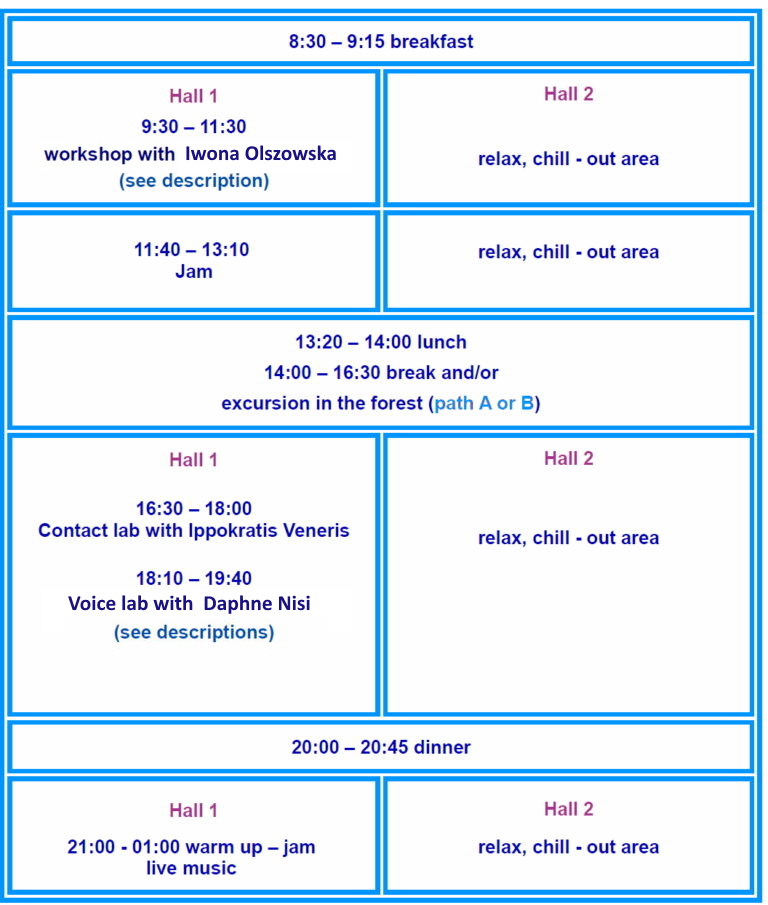 Friday 5 January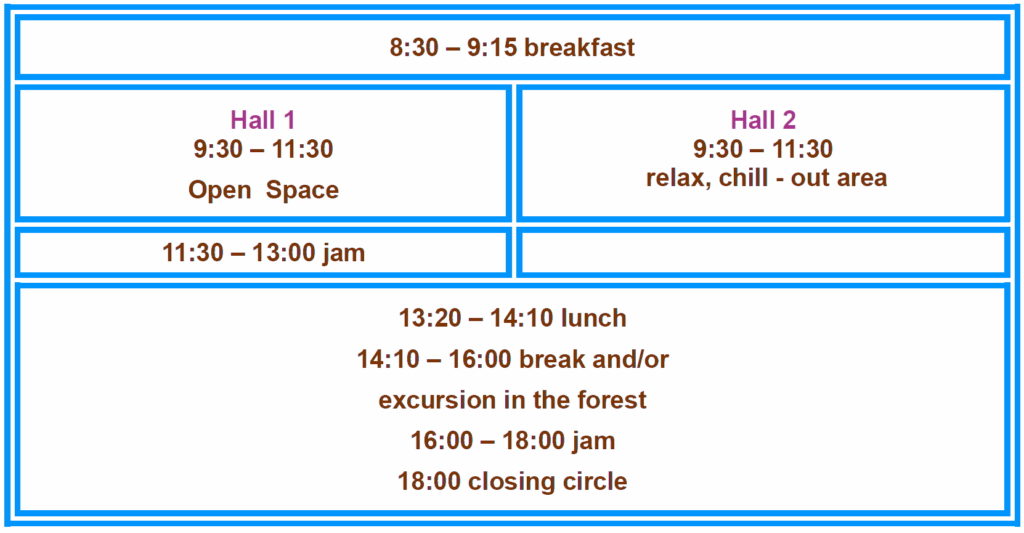 Hall 1: the circular dance space
Hall 2: the rectangular dance space
Prices A:
–  the fee for one event  (27 – 30 December or 2 – 5 January) sleeping in dormitory is 230€.
– the fee for the event  of  30 December – 2 January sleeping in dormitory is 245€.
— the fee for participating at two events (7 days, 27 December – 2 January or 30 December – 5 January) sleeping in dormitory is 425.
— For three events, (10 days, 27 December – 5 January), the price is 570€.
In the fees are included all the workshops, all the events, all the meals, single bed in dormitory. (places are limited, see photos).
NOTE: For the organisation of the festival we will need some helpers who wll have a reduction of the fee. If you want to candidate yourself, please send an email, specifying  which event/events you want to join at: info@jamofarts.com
dormitory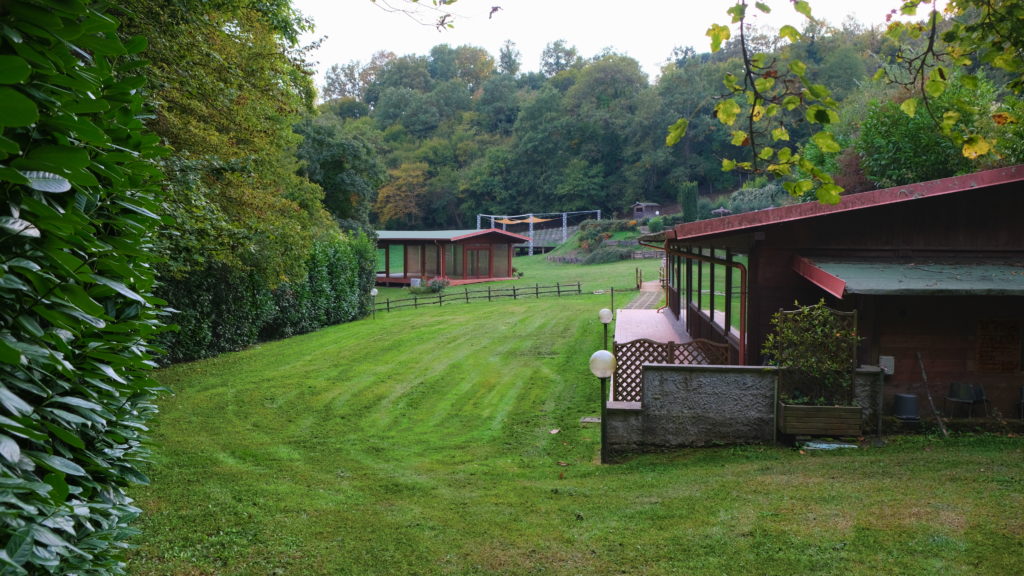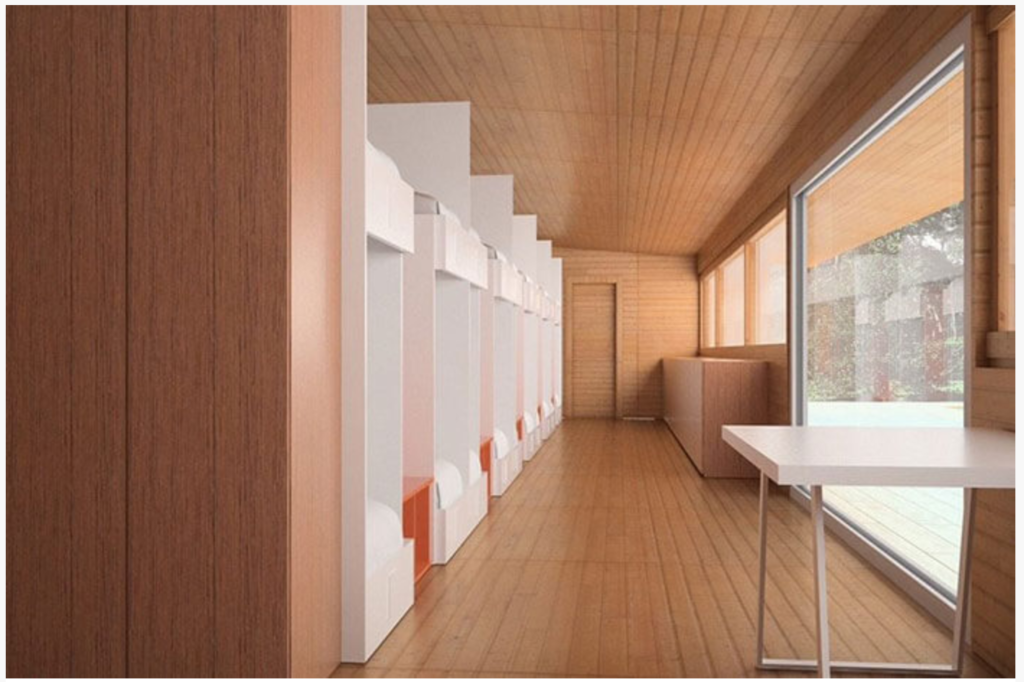 Prices B
–  the fee for one event  (27 – 30 December or 2 – 5 January) sleeping in apartment is 255
– the fee for the event  of  30 December – 2 January sleeping in apartment is 270€.
– the fee for participating at two events (7 days, 27 December – 2 January or 30 December – 5 January) sleeping in apartment is 480€.
– For three events, (10 days, 27 December – 5 January), the price is 680€.
In the fees are included all the workshops, all the events, all the meals, single bed in apartment. (places are limited, see photos).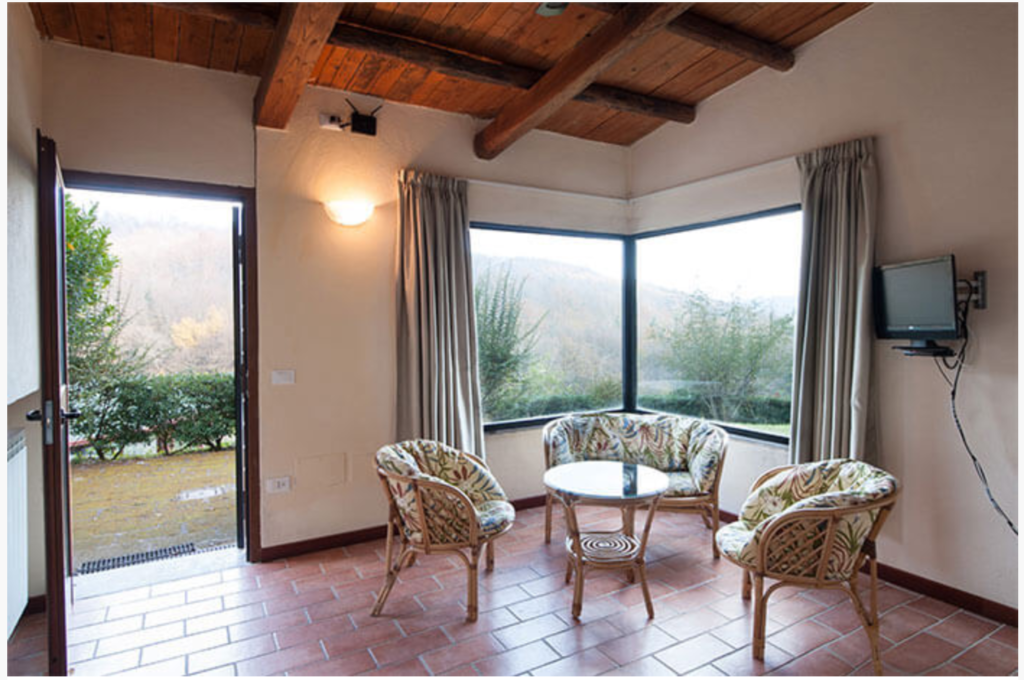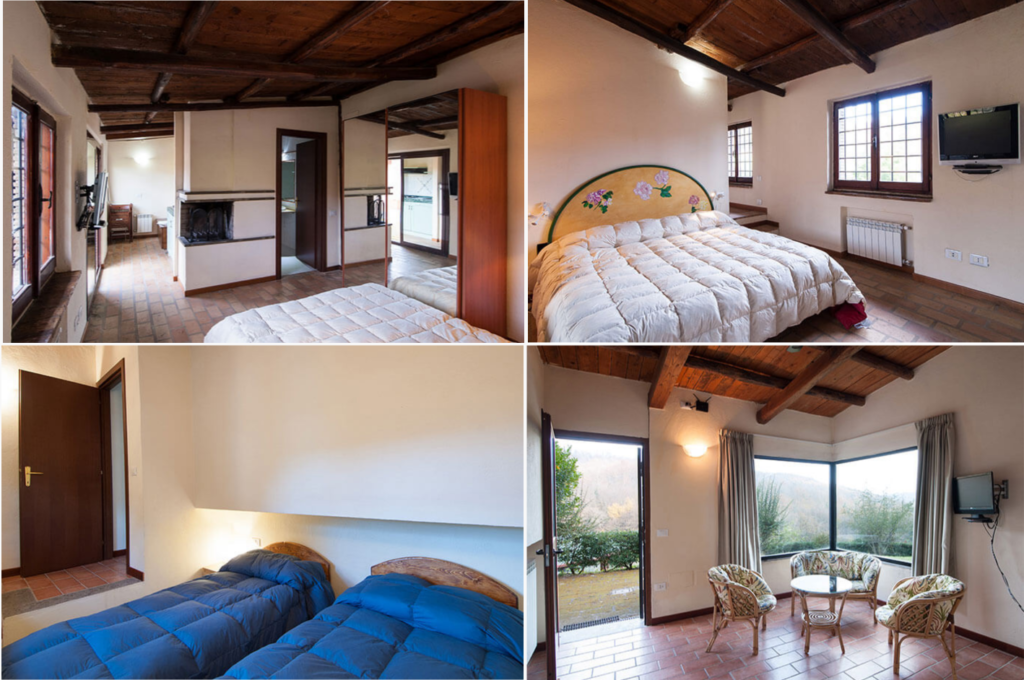 For more information's and registration, you have to write an email to: info@jamofarts.com.
tel: 0039 3287213546 (also whatsapp, telegram and viber)
Canellation policy of participaion, the organization of  Jan of Arts, by renting the retreat farm, paying salaries etc has a huge cost, so we don't accept cancellations for any reason. Please be comprensive of our effort.s Thanks
VERY IMPORTANT:  OFTEN  OUR  REPLIES  ENDS INTO THE SPAM, SO CONTROL OFTEN YOUR SPAM SECTION. IF YOU DON'T FIND A REPLY, WRITE US AGAIN WRITING ALSO YOUR PHONE NUMBER.
A few words about the place that hosts the festival. Under the ground of the farm is flowing a famous water source that is creating much energy in the place.  Next to the farm we find two ancient roman bridges, water cascades, a big cave, streams, many many trees and a bit farther a big lake.. follows some photos of the landscape.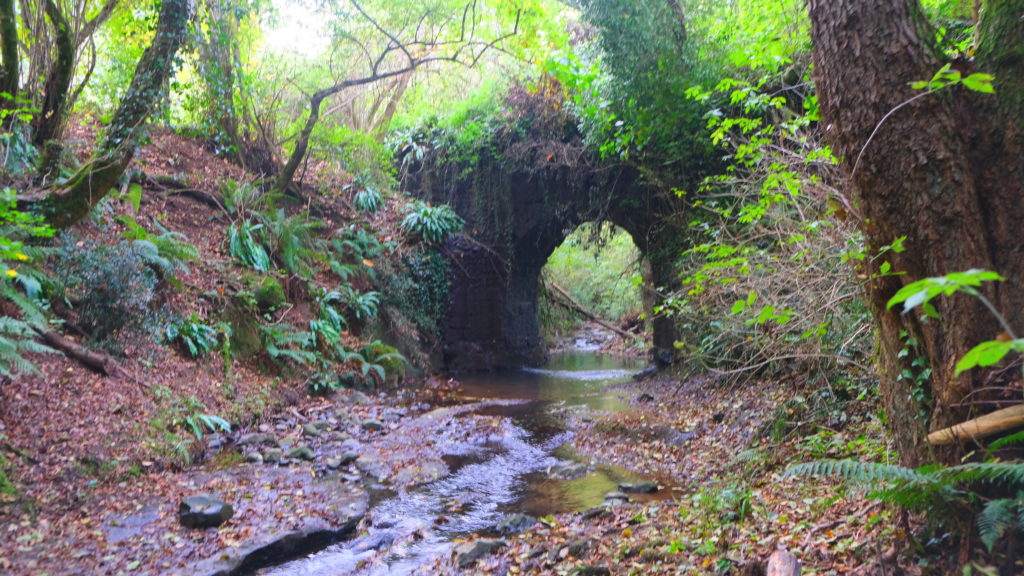 P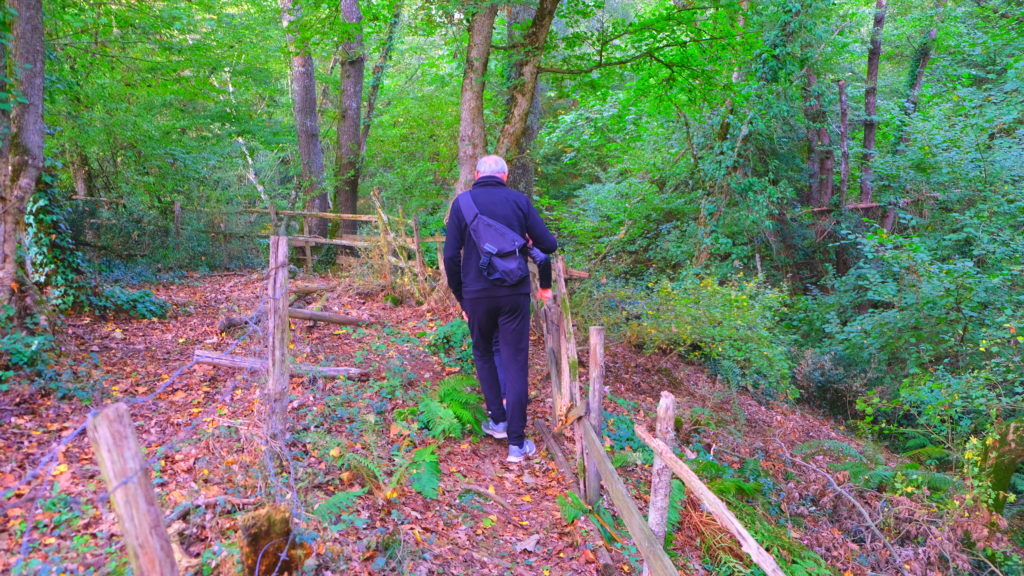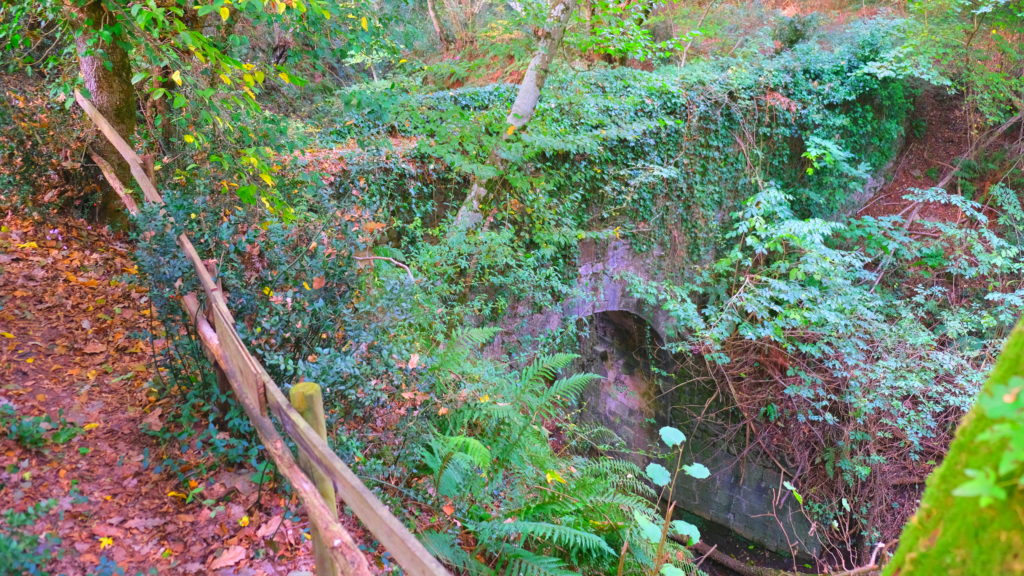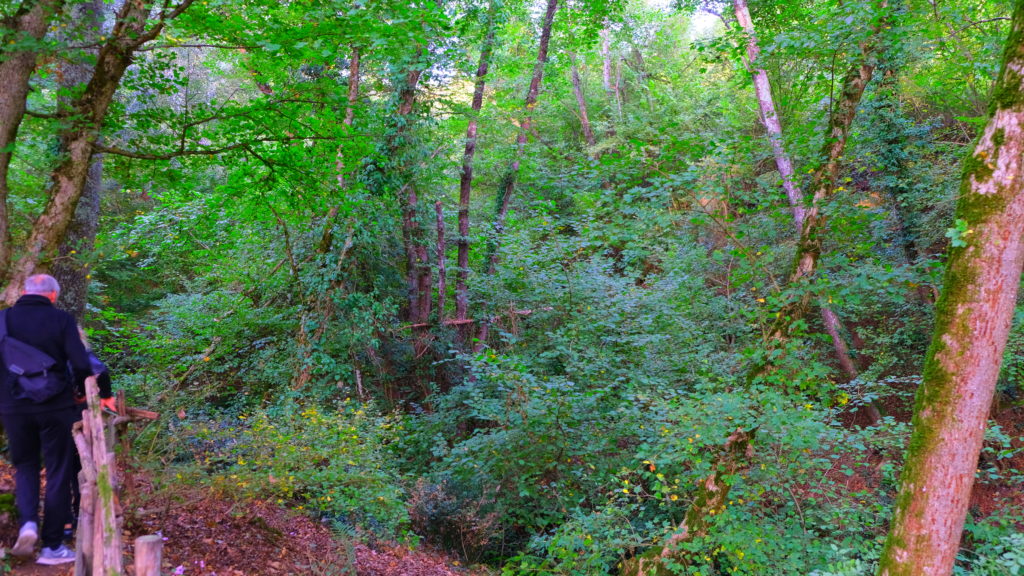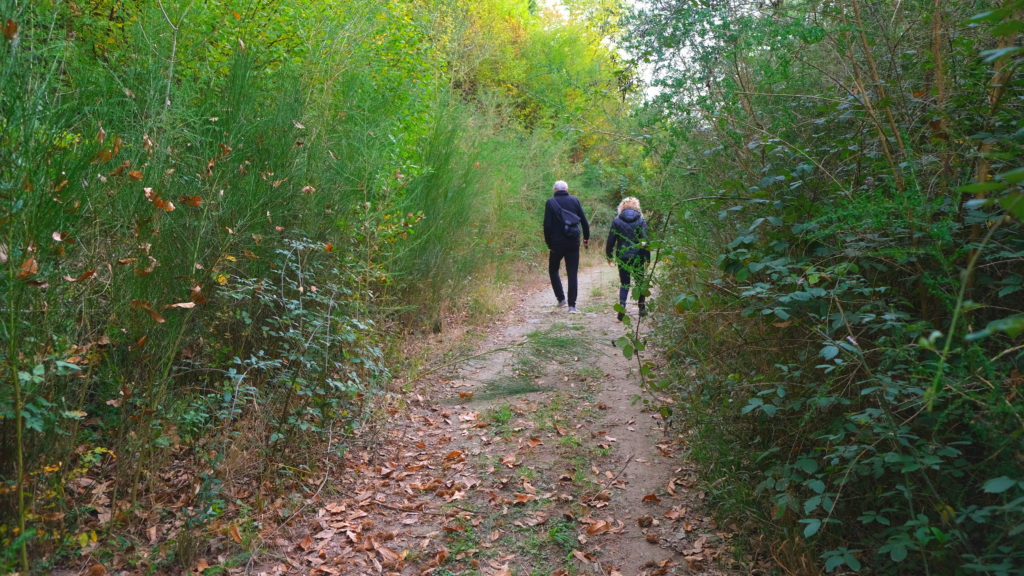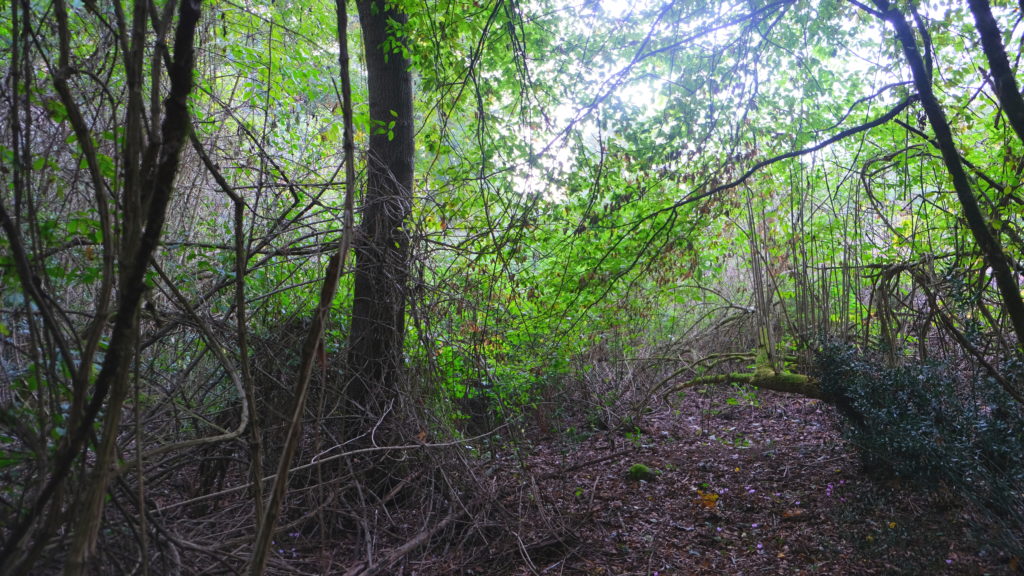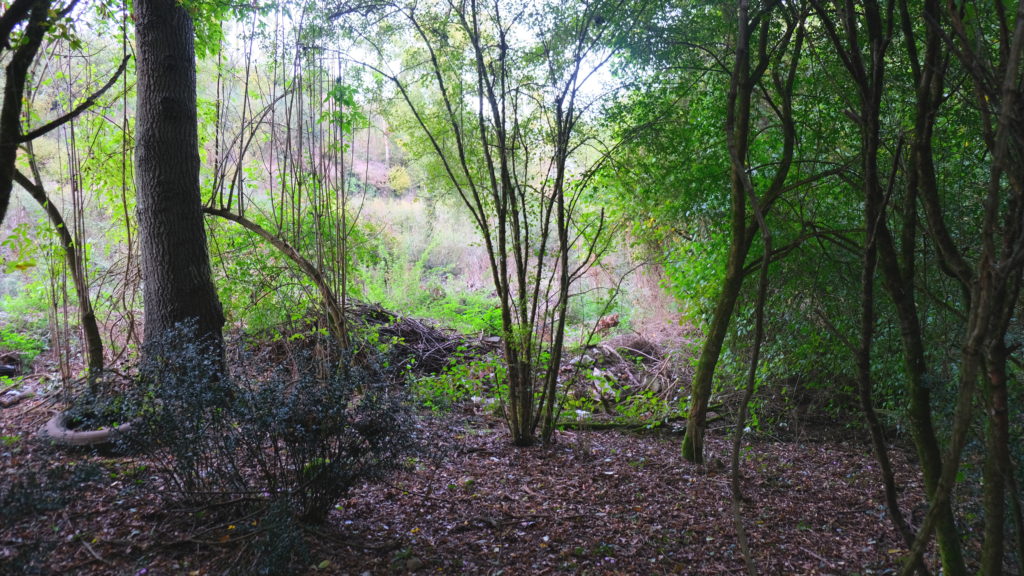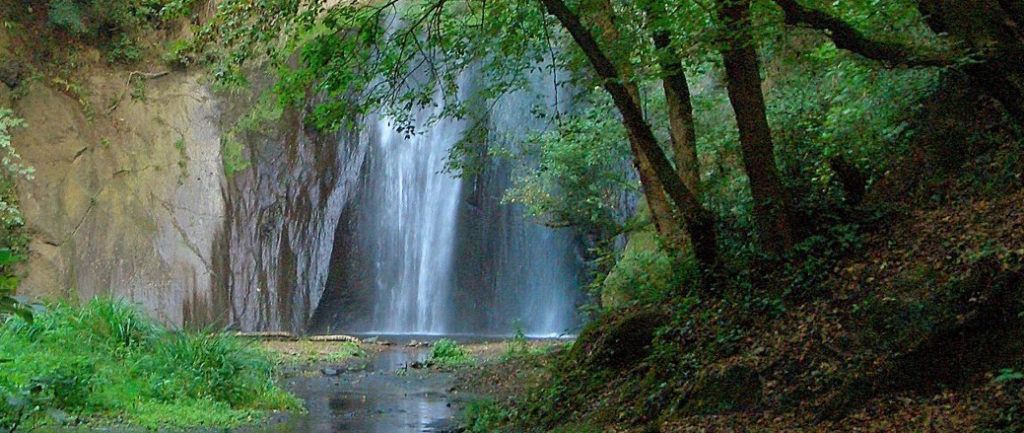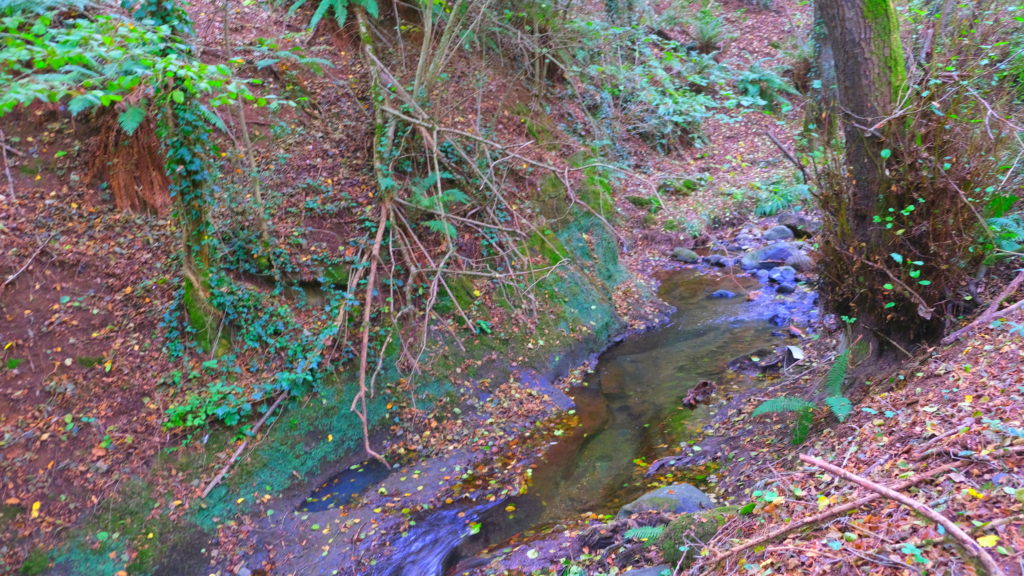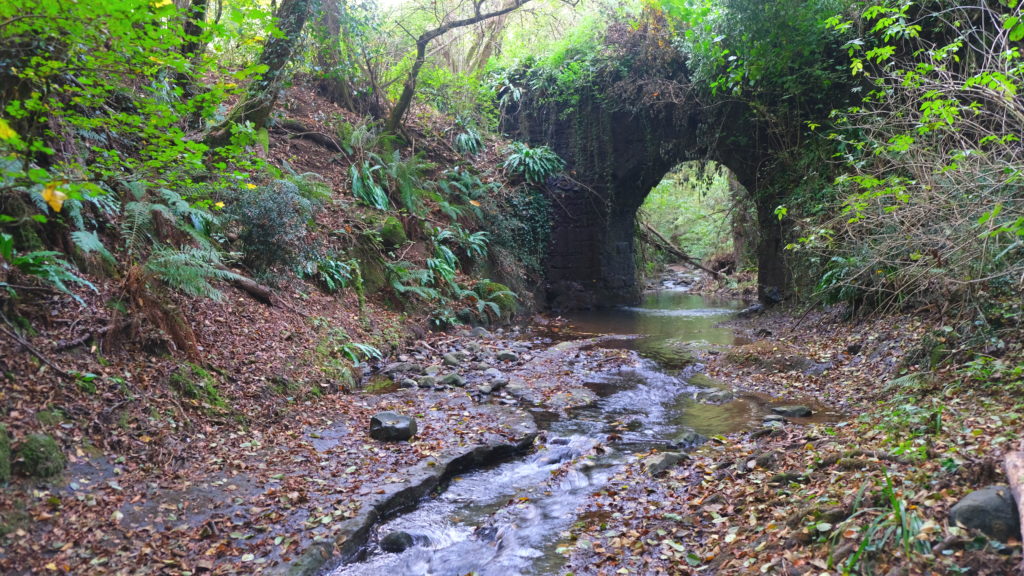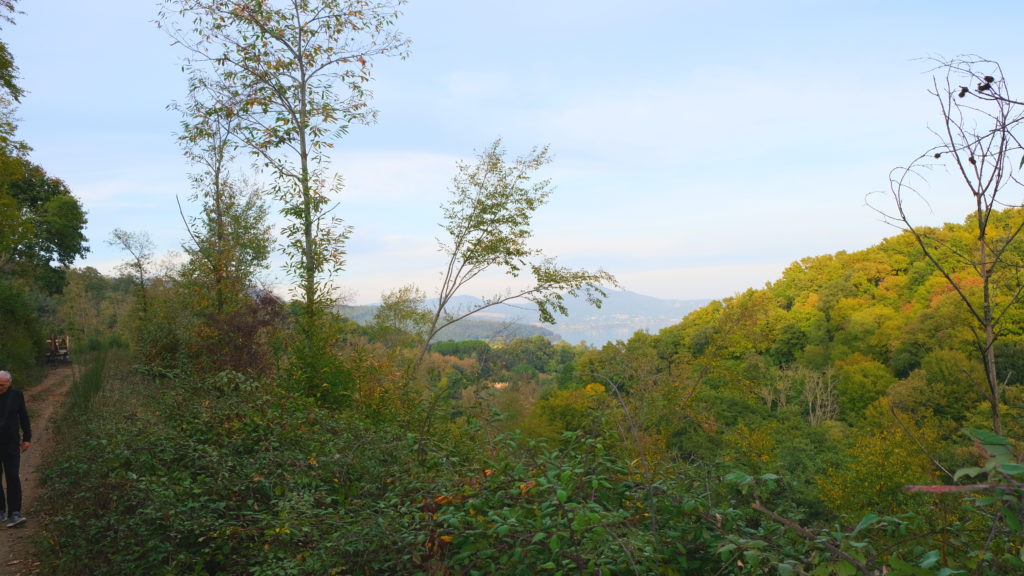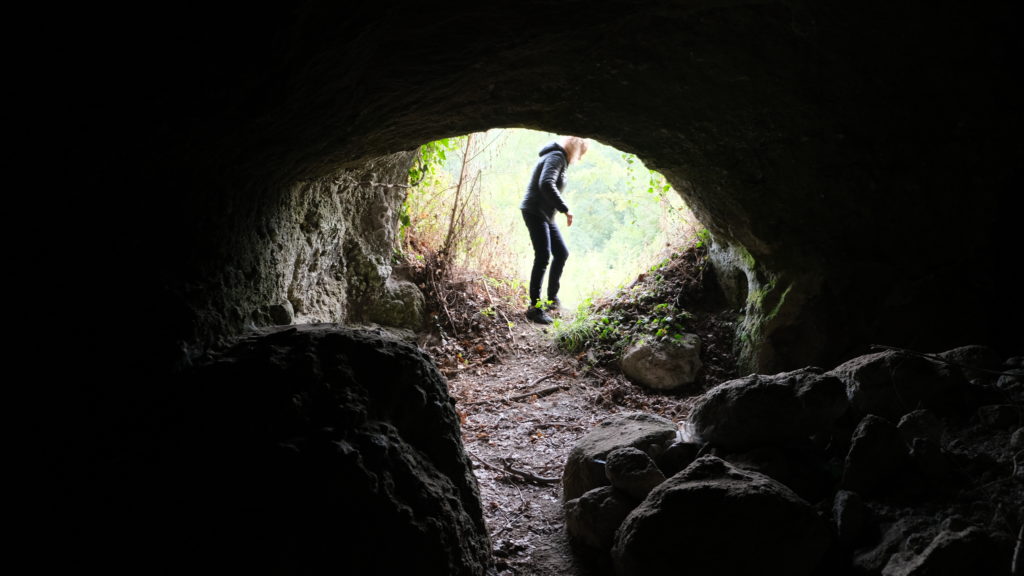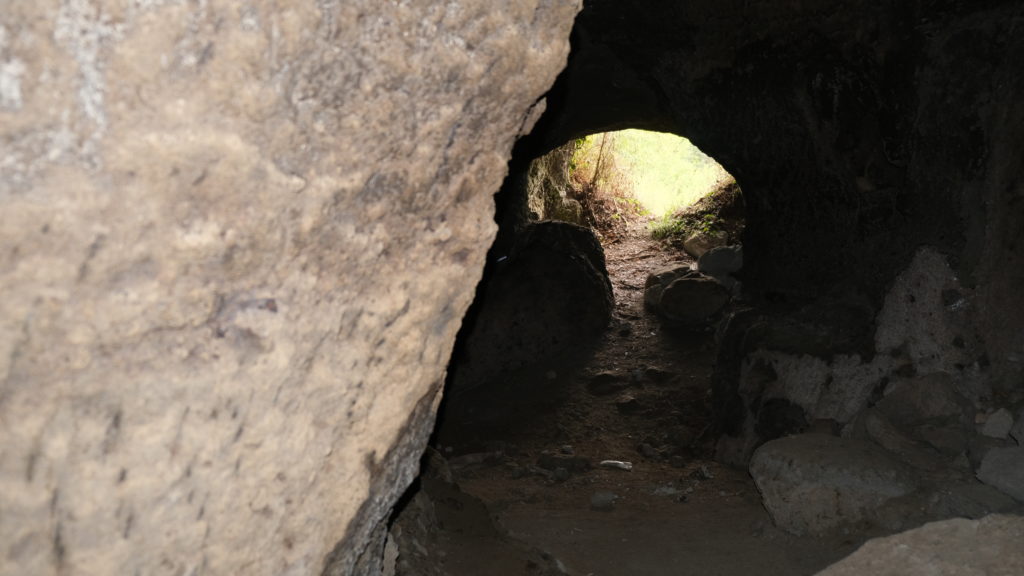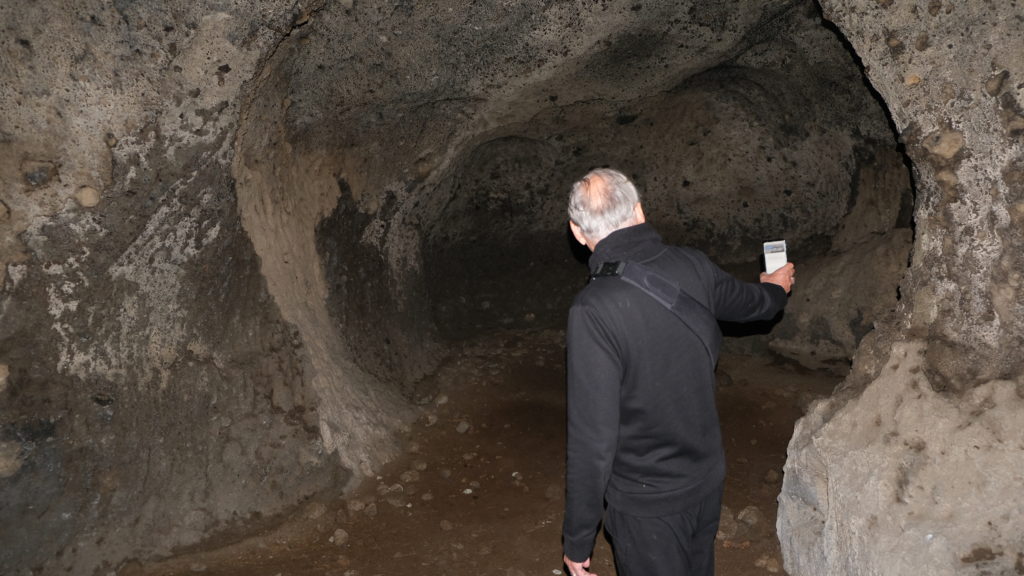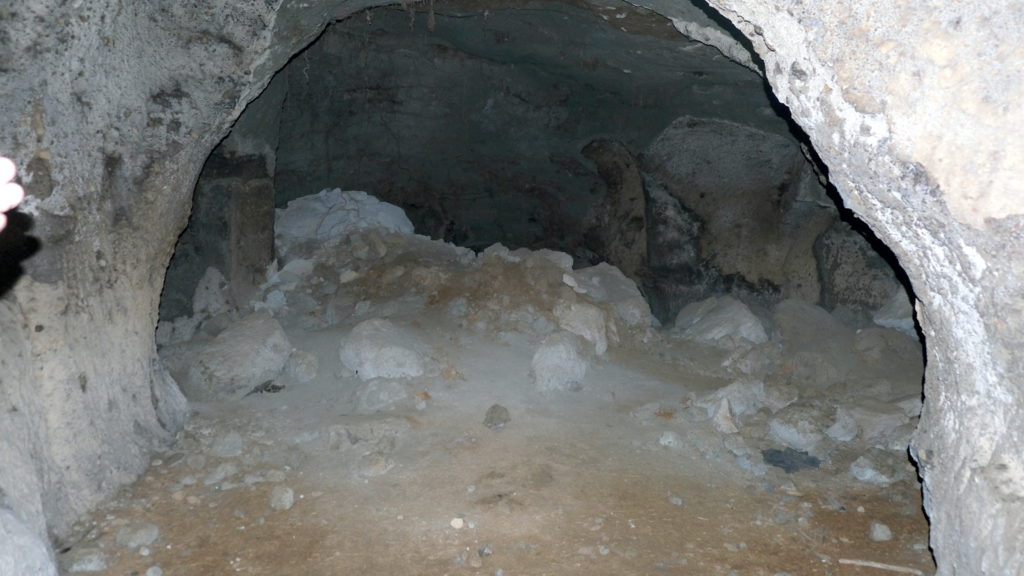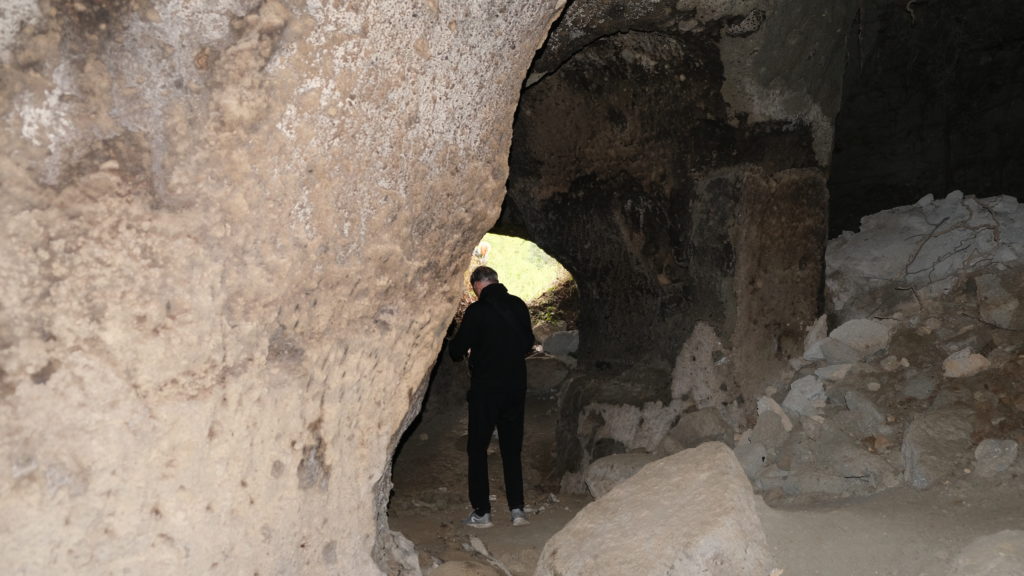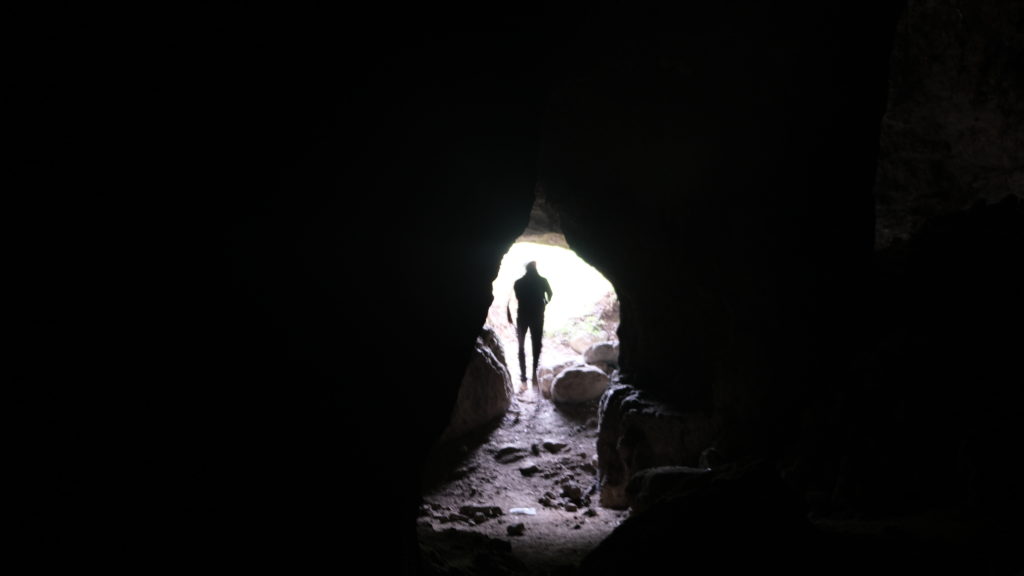 mmmmmmmmmmmmmmmmùùùùùbbbbbbbbbbbbbbbbbb
nnnnnnnnm
                                                     Restaurant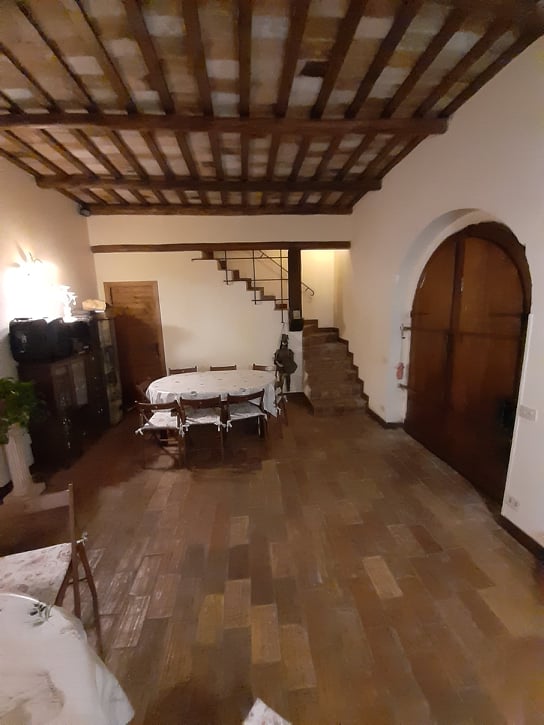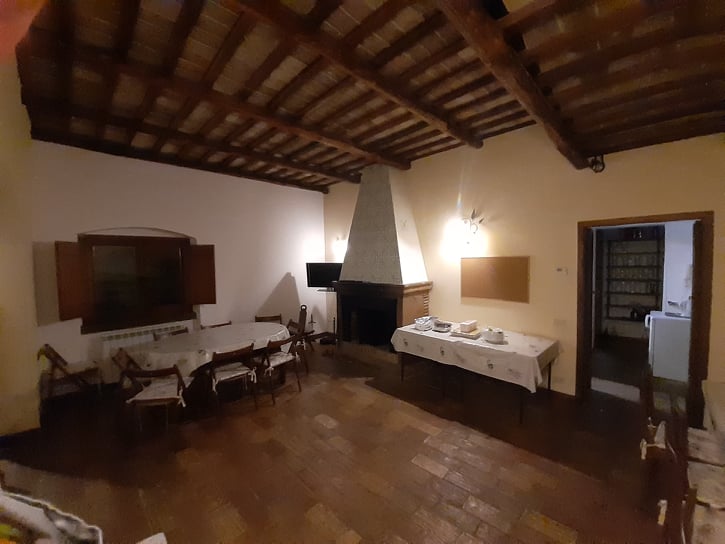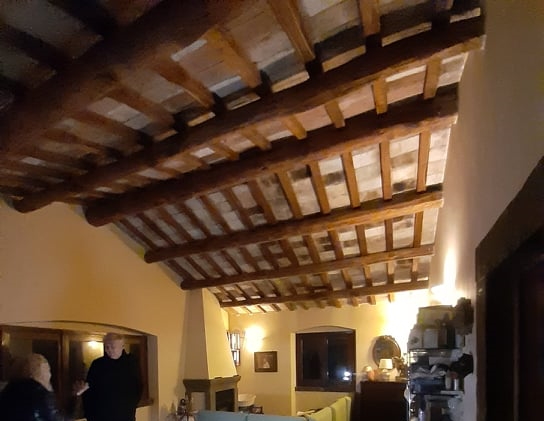 …………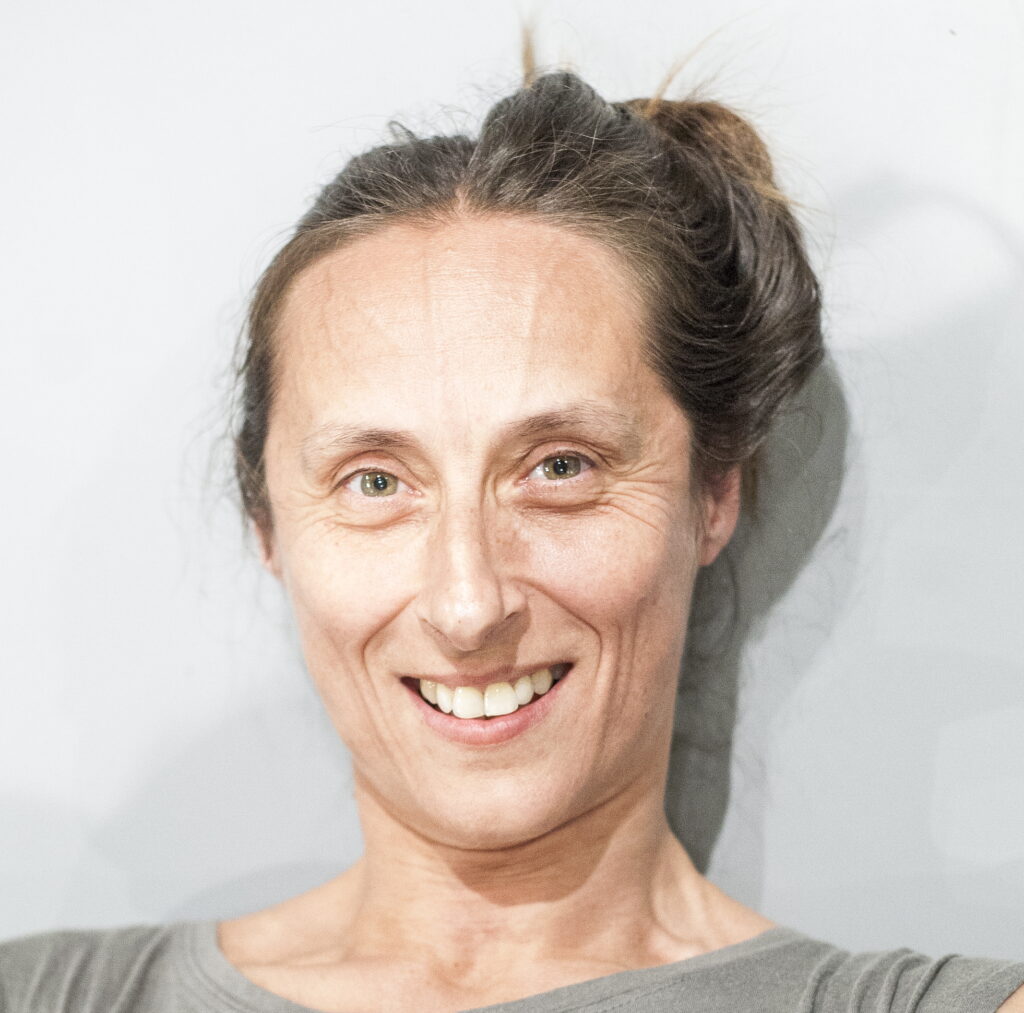 Iwona Olszowska is a dancer, improviser and contact mover, choreographer, dance teacher.
She is certificated Somatic Movement Educator in Body Mind Centering. (BMC).
Founder and artistic director of Experimental Dance Studio EST in Kraków, Poland.
She curated a cooperation with Barakah Theater creating there repertoire for Obszar Tanca/ Dance Zone based mainly on structure improvisation. (BMC)
She teaches for Hurtownia Ruchu, Music Academy in Lodz. For Dance Department Choreography and Somatic.
She was teaching for 8 years in State Actors School in Cracow.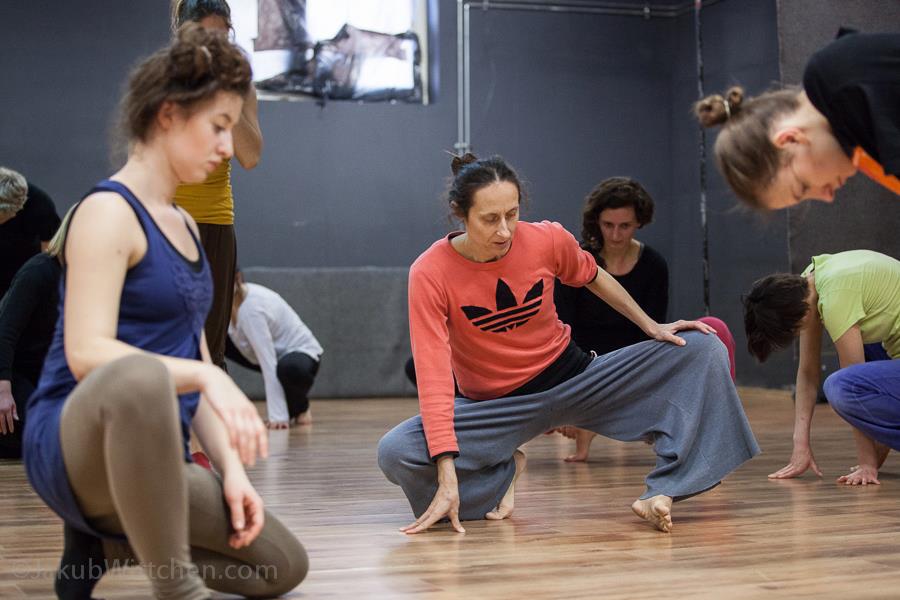 She was teaching somatic for Polish Dance Theater, Carte Blanche Company, Intensives for Ci Freiburg, Moldavia, Vilnius, Poland CI Festivals.
She teaches contact improvisation from BMC approach body systems, patterns, reflexes.
In New York at Movement Research, she studied  contemporary dance, bodywork based on Body Mind Centering, elements of Laban Analisys, Bartenieff Body Foundamental, Alexander, Feldenkrais methods and skinner release, kinetic awarnes, axis syllabus classes, Passing through, Butoh, authentic movement, various improvisation workshops in Poland.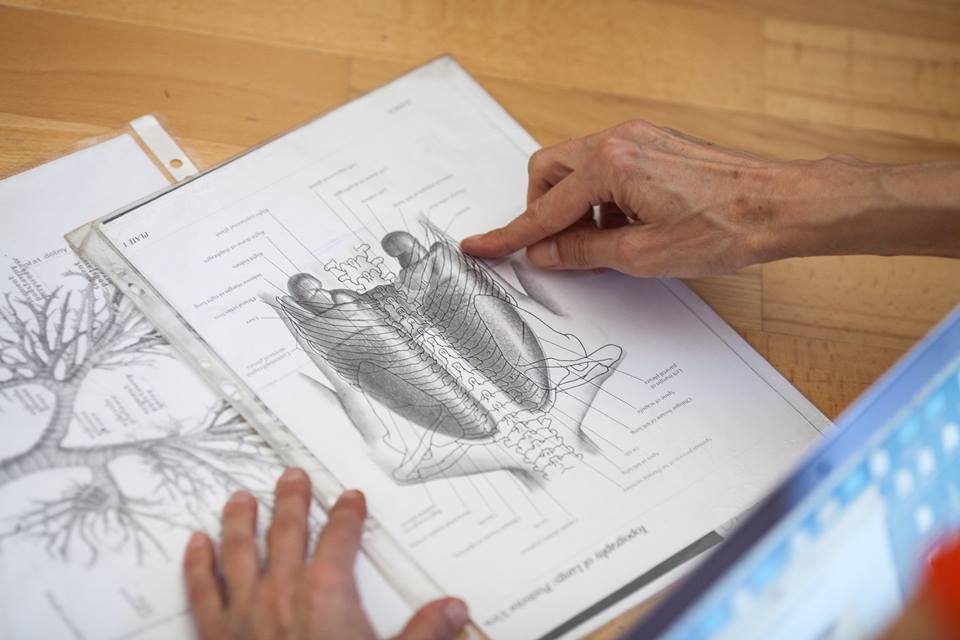 She studied also at George Mason University and University of Alabama and University of Calgary.
She studied extensively contact improvisation among others with Milan Kozanek, Ray Chung, Eckhard Muller, Yaniv Mintzer, Benno Voorham, Steve Bats, Joerg Hassman, Adrian Russi, Nancy Stark Smith …
Her improvisation training was various practices, Present body, Forsythe way of approach, GAGA, Creative Dance Laban Influences, elements of Constant composition, Tunning scores.
She also took part in Lab research on Improvisation in performance during ECITE, contact improvisation teachers meeting.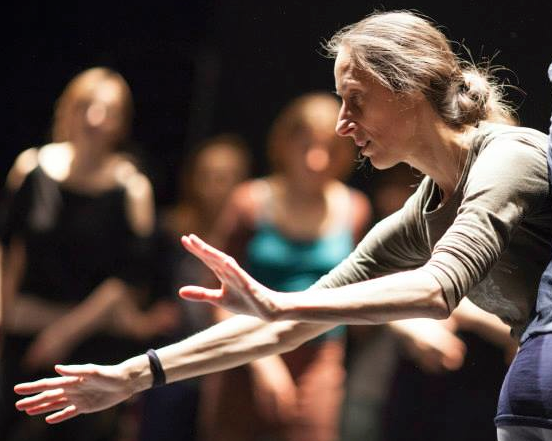 Recently she performed also as a solo, duo dancer with Pawel Konior, also with cooperation with musician Marcin Janus.
She performed also at Improvisation Festival at Judson Church, New York, at George Washington University, at Dartington College, England.
She danced for Aurora Project in St. Petersburg, Washington DC and Norway, Liz Lerman Dance Exchange in Poland and Dance Across Borders in Estonia and Sweden.
Recently she cooperated and performed improvisations projects with Renata Piotrowska, Michael Schumacher, Pracownia Fizyczna, Natalia Iwaniec, Anna Haracz.
Her choreographies were awarded for developing own style and stage personality, received by International Festival of Contemporary Dance Forms in Kalisz.
She got an ArtsLink scholarship founded by Soros Foundation for six weeks residency in NY.
http://PolandDances.pl/
www.taniecpolska.pl
www.hurtowniaruchu.pl
www.bodylab.eu
www.teatrbarakah.com 
ggggggg

TTitle of the workshops of Iwona Olszowska (event 27 – 30 December):
ADAPTATIVE FASCIA / LEYERS OF FASCIA
The workshop will be an approach from Body Mind Cenetering, BMC angle.
We will go from information through somatisation to embodiment potential.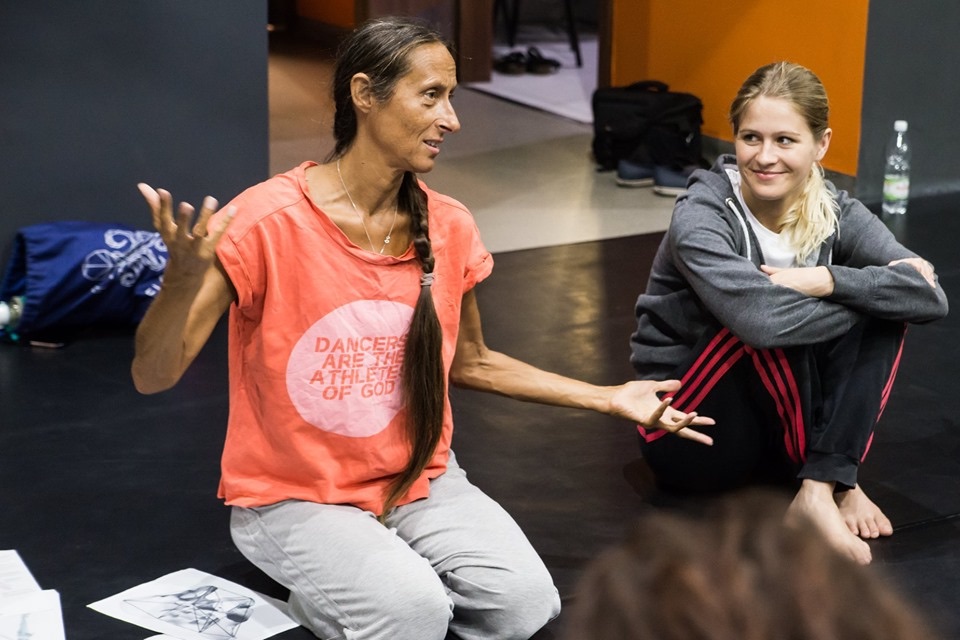 We will explore anatomy of fascia and the aspect of adaptative function.
We will travel through leyers of fascia/superficial, muscle, bones skin… to get connection from inner space to the outer and to the ground.
We will also explore movement with adaptation to the surfaces on which we will move.
We will experience touch through fascia layers to find way through adaptative shape to deep touch and maintaining contact while
moving, taking weight, shaping…
hhh
TTitle of the workshops of Iwona Olszowska (event 30 December – 2 January):  
VISCERAL FASCIA THROUGH BMC
Using tools of Body Mind Centering we will pass from anatomy to somatisation toward embodiment, deepening into fascia in between the organs.
We will find acces to periorgan movement,
moving with deeper flexibility and fluidity of pelves and torso.
We will explore soft elastic quality of moving the body through inner to periphery.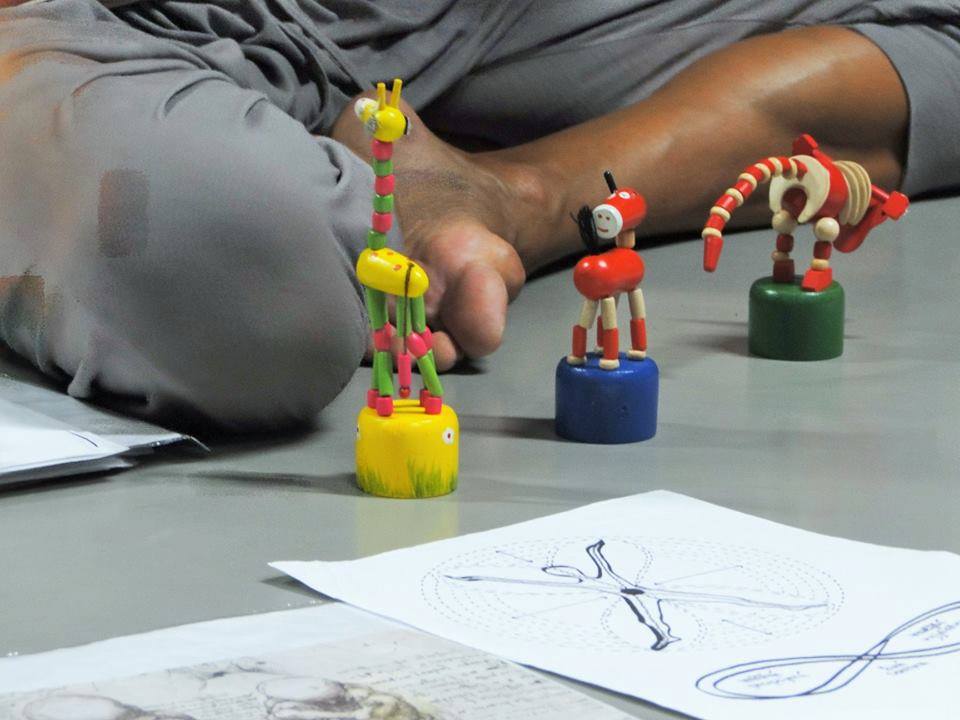 We will look for alining vegetative tube to support spine movement and connect deep fascia organisation also for mouth reaching in movement patterns.
We will apply spiralic structure of fascia fibre's to allow curve movement flow trough whole body.
We will attach fascia along of ligaments of organs activating spirals as a potential for condense and expand movement..

Title of the workshops of Iwona Olszowska (event 2 – 5 January): PRESENCE, SENSES AND MINDSETS TOWARD ACTIONS – TOOLS FOR IMROVISING/PERFORMING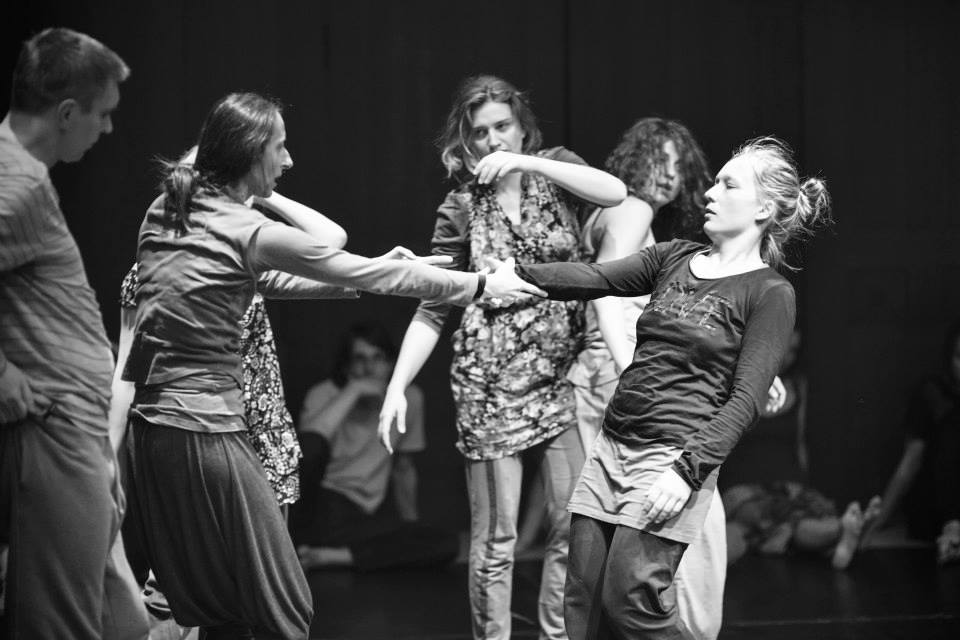 During this module we will awake senses for stand by state and aware presence.
We will recognize senses as access to impulses coming from outside environment, to be ready to read visual, accustic, kinesthetic, proprioceptive stimulus arising at present moment.
We will also explore from which places we are able to react, improvise and how to develop material.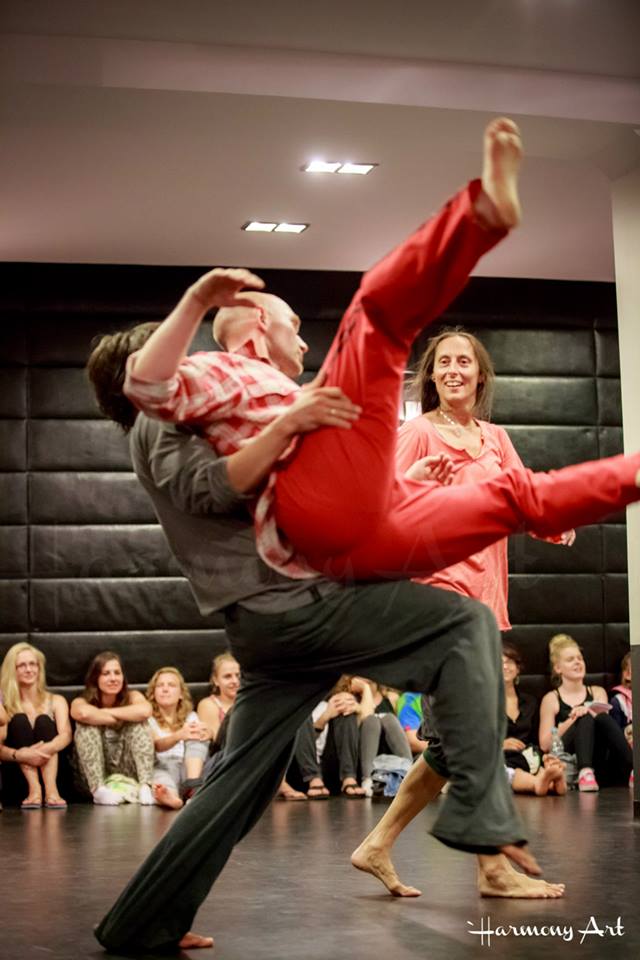 We will recognize some of mindset ups, allowing to find creative mind pottential and mechanisms and ways of developing it.
We will search in sensing body-mind and while moving, recognizing sensations.
Allowing senses mind as triger for movement and recognizing the evolving processes.
We will explore emotions, mind and states as starting point.
We will look in imaginations mind as environment for actions.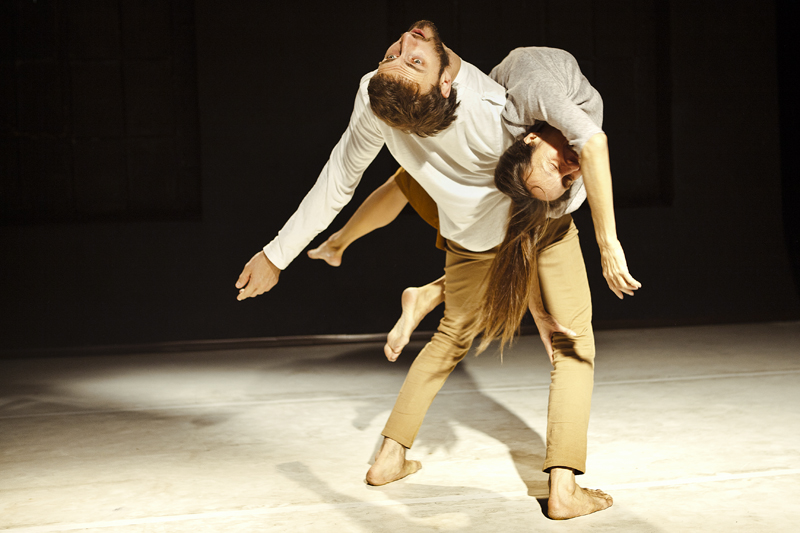 We will observe and follow thinkink mind.
We will starts from this different mind's potential to find the key for different pathways of creativity, from recognazing the triger to developing ideas.
You will be able recognize which is your more pattern way of improvising,
but will be able to explore the other hidden potential.
uuuuuuu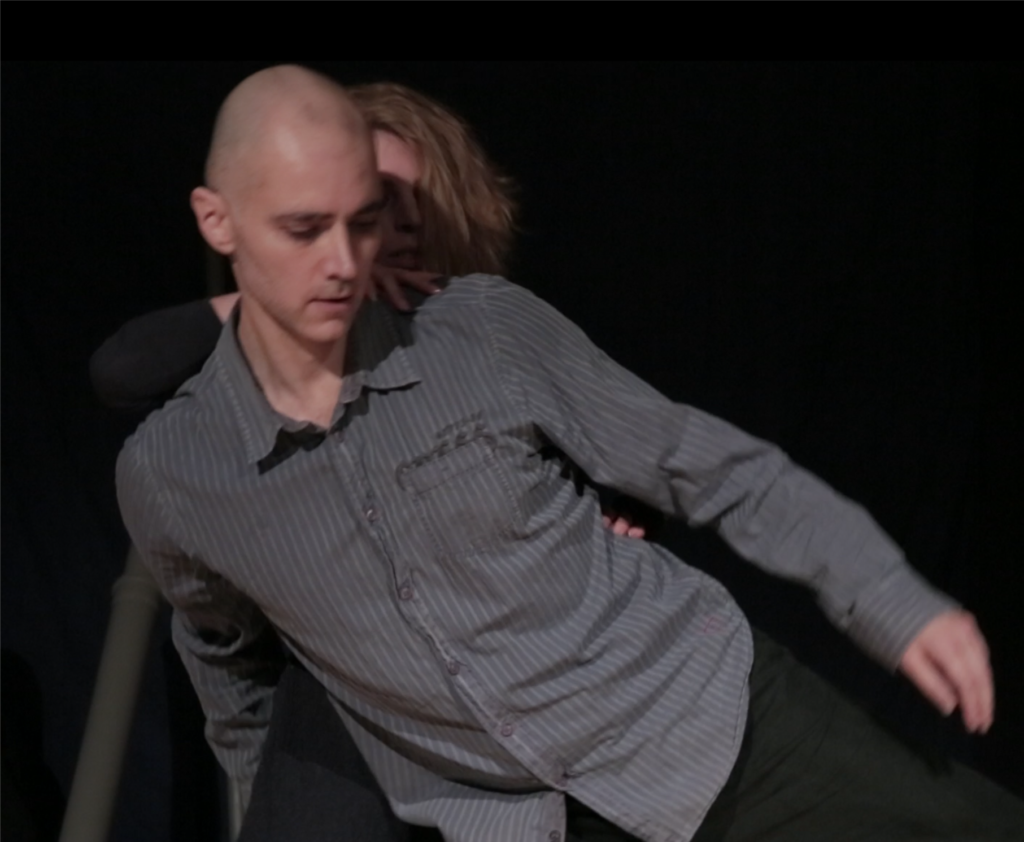 Ippokratis Veneris (GRE/ITA) teacher, dancer, choreographer, deepen and studies dance and other arts for more than 20 years. In his lessons of contact inserts elements from the various disciplines that has studied extensively over the years as: floorwork, release technique, experiential anatomy, applied anatomy, dupuy technique, acrobalance, martial arts, afro dance, ballet, alexander technic, chi kung, dance theatre and much more.
– In the past collaborated with the UNIVERSITY OF ROME "Roma 3", department of "Philosophy of Education" giving lectures about "Pedagogy, C.I. and personal researches on teaching".
– for two years he received an open scholarship in Brussels (PARTS-ROSAS Dance Company) and in Rome by the region of Lazio to proceed with his research on dance theater projects. His original works ("Buongiorno Amore", "Afroditi", presented at Olympic theatre and Theatre Greco) combine together elements of theatre and dance.
– Was professor in the theatre school "il Cantiere Teatrale".
– 2018 award: His work as choreography director for the Pina Bausch "The Nelken line in Rome". An international project of 25 dancers of 11 different countries. Receives the second award of Lazio Film Festival Commission.
– In March of 2014 he was a guest together with Giulio Tremonti (former Italian Minister of Economy), Romano Prodi (the former Italian prime minister and former president of the European community), Ermanno Olmi (film director) in the TV show "the wind whistles" of Gad Lerner for Repubblica television and for the art channel Effe tv.
– Has collaborated -teaching and making shows of improvisation- with the Italian National Organization of Theatre.
– Teaches regularly twice a week Contact Improvisation developinghis own method.
– Teaches in different places around Europe.
– Has collaborated with Roberto Castello-Aldes for "Narrate" premium UBU as the best dance theatre production of the year in Italy and many others.
– In 2011 decided to stop making shows and concentrate his energies on the research about the human nature and the wisdom of our bodies.
– Co-founder of CORE an association of choreographers of central Italy to promote the rights of the live performing arts.
– Co-founder of RomaContact a collective of dancers who promote and give shows of improvisation and Contact Improvisation.
– Organized the last years many events of art and workshops inviting teachers from all Europe.
– Lives in Rome where graduate at school "l'officina" where study release technique, Dupuy technique, contact improvisation, instant improvisation and composition.
– As a choreographer, dancer and improviser has organized and participated at different events, in the last ten years.
– Has studied with many choreographers and participating at numerous workshops of physical-theatre, contemporary dance, choreographic composition and contact improvisation.
Theme of the workshop of Ippokratis Veneris (event 27 – 30 December) "are you in axis?"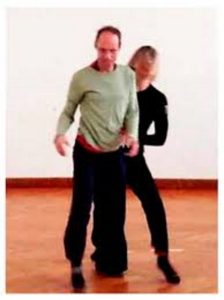 In this workshop we will explore a very important principle of dance and Contact Improvisation, the use of own axis and the duet axis.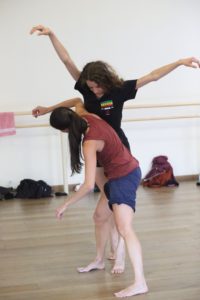 We will start with individual work on: How been in axis and centered, how to use the dynamics to dance out of axis with in and out-of-balance movement. As duets we will work on: finding and moving in space through the common axis, the centripetal and centrifugal dances, accepting and enjoying the challenge of the common out of axis, creating small "flights" using the out of axis movement of the duet.
The focus of the workshop will be on how to enrich our dance, enrich our creativity and dance in a more playful way.
Theme of the workshop of Ippokratis Veneris (event 30 December – 2 January): 
In – Out, Out – In, listening and communicating, giving and receiving, accepting and offering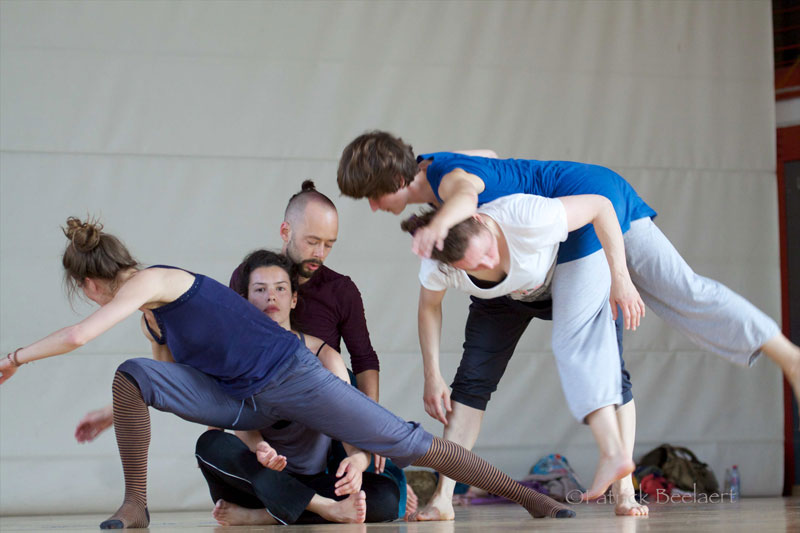 How can I give, offer my presence to my partner being available and open physically, mentally, energetically to communicate?
We will work on how to be present – here and now – and listening been focused contemporary to ourselves and to our partners. We will explore, as we dance and improvise, how to accept and how to offer, becoming our meeting a communicative, fluid and open dance; become our dance a real meeting and a journey.
The key words of these meetings will be: energy, freedom, openness, acceptance, empty-full.
Theme of the workshop of Ippokratis Veneris  (2 – 5 January):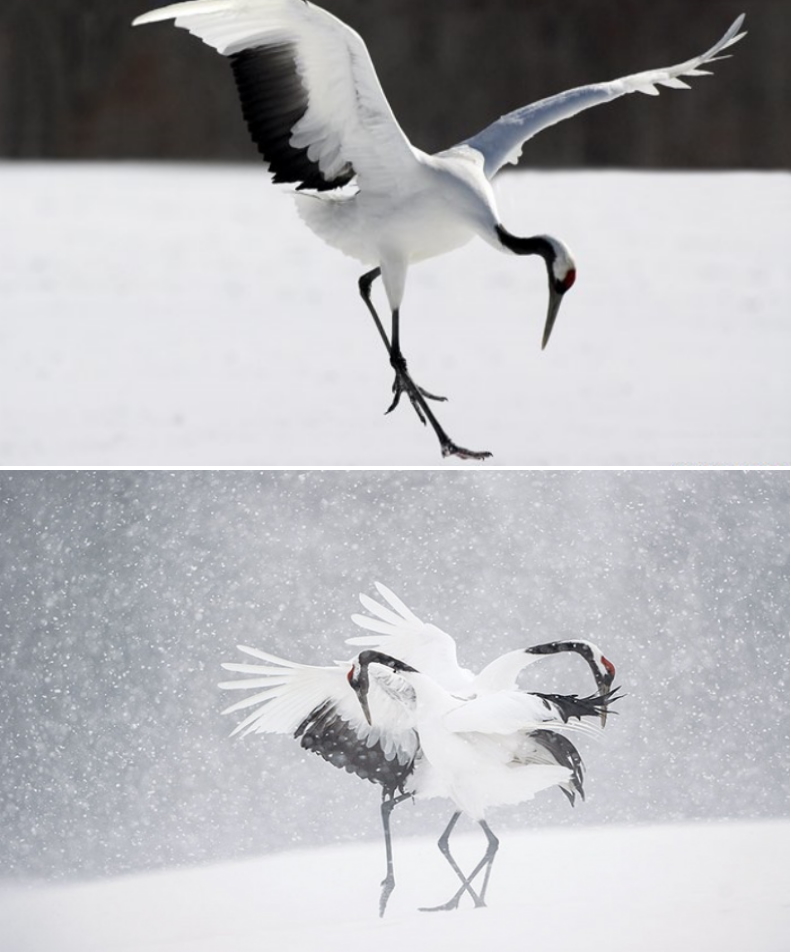 "Lightness"
In this laboratory we will explore the various ways in which we can make our body light dancing with our partners.
Breath, body and movement integration, sensibility – agility, anatomy, suspension, "body engineering" exercises and listening will be some of the themes that we will focus in these meetings with the aim of dancing in a more free, light, aerial and creative way.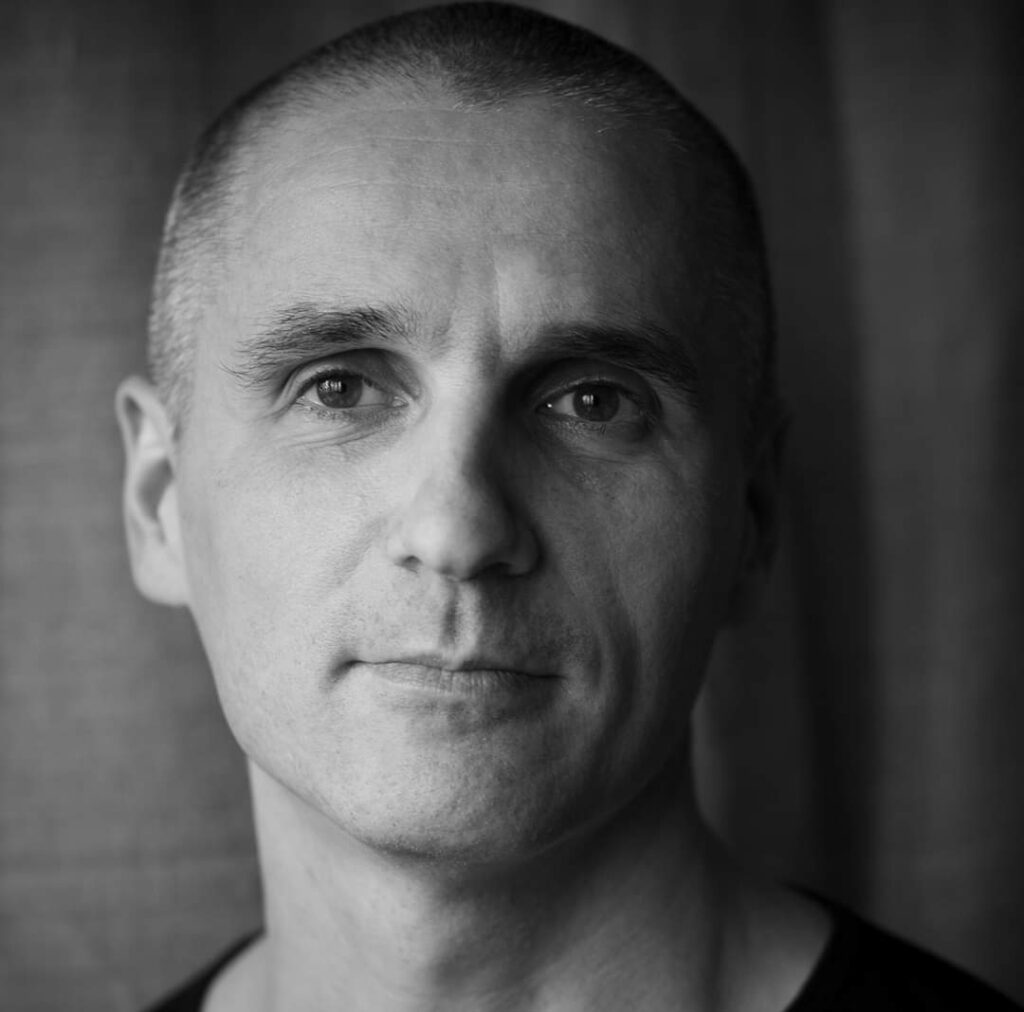 Sergey Semichev: (Ukraine) 
In the past, he was engaged in acrobatics and gymnastics. Worked as a fitness trainer. Professional massage therapist and physiotherapist. Contact improvisation teacher, dancer, performer, photographer and filmmaker.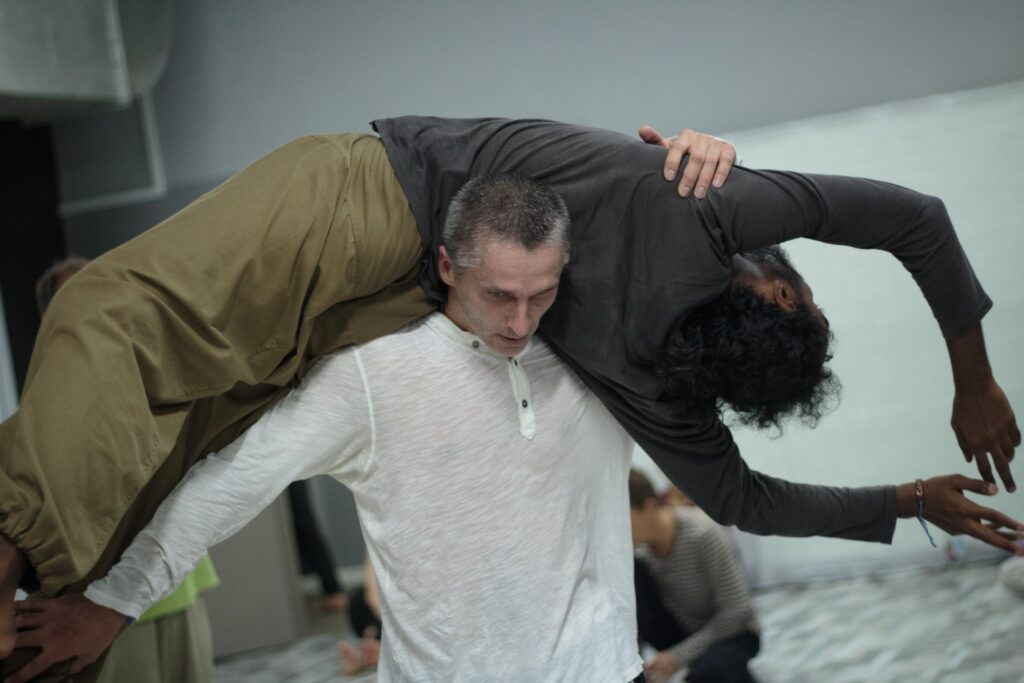 Teacher of the Kyiv community of contact improvisation in Ukraine. Organizer of regular contact improvisation laboratories in Kyiv from 2017 to 2022. Since 2022, teacher of regular contact improvisation classes in Rome.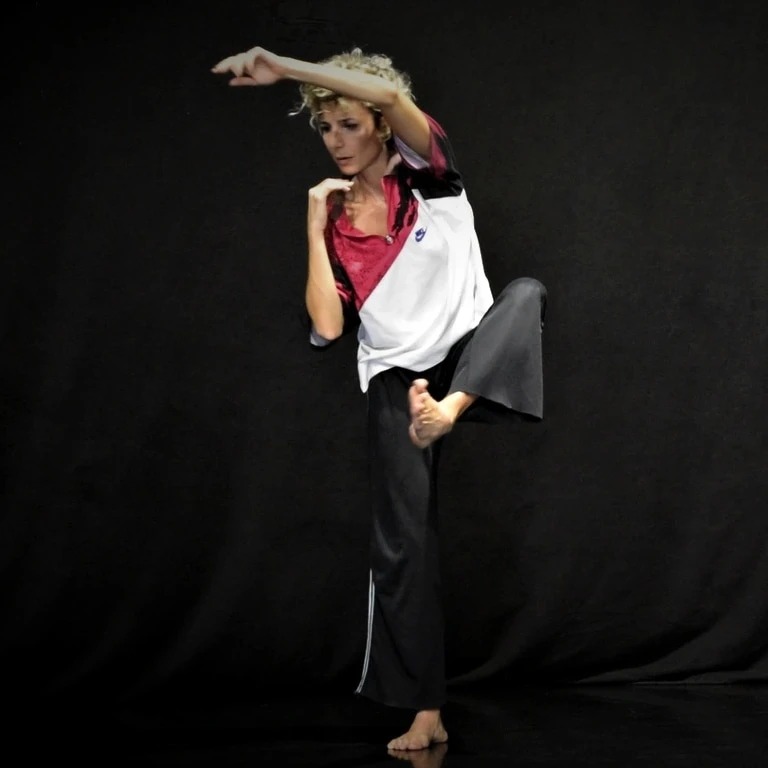 Mariella Celia (Italy) , Dancer, trainer, choreographer, Mindfulness educator, graduated in 2008 from the National Academy of Dance in Rome. Alongside her academic studies, she pursues a personal training path, gaining various experiences in release technique, floor work and improvisation dance in Europe and received a scholarship for the Impulstanz Festival in Vienna for two years.
In 2013 she obtained her Masters in Art Therapy at the University of Roma Tre.
Over the years she has studied various somatic disciplines including Feldenkrais, Ideokinesi and Body-Mind Centering®, graduating in 2019 in London as a Somatic Movement Educator (BMC®).
She continues to work as a dancer / performer with various choreographers and directors in Italy and abroad including: Emma Dante, Raffaella Giordano, Giorgio Rossi, Mario Martone, Stefano Mazzotta, Emanuele Sciannamea (Compagnia Zerogrammi), Oretta Bizzarri, Patrizia Cavola (Compagnia Atacama), Ismael Ivo (Brazil), Modjgan Hashemian (Berlin), Vimprodanco, Vienna Improvisation Dance Company, Luca Silvestrini (UK), E-motion group company, informal collective ADA.
From 2008 to 2011 she lived and worked in Berlin where she collaborated with the artist Enrico Pietracci and the photographer Susanna Kraus, among others, with whom he created site specific performances based on the relationship between dance and visual arts. With the musicians Andreas Waelti, Oliver Ruth and Tobias Backhaus, she created an improvisation group of dance and live music (Free Jazz), guest in prestigious international music festivals.
From 2013 to 2021 she was a collaborating artist with Sosta Palmizi. In 2014 she was the author and performer of "Sleep elevation", co-produced by the Sosta Palmizi and Atacama associations. In collaboration with Giorgio Rossi she was the choreographer of "Cielo di Marzo", a creation for the corps de ballet of the Teatro dell'Opera in Rome; and as Giorgio Rossi's assistant in "Le Mélange des Anges", creative residency at the Ecole des Sables in Dakar as part of the exchange project "Italie, Culture, Afrique" promoted by MIBACT, National Academy of Dance, Italian Embassy in Dakar, Italian Cultural Institute; "A city of water", Cantieri dell'Immaginario, L'Aquila (2012); "Carmen" Opera Opera with the Orchestra of Piazza Vittorio, Opéra Théâtre de Saint-Étienne (2013).
Her latest creation, "Bisbigliata Creatura", in collaboration with Cinzia Sità, won the InDivenire Award (dance section), 2019 and the Visionaries selection of the Kilowatt Festival 2021.
In 2022 she created "Cell" a choreography for the Compagnia dei Licei Coreutici della Campania.
She currently collaborates with the sound artist Ivan Macera in a project on the relationship between artificial intelligence and body language.
She is a movement coach of prose theater productions : "Pilade è morte", directed by Daniele Nuccetelli, Rome, 2016; "L'inciampo", directed by Eduardo Ricciardelli, Rome, 2017; "Anastasia", directed by Martina Badiluzzi, winning project of the Biennale Teatro 2019 call.Tutor of the project Untitled (mâcher ses mots) by Elena Bastogi, one of the selected works of the 2022 edition of Powered by Ref, Rome Europa Festival.
Her experience in the didactic and pedagogical field began in 2006 and continues, with a view to constant research and renewal up to the present day, conducting lessons and seminars aimed at actors, dancers and performers in various Italian structures including, Balletto di Rome, Carrozzerie Not, Action Theater, Rome, School of the performing arts of the Biondo Theater of Palermo, directed by Emma Dante, UNICAL University of Calabria, Viagrande Sudios, Catania, MuVet, Dance space, Bologna, TeatroIndia – Teatro di Roma From 2018 to today she is part of the teaching staff of the Master Theater, Pedagogy and Didactics of the Suor Orsola Benincasa University of Naples.
www.mariellacelia.com

Theme of the workshop of Mariella Celia: "Spread wings, from experiential anatomy to the dance"

This class uses experimental Anatomy and Body-Mind Centering to deepen your understanding of the humeral shoulder girdle and its connections to the torax, spine and pelvis. The proposed practices will be both individual and in pairs and will lead to a "spread wings" dance.
(photo of Mariella's BMC worrkshop in Africa)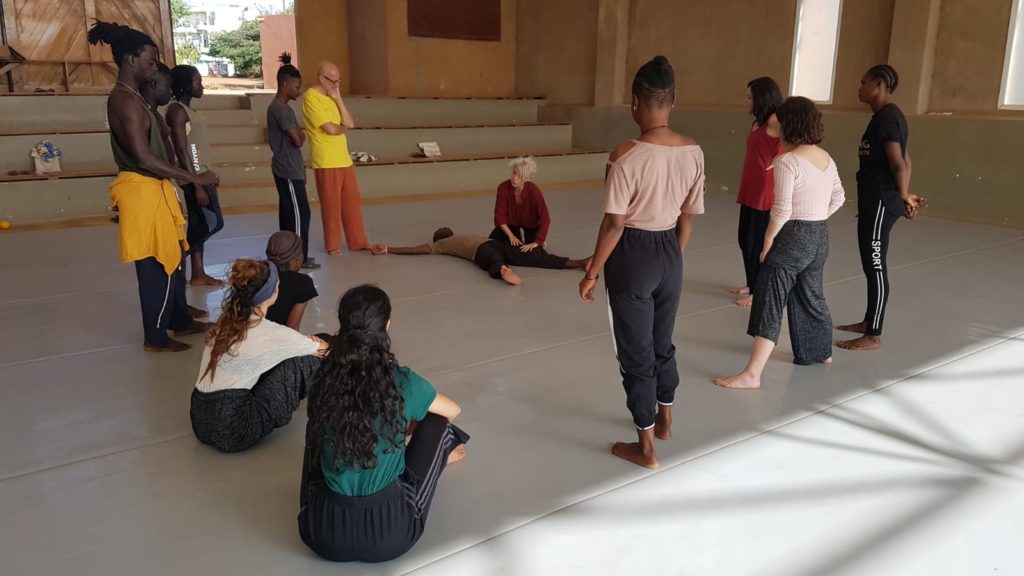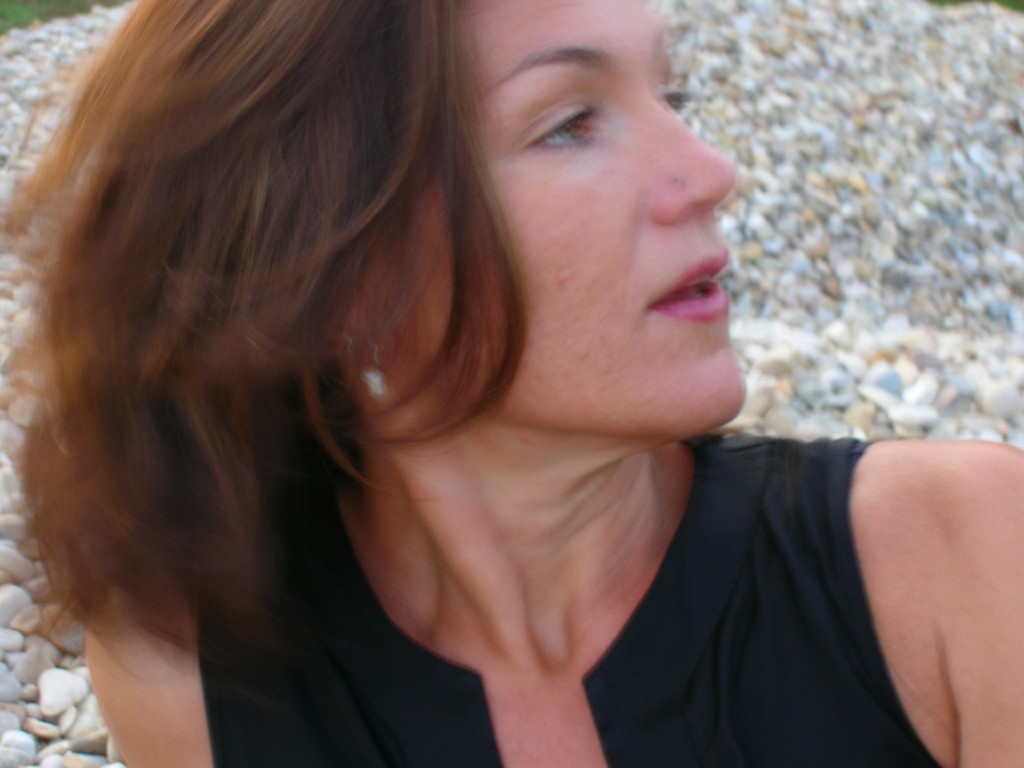 Barbara Lucarini. I discovered Contact Improvisation 27 years ago while studying in Vienna with Randy Warshaw and Andrew Harwood, who I followed for a few years.
Since then, I was studying and been inspired by master such as Nancy Stark Smith, Julian Hamilton, Martin Keogh, Ray Chung… just to name a few of them.
LThrough out my career as a performer and teacher I have been integrated CI into my work.
My career as a dancer started 30 years ago while living in NYC, where I was introduced to Release Technique and Klein technique. I have been dancing with a few modern companies such Senza Nemo Dance, Linda Diamond among others
Coming back to Rome I founded "Komic-Co dance company" where I was able to develop my own work, creating full length pieces such as Duetti per Colazione, Lamore Ballordo , Viaggio Indiscreto, Tra me e me.
The multiple sides of Contact Improvisation are what makes it so attractive to me.
The form itself brings a sense of completeness within my own research in life as much as movements and awareness tools as a different way of communicating and relating instantaneously into the moment. The ability to be in the moment, to be sincere and true to yourself, the awareness of the other and what we create together is what makes the improvisational aspect of it, deeply interesting and foremost challenging.
I have been teaching CI in Italy for the past 25 years.
Co-founder of RomaContact, which is a collective of dancers whose aim is to promote the practice of CI through workshops, jams and performances. I have been organizing international Jams in Rome.
I was invited to theach in many European festival.
In the meantime I became a dance therapist and a psychologist and I started to work with the organization call CeIS which runs a recovering program for drug addicts.
Within this program I operate as a dance therapist using also CI as an instrument to develop awareness

Theme of the workshop of Barba Lcarini Creativity in the present moment
How to be truly present? How to make each dance unique? Every encounter fully aware?
In this class I would like to deepen on the practice of listening to ourselfs and the "others".
Through exercises with eyes closed that allow us to extend the perception of the sense organs, I would like to focus
the attention on the quality of the touch, on the use of space, rhythm and imagination. We will work in pair
and in trios, we will be the observers and be observed, giving life to a conscious and creative dance in continuous evolution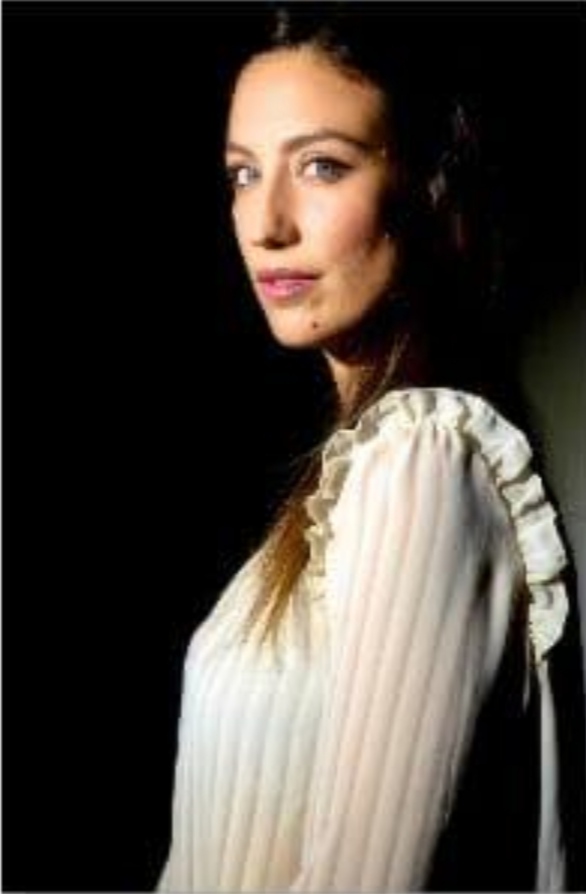 DAPHNE NISI, SINGER, COMPOSER, PERFORMER AND VOCAL
IMPROVISER/FACILITATOR FROM ROME, HAS BEEN PERFORMING ON
THE STAGES OF THE GREATEST THEATERS AND THE MOST
PRESTIGIOUS VENUES IN ITALY AND ABROAD (MOROCCO, FRANCE,
ENGLAND, UNITED ARAB EMIRATES, GEORGIA, GERMANY), RESIDENT
ARTIST AT THE BVLGARI RESORT IN DUBAI FROM 2018 TO 2020.
SHE DEVELOPED AN ECLECTIC AND VERY RECOGNIZABLE VOCAL STYLE,
THANKS TO WHICH SHE CAN SING DIFFERENT GENRES, FROM ROCK TO
JAZZ, FROM SOUL TO POP, FROM DANCE TO WORLD MUSIC.
AS A VOCALIST SHE SANG IN MANY DISCOGRAPHIC PROJECTS,
COLLABORATED WITH VARIOUS BANDS AND MANY ARTISTS, LIKE ALAN
CLARK AND PHIL PALMER (DIRE STRAITS), BILL EVANS, RONNIE JONES,
ISMAILA MBAYE, BADARA SECK, GREG BURK, PINO INSEGNO, MAURIZIO
BATTISTA, ASCANIO CELESTINI, MASSIMO WERTMULLER, MARCO
RINALDUZZI, MOKADELIC, PINK FLOYD LEGEND AND MANY MORE.
MEMBER OF THE VOCAL QUARTET 'BARAONNA' SINCE 2007 -SOME
NEWSPAPERS CALLED THEM THE ITALIAN MANHATTAN TRANSFERWITH
WHOM SHE RECORDED MANY ALBUMS AND HAD THE
OPPORTUNITY TO COLLABORATE WITH THE GREATEST ITALIAN
ARTISTS OF BOTH THE POP AND THE JAZZ SCENE LIKE CLAUDIO
BAGLIONI, PINO DANIELE, PAOLO CONTE, STEFANO DI BATTISTA AND
MANY OTHERS, ALONG TRAVELING AROUND EUROPE AND BRINGING
THEIR MEDITERRANEAN SOUND IN MANY DIFFERENT COUNTRIES.
SHE CO-DIRECTED 'THE SESSIONS VOICES' FROM 2007 TO 2017, A FEMALE
VOCAL GROUP THAT FOCUSED ON A DEEP MUSICAL RESEARCH ABOUT
TRADITIONAL SONGS FROM NATIVE- AND AFRO-AMERICAN CULTURES
AND ON HELPING GIVING A VOICE TO SOCIAL MINORITIES, THEY
PRODUCED THE ALBUMS "SONGS OF FREEDOM" AND "TENDER YOU
BACK" WITH AN INTERNATIONAL FEATURING WITH BRAZILIAN
ENSEMBLE "FRITURA LIVRE" AND ZUZA GONÇALVES. AS A SOLO-SINGER
SHE COLLABORATED WITH ECM RECORDING ARTIST AND COMPOSER
PAOLO DAMIANI, WITH WHOM SHE PERFORMED IN ITALY, SAUDI ARABIA
AND GEORGIA. SHE WAS PART OF THE PROJECT "COME TO MY HOME" IN
MOROCCO WHICH INVOLVES GREAT MUSICIANS FROM ALL OVER THE
WORLD THAT GATHER TO BUILD BRIDGES BETWEEN CULTURES
THROUGH MUSIC AND POETRY.
ACTIVE IN MUSICAL THEATER AND IN SINGED DOUBLES (THE SIMPSONS,
ALVIN SUPERSTAR, A TUMBLE LEAF, RAI JO-JO, BVLGARI "SERPENTI"),
AND AS A WRITER AND COMPOSER FOR THE SOUNDTRACK OF THE FILM
"LA CORSA DE L'ORA "(NASTRO D'ARGENTO 2017) AND FOR THE POPROCK
BAND 'ELYSIUM' OF WHICH SHE IS FRONTWOMAN AND WITH
WHICH SHE RECORDED THEIR FIRST ALBUM" LABYRINTH OF FALLEN
ANGELS " IN 2019 FOR THE FINNISH LABEL LIONMUSIC LTD.
IN ADDITION TO HER ARTISTIC ACTIVITY, SHE HAS PASSIONATELY
DEDICATED HERSELF TO VOCAL TEACHING AND CHORAL DIRECTION
SINCE 2007. SHE GIVES WORKSHOPS ABOUT VOCAL IMPROVISATION AS A
TOOL TO DEVELOP AND FREE VOCAL AND EXTEMPORARY
COMPOSITIONAL SKILLS ALONG BUILDING CONNCECTIONS BETWEEN
PEOPLE THROUGH MUSIC AND CO-FOUNDED THE COMMUNITY OF
VOCAL IMPROVISATION "CIRCLE SINGING ROMA" WHICH SHE LEADS
WITH CHIARA CORTEZ SINCE 2015. THEY ALSO BRING IMPROVISED
PERFORMANCES ON STAGE WITH SINGERS WHO OFTEN SHARE THEIR
SAME MENTORS, LIKE RHIANNON (ALL THE WAY IN/VOCAL RIVER),
BOBBY MCFERRIN'S COLLABORATOR FOR 30 YEARS, OR FROM
BRAZILIAN BODY MUSIC COMMUNITY 'MUSICA DO CIRCULO'.
FOUNDER, WITH DIRECTOR MARZIA METE, OF "SAMESAME FACTORY,"
AN ARTISTIC COLLECTIVE THAT PRODUCES MUSIC VIDEOS,
DOCUMENTARIES, SHORT- AND FEATURE-LENGTH FILMS, MUSICAL
PIECES AND THEATRICAL PERFORMANCES ("MOTHERLESS CHILD"- THE
SESSIONS VOICES, PASINETTI AWARD 2015, BEST VIDEO CLIP AWARD
CATONE FILMFEST; ZEUS' DESIRES- PAOLO FRESU, OMAR SOSA 2016) AND
BECAME A CULTURAL ASSOCIATION THAT DEVELOPS SOCIAL
INTEGRATION THROUGH ART (MIGRARTI 2017).
GRADUATED CUM LAUDE IN JAZZ SINGING AT THE CONSERVATOIRE
'SANTA CECILIA' IN ROME, SHE IS NOW DEVELOPING HER PERSONAL
COMPOSITIONAL STYLE WHILE FINISHING THE MASTER PROGRAM IN
JAZZ COMPOSITION.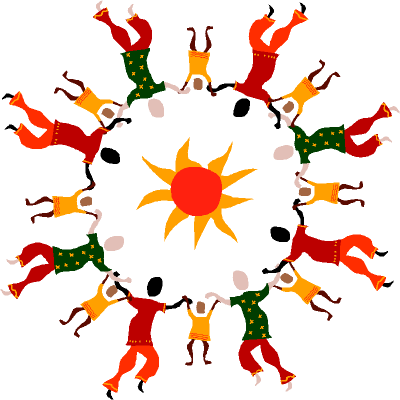 Theme of  Daphne Nisi workshops: "CircleSinging and Collaborative Vocal Improvisation"
In those intensives we are going to make experience of voice and musicality through vocal improvisation, body music and CircleSinging. We will explore creativity in a safe space that we will create together with a playful and joyful approach, diving into the relationship between movement and singing, connection and musical freedom.