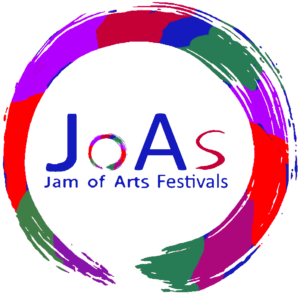 Rome's Spring Jam of Arts 2022!!
Event dates: 26-27-28-29 of May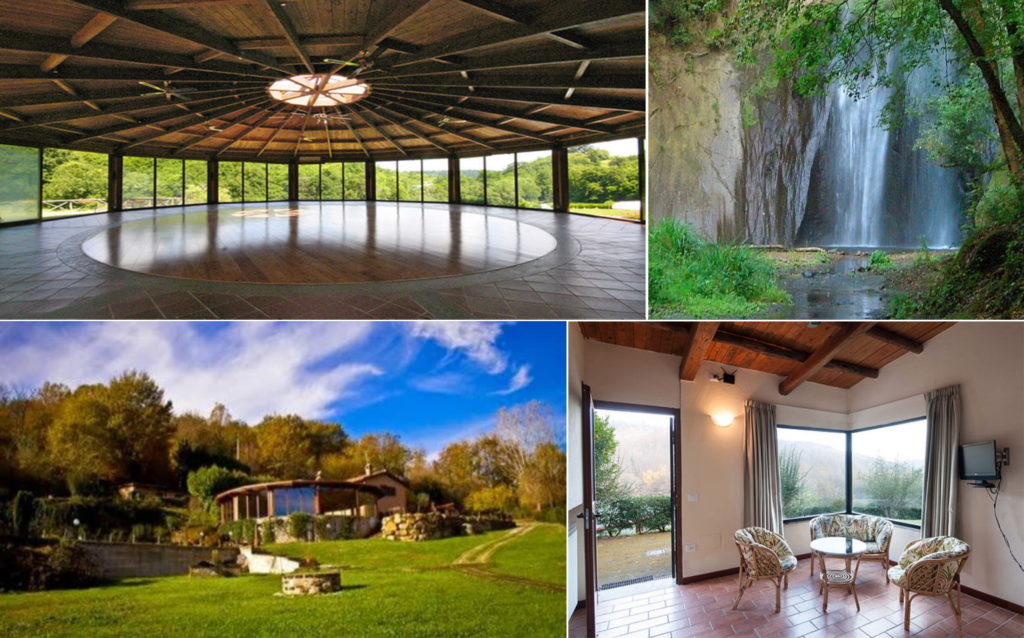 Hello to everyone!
We are very happy to announce the new edition of the Spring Jam of Arts of 2022!
We have already participants coming from: Island, Latvia, Spain, England, Australia, France, Austria, Greece, Romania, Germany, Switzerland, Norway and more!
The festival will be hosted in a wonderful farm in the North of Rome, surrounded by forests, springs, waterfalls, ancient roman bridges, a cave and much more!
The place is full of energy! For more informations and photos about this wonderful place see below!

The event includes the following labs:
Axis Syllabus, 
Contact improvisation,
Experiential Anatomy,
Sound and objects improvisation,
of Contact in the space, excursions in the nature, many jams and plenty of traditional Italian and vegetarian food!
You are all invited to dance, explore, relax, connect with the nature, meet people from all around the world and improvise!
Note: We remind you that  booking in all previous festivals filled up quickly, and we had a waiting list of people who unfortunately we could not accept so we recommend you to book in time!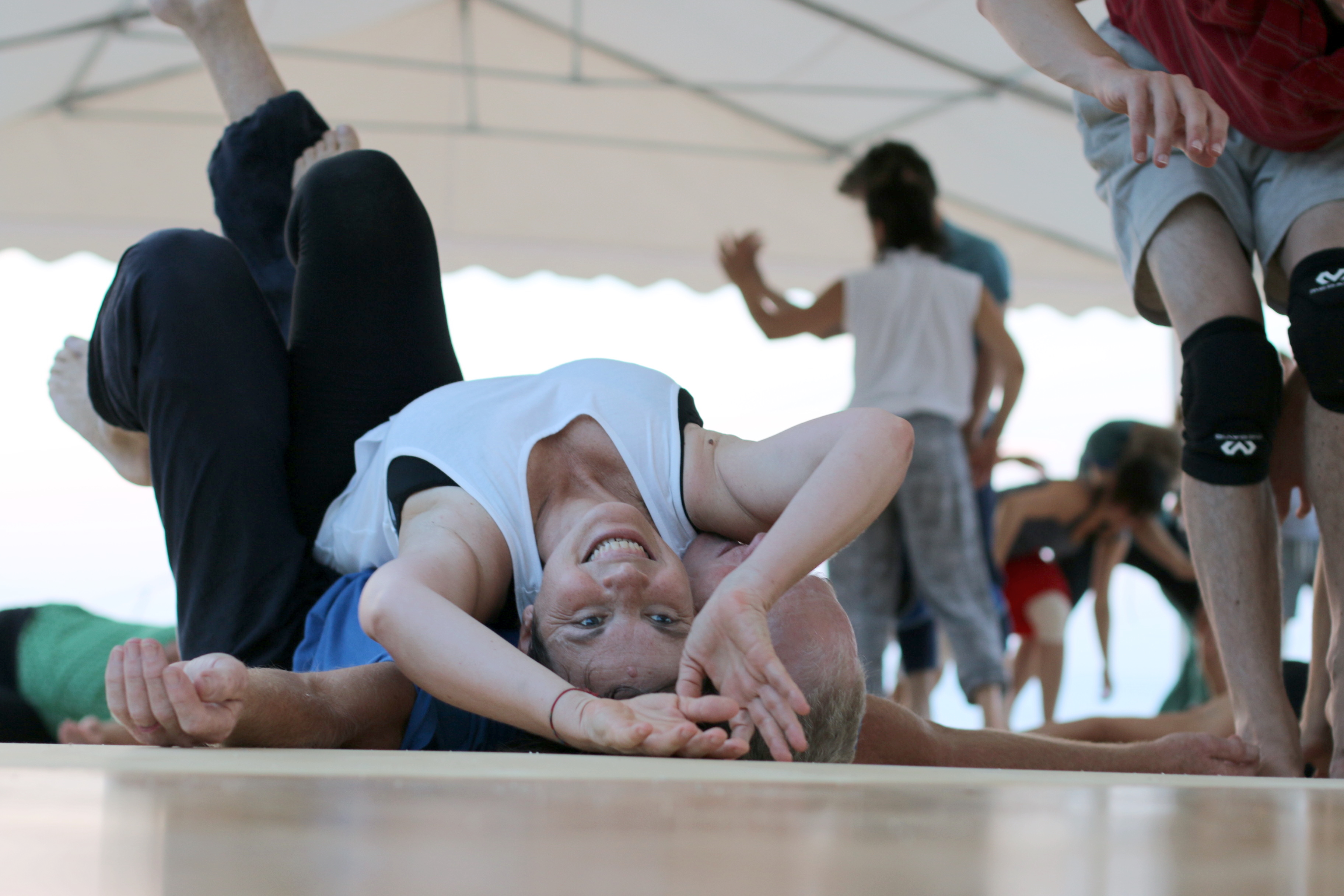 The teachers are: 
Filippo Serra
Ippokratis Veneris
Elena La Puca
Alessio Brugiotti
curricula are shown below
eeec
Arrival:
From Rome Fiumicino Airport and from the center of Rome trains depart every 30 minutes. The journey takes about 55 minutes and the railway station is close to the farm.
Travel ticket advice: If airlines are too expensive, good alternative ways to come to Rome are: night trains, Flixbus, Blablacar.
ooo
Note: To participate in the festival you don't need to be dancer or artist since the idea of the Jam of Arts festival is aimed to people who want to experiment with arts and movement, regardless to having or not prior experience. The goal is to explore different skills and capabilities that exist within us, study various disciplines and enjoy the present!
Hall 1   –   (heated – 200 square metres)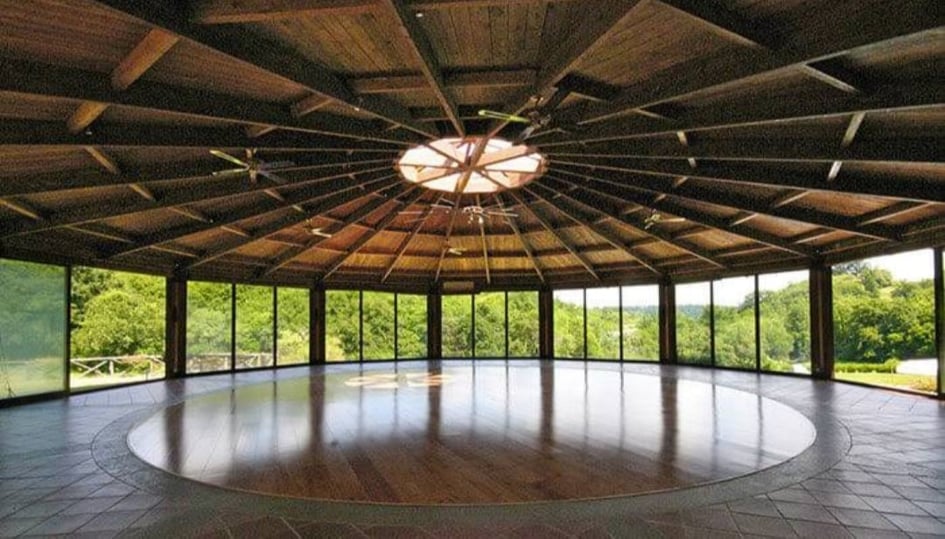 ikkkkkkkkkkk
Hall 2   –   (heated – 80 square metres)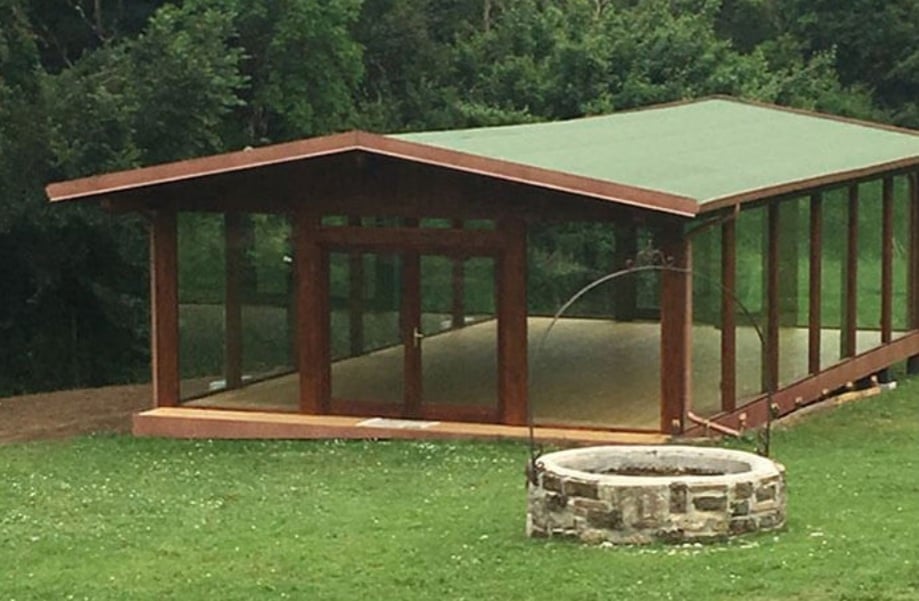 kokikko
Theatre and 

pool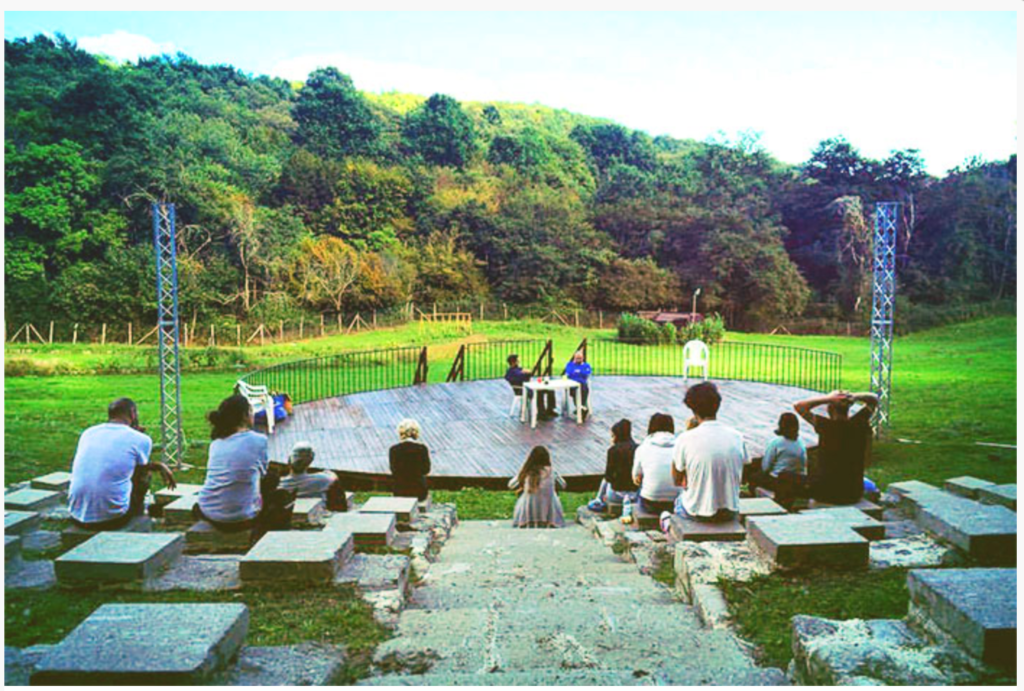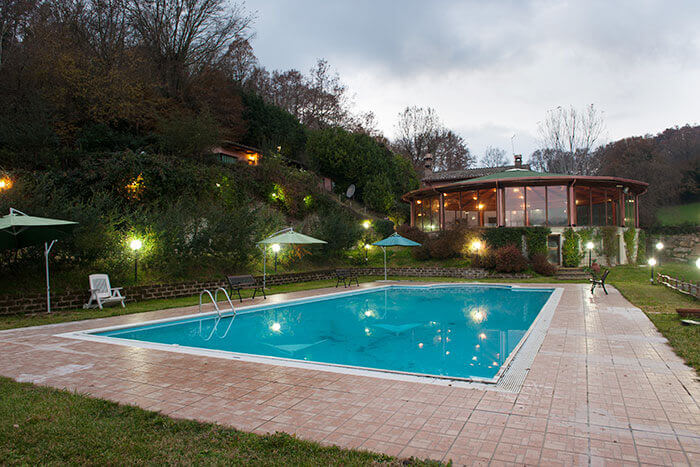 Program 
Event 26 – 27-28-29 May
bbbbb
Thursday 26 May

Friday 27 May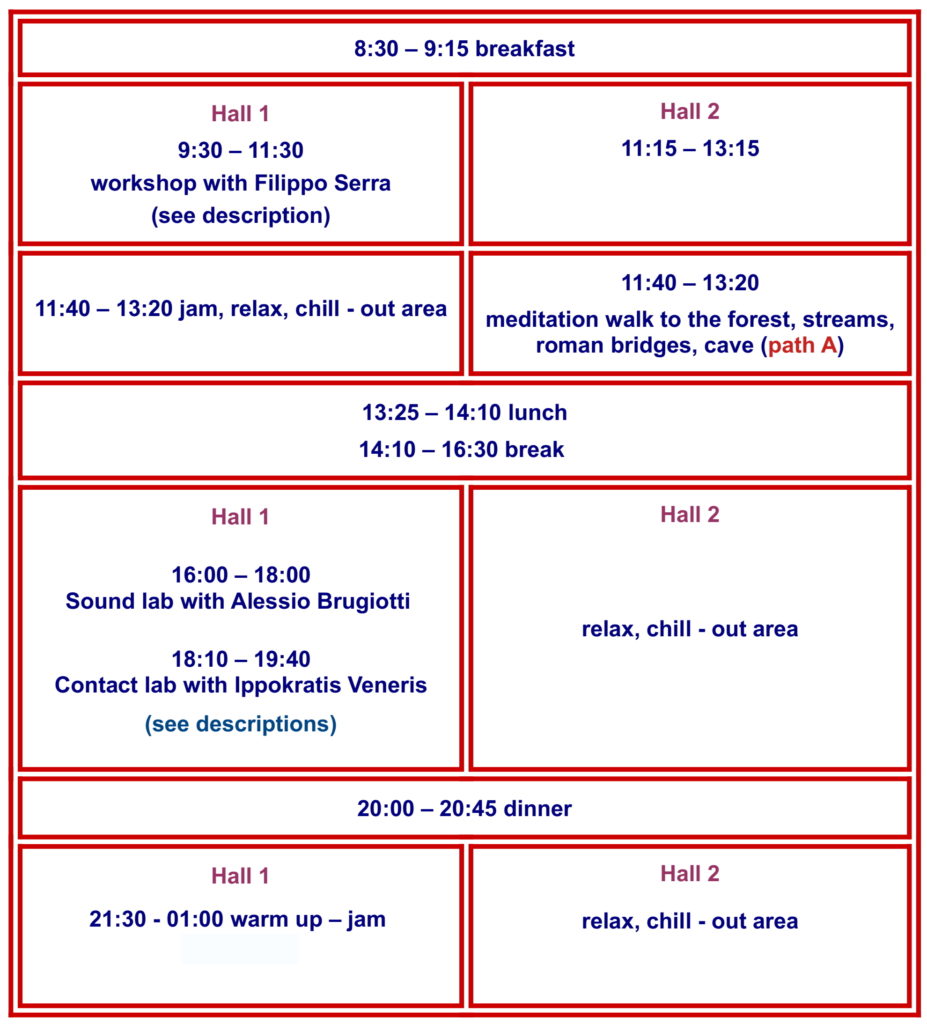 Saturday 28 May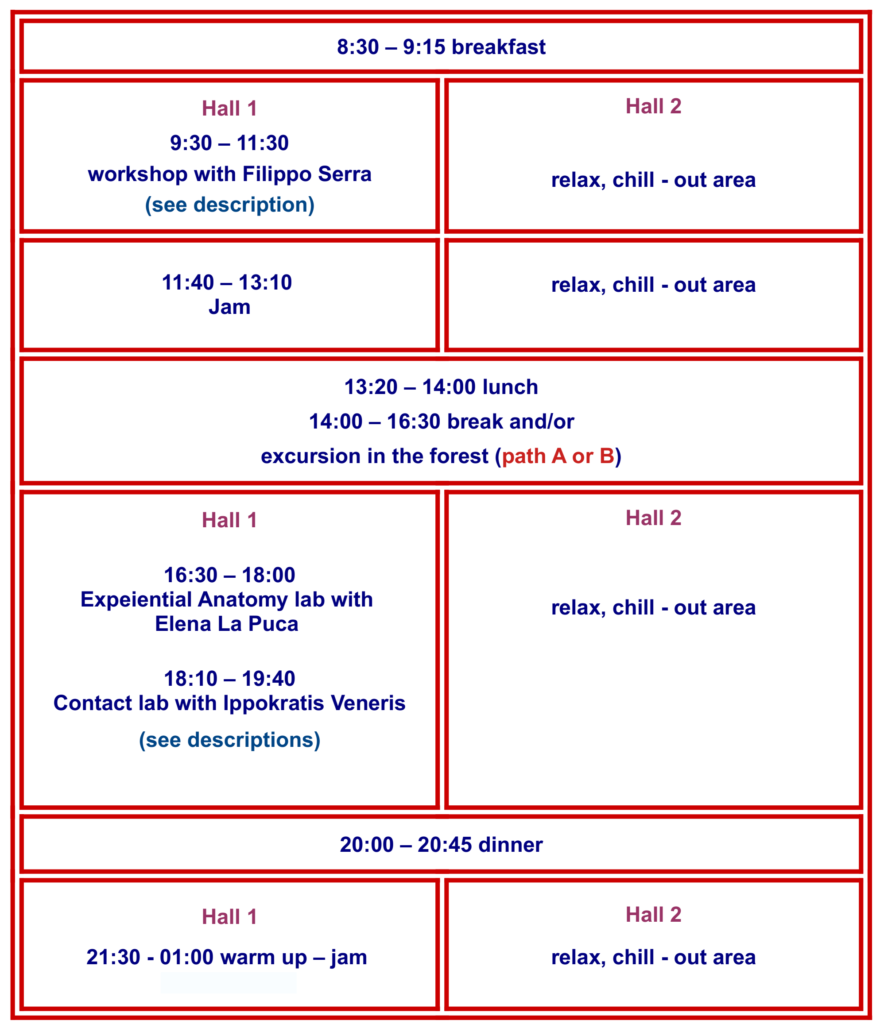 Sunday 29 May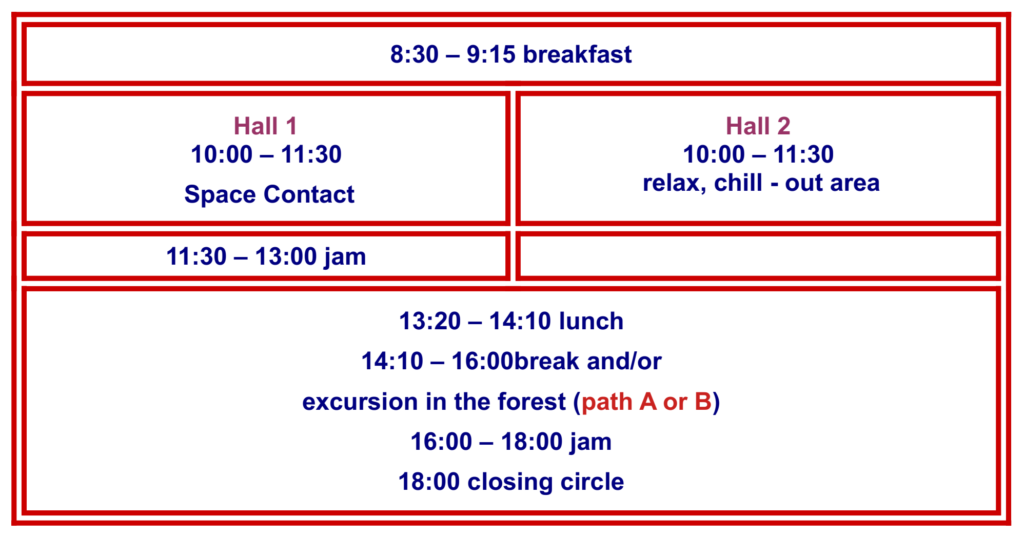 Hall 1: circular dance space
Hall 2: rectangular dance space
Prices A:
–  event fee (26 – 29 May) for sleeping in dormitory is 215€.
The fee include all workshops, events, meals, single bed in dormitory. (places are limited, see photos).
NOTE: For the organisation of the festival we will need some helpers who will have a reduction of the fee. If you want to candidate yourself, send an email at: info@jamofarts.com
dormitory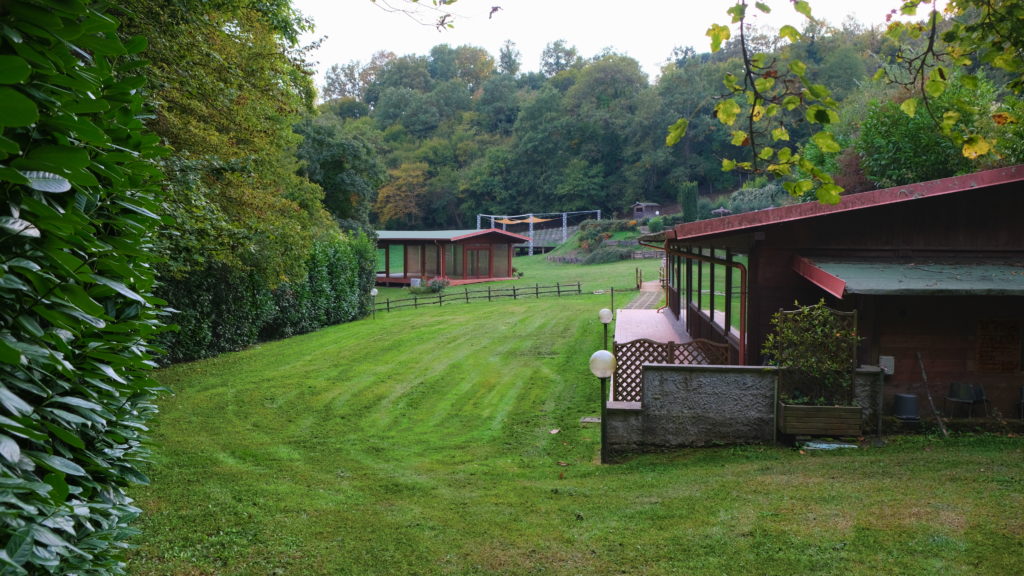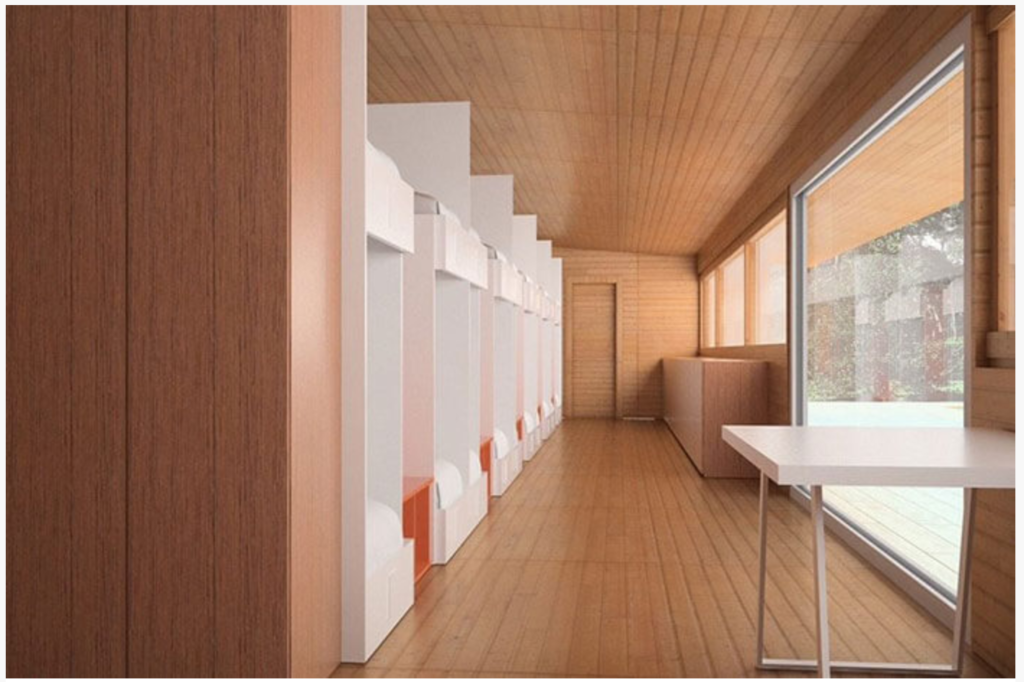 Prices B
–  the fee for the event  26 – 29 of May sleeping in apartment is 250€.
The fee include all the workshops, events, meals and single bed in apartment. (places are limited, see photos).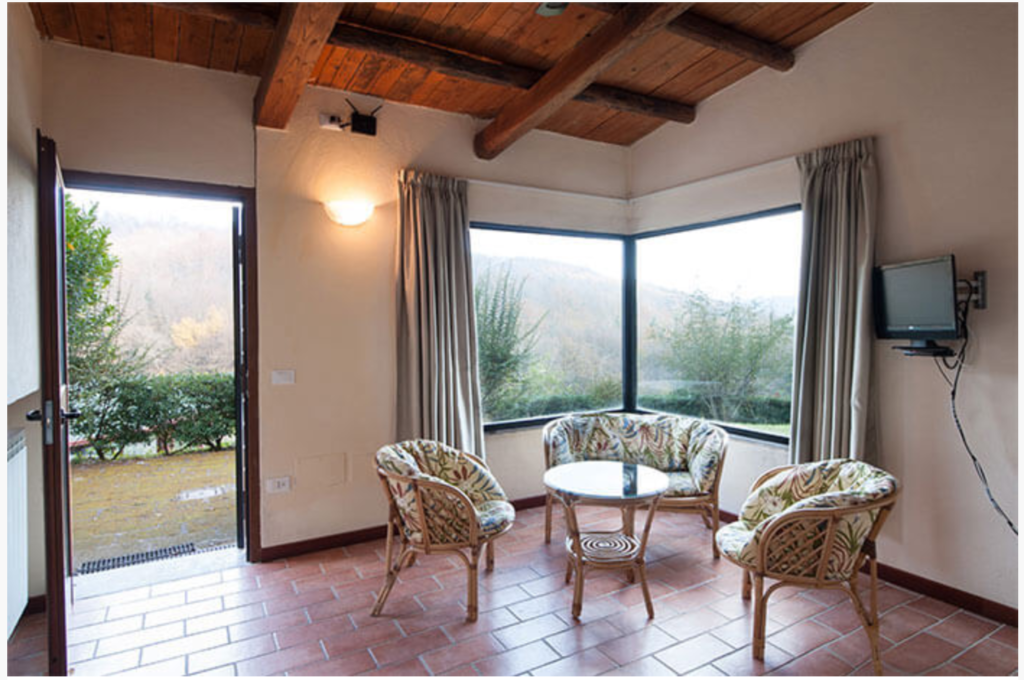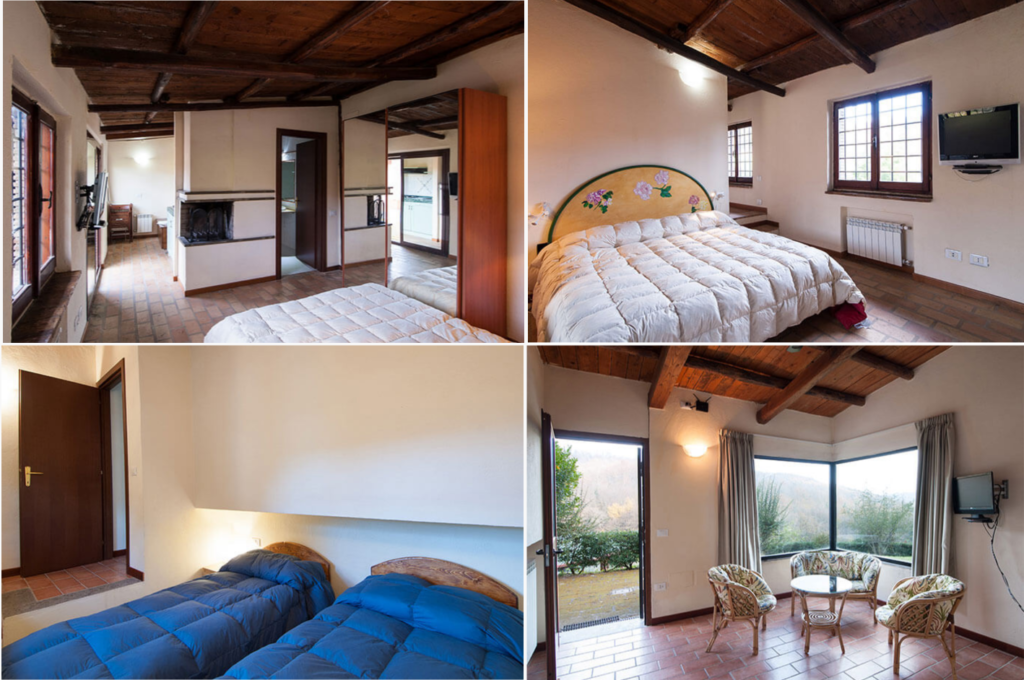 For additional information's and registration, write an email to: info@jamofarts.com.
or call: 0039 3287213546
VERY IMPORTANT: OFTEN OUR REPLY ENDS IN THE SPAM, SO CONTROL YOUR SPAM FOLDER. IF YOU DON'T FIND A REPLY, PLEASE CONTACT US AGAIN WRITING ALSO YOUR PHONE NUMBER.
Some moments of previous festivals
First video: Waiting for the dinner!!..
Second video: queuing to fill the plate..
A few words about the place that hosts the festival. Under ground the farm a well-known water source is flowing and this creates great energy.  Next to the farm we find two ancient roman bridges, waterfalls, a big cave, streams, many trees and a bit further a big lake…. See some photos of the landscape.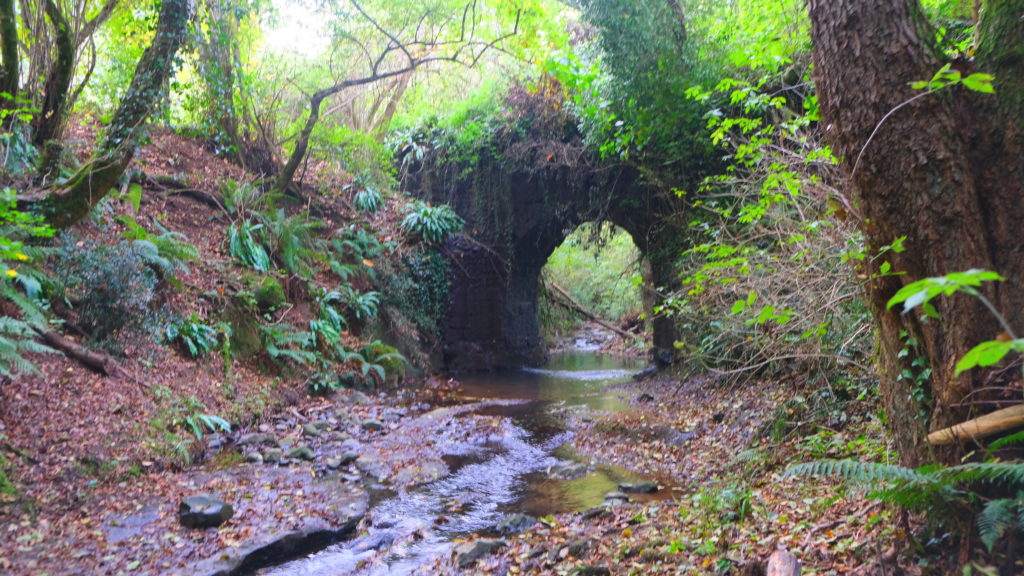 P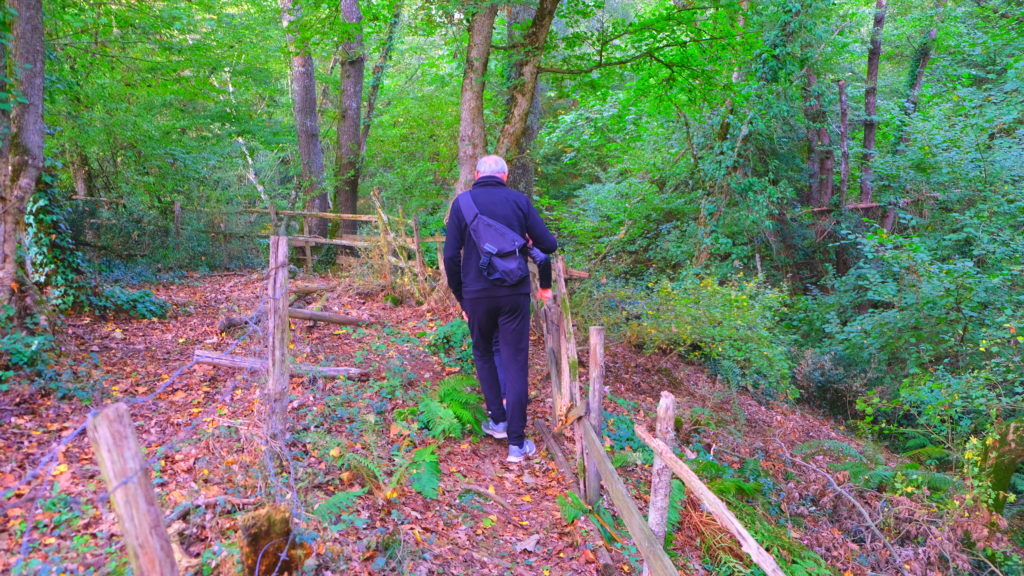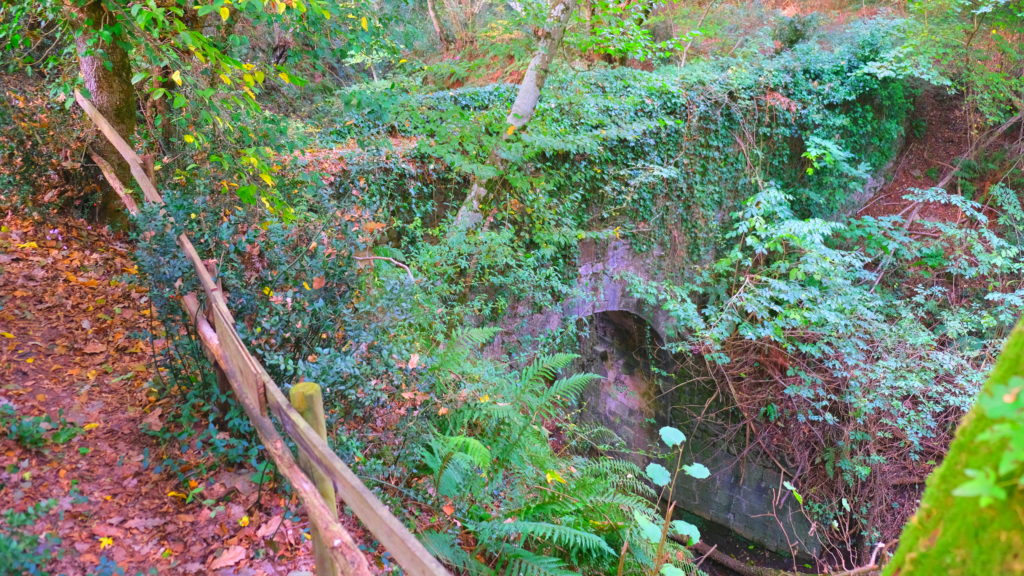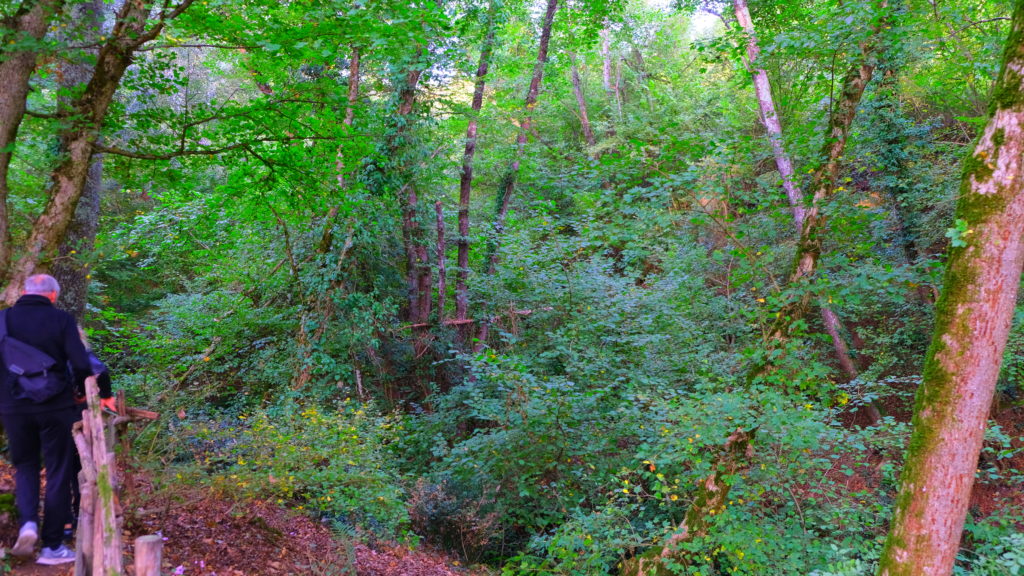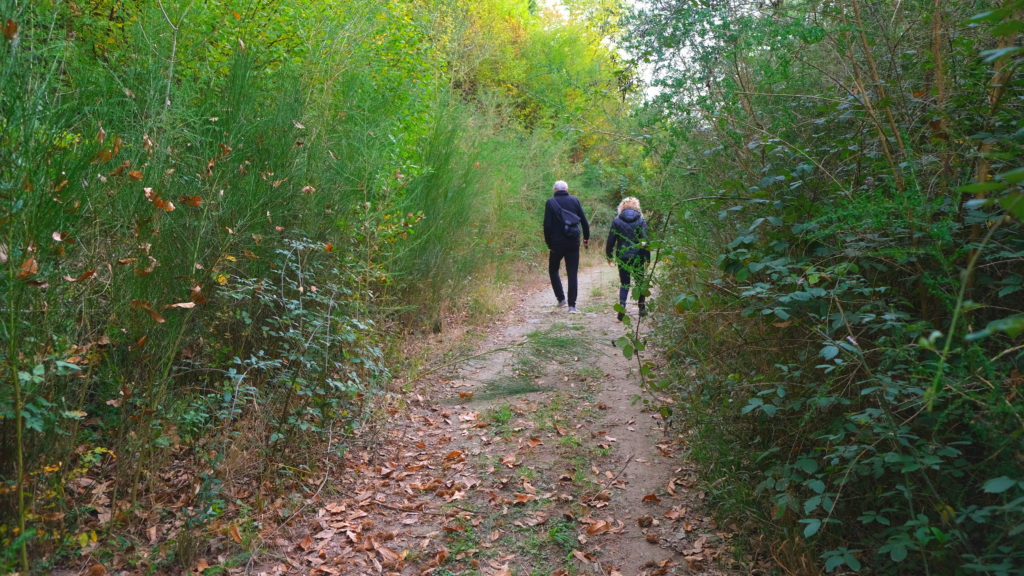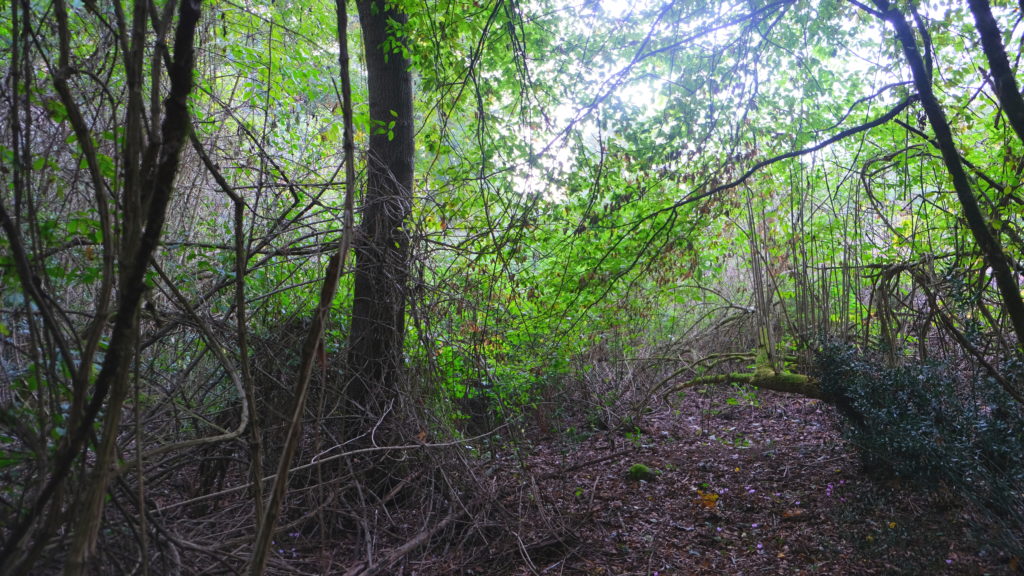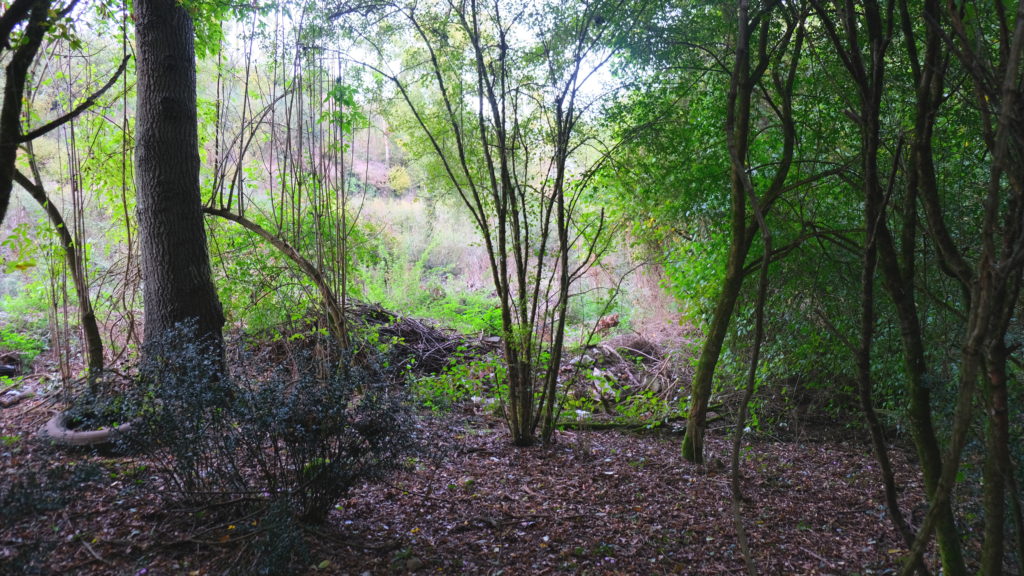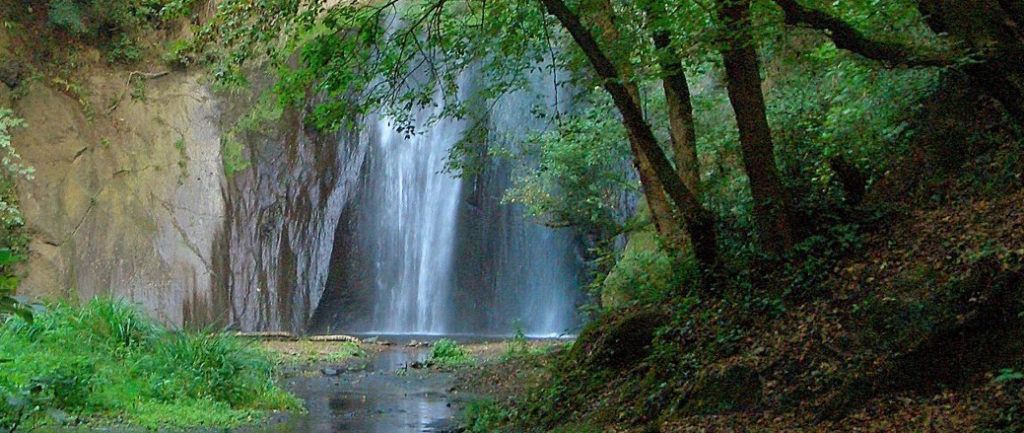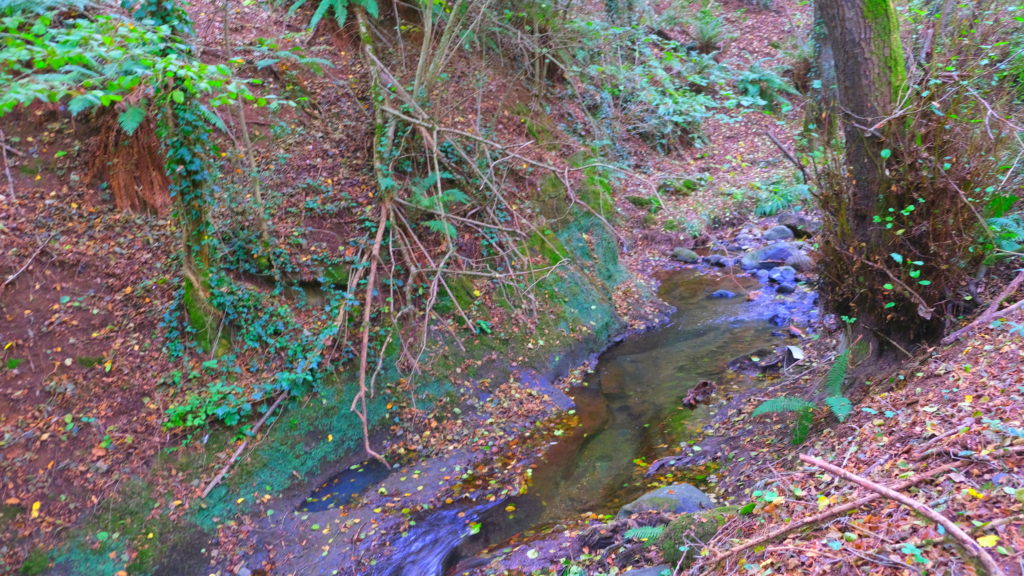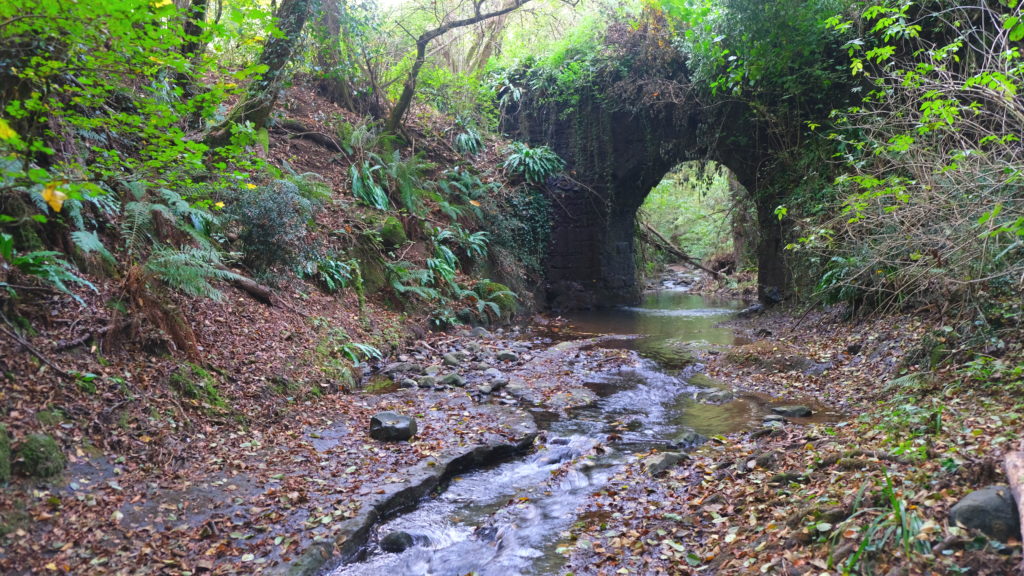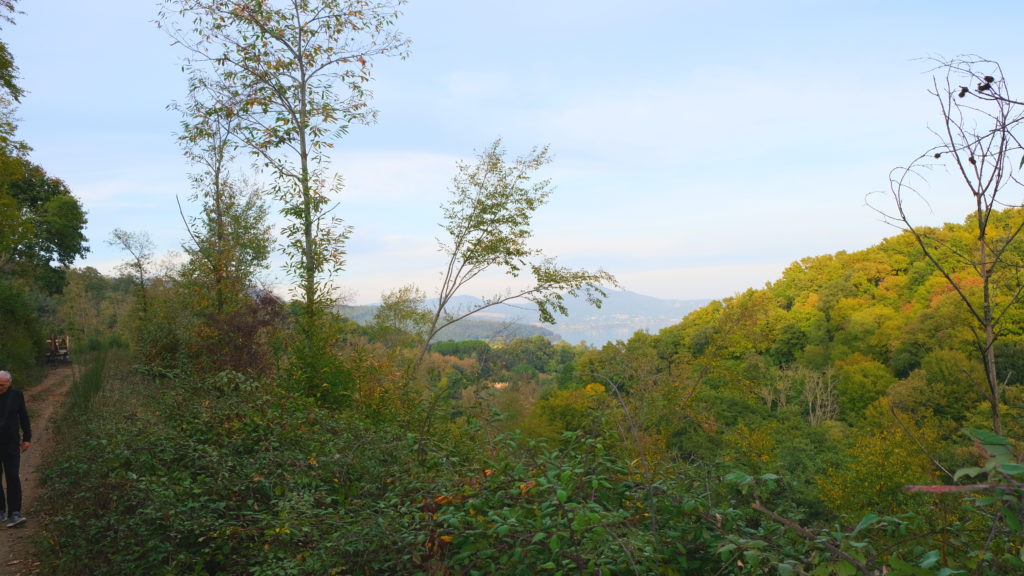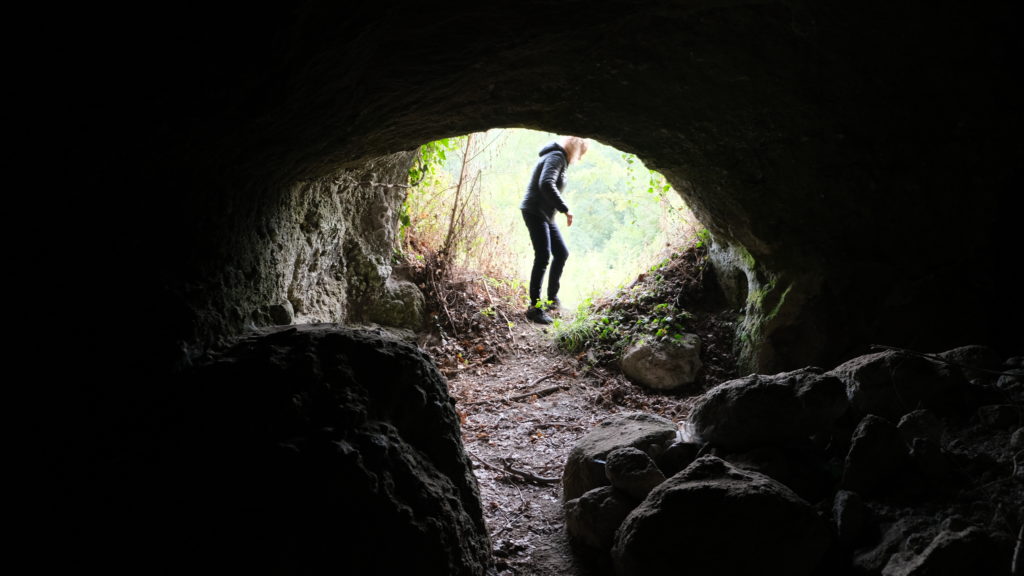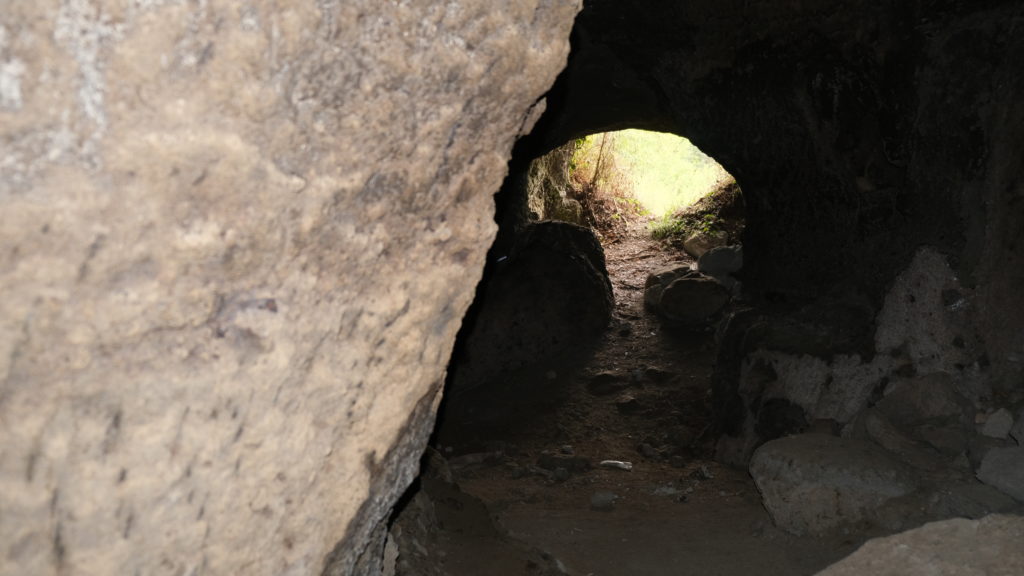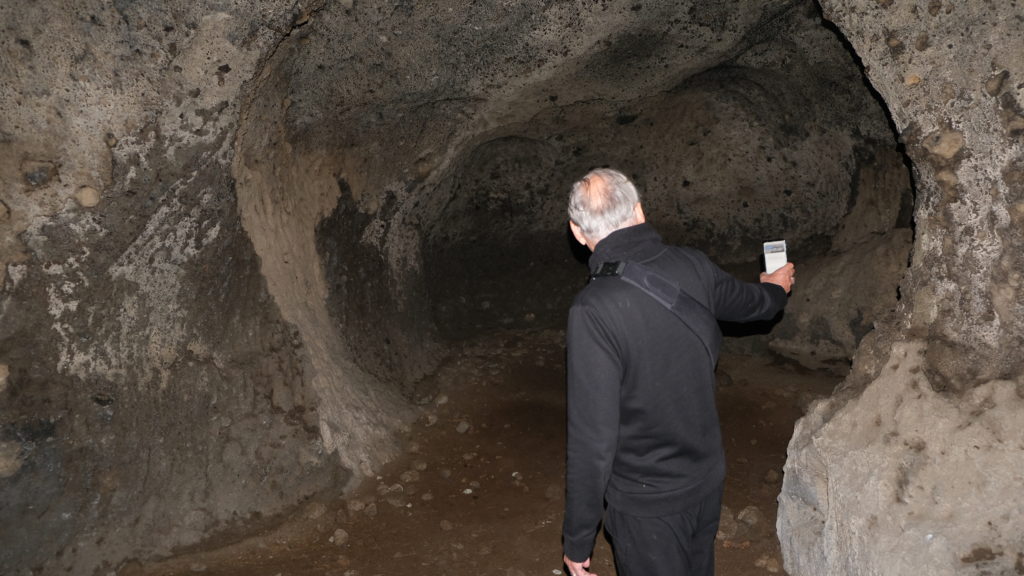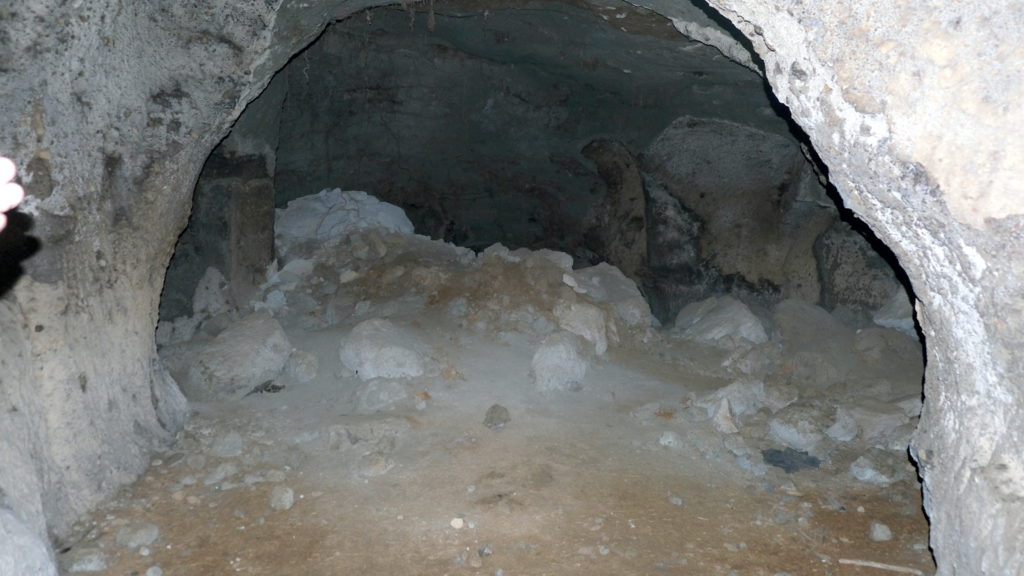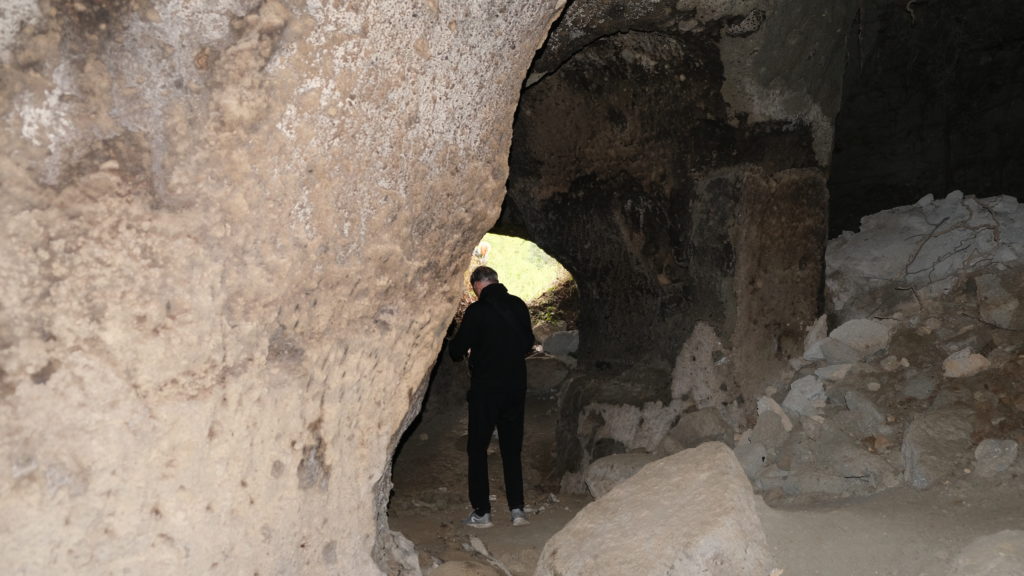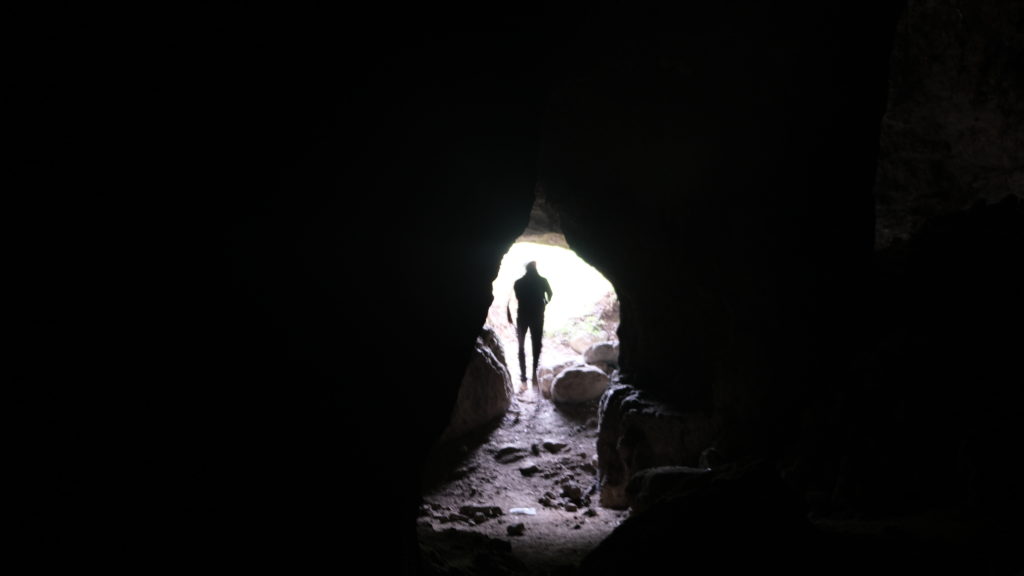 mmmmmmmmmmmmmmmmùùùùùbbbbbbbbbbbbbbbbbb
nnnnnnnnm
                                                     Restaurant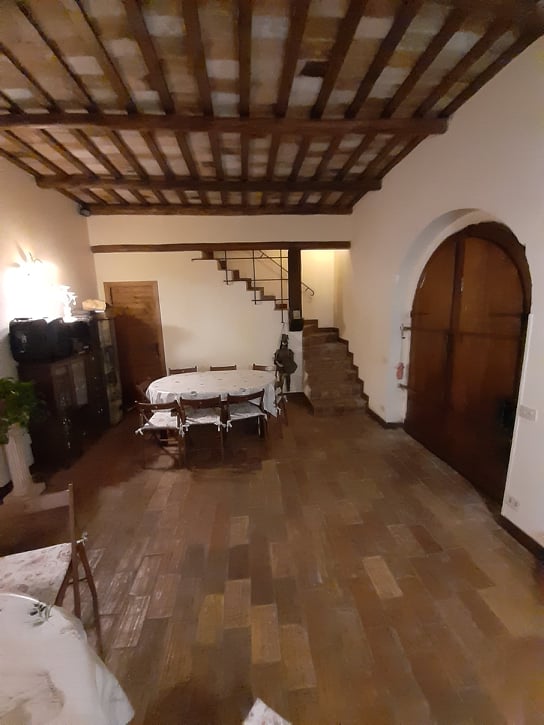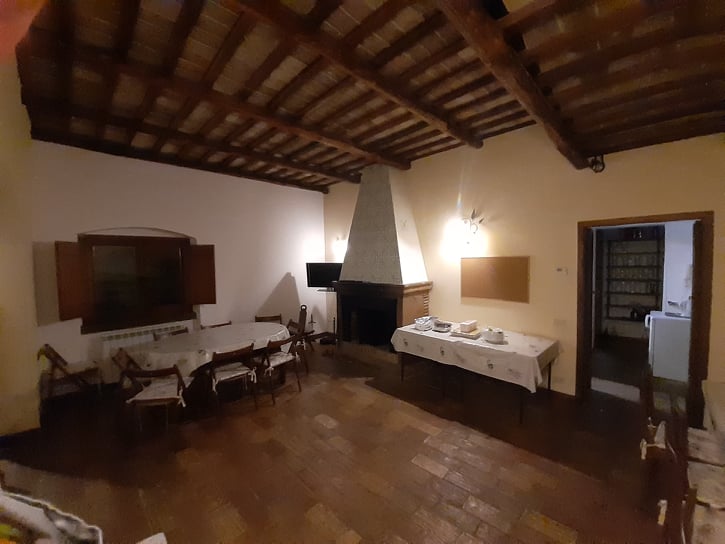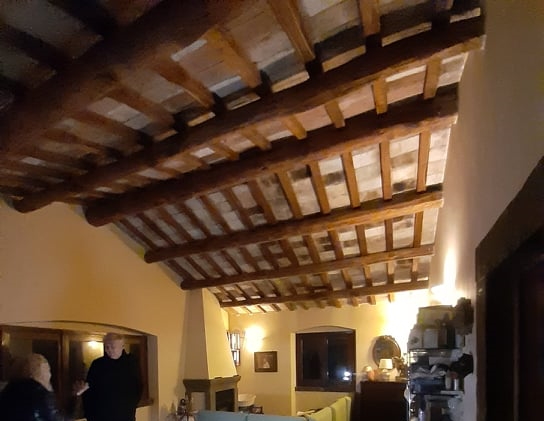 …………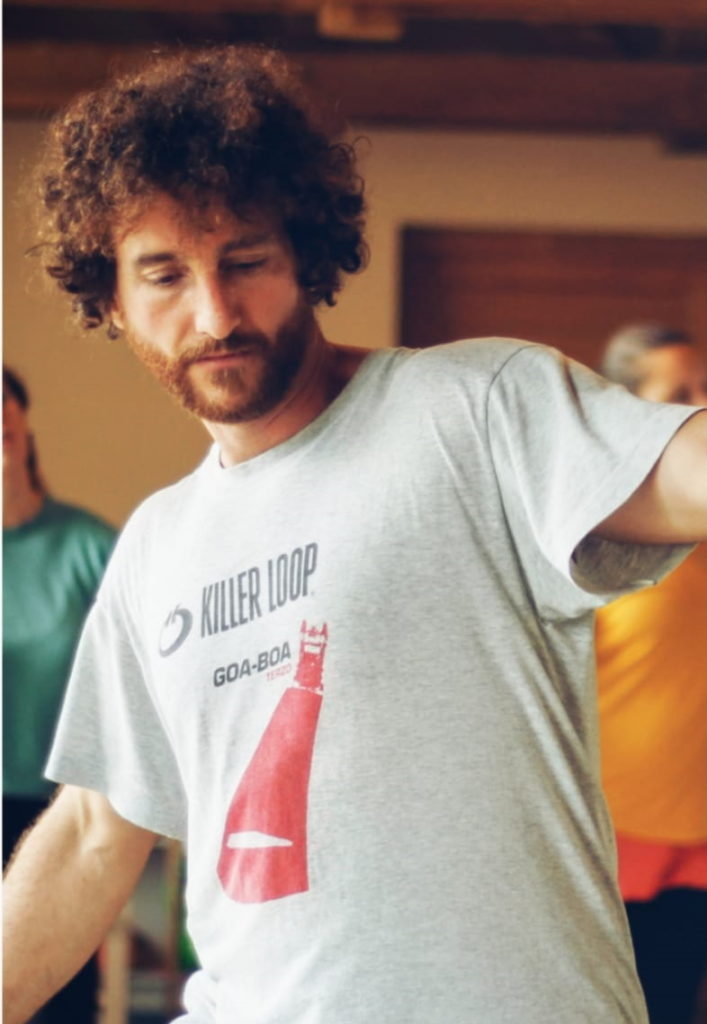 Filippo Serra,  an Italian who moved to Berlin, defines himself as a "curious researcher of movement".
He has worked in the most important opera houses in Italy (La Scala, Regio di Torino, Carlo Felice) and Germany (Staatoper Berlin, Deutsche Oper Berlin) both as a dancer and mime and as an assistant to the choreography.
Some contemporary dance works:
– Milano, Italy (2019): Once Dance company, directed by Sara Due Torri
– Berlin (2017): "Detached" (Physical Theater/Dance), Anderplatz Company, directed by Valentina Bordenave
– Berlin: Performer (video/live) in "Der blosse Korpen", by Lydia Sonderegger. Universitat der Kunste Berlin
– Hannover: Dancer for "Think Big" project. Choreographers: Yaron Shamir, Chikako Kaido, Philipp van der Heijden
– Berlin: Performer in "Food Creation" by Ayako Suwa, Taste Festival
– Genoa: Dancer-Actor in "Enz" company. Director and Choreographer: Piera Pavanello. Show: "Alleate Distanze.
– Prato: Performer for Kinkaleri company for the new production, ("Some days are better than others, ghosts from Romeo and Juliet".
He has been studying martial arts from the age of 17.
This was the spark that triggered his interest in the body, so he traveled to the Far East  to explore this fascinating world.
This research led him to start an academic path, at the end of which he graduated with full marks in Sciences of Movement (Physical Education).
During his university studies, he got deeper into theatre performance, contemporary dance and Contact Improvisation.
He is a certified Axis Syllabus teacher, which he has been teaching globally for several years. Today he alternates a professional career on stage with that of teaching various body and movement disciplines.
He also works as a personal trainer with special focus on the athletic preparation of dancers and of all those who wish to learn a balanced and healthy body practice.
What is Axis Syllabus?
The Axis Syllabus is a constantly evolving reference system or lexicon, for the organization and cross-correlation of empirical (experiential practice) and scientific results deriving from the study of human movement (Biomechanics).
This includes anatomical details, physics, practical applications, research, analysis and transmission of movement.
Our aspiration is to provide relevant and up-to-date information in a neutral format, hoping that the individual can apply this information to their cultural or aesthetic context.
In an AS lecture or seminar, information becomes meaningful through countless approaches to research and physical integration.
The intention is to understand and collaborate with the human structure inherited through thousands of years of evolution.
By understanding and respecting the properties of the body structure we can evaluate our choices in terms of efficiency and functionality.

Title of the workshop of Filippo Serra:  STRUCTURE, FUNCTION AND CONTACT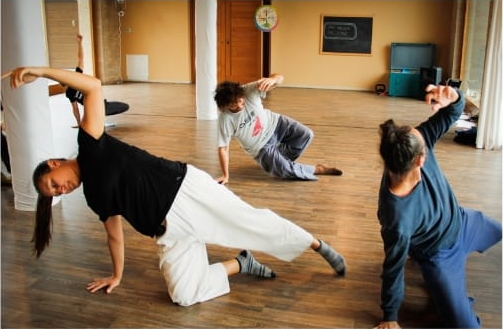 Knowing the design (Anatomy) of our body, contextualizing it in the environment in which we move, being aware of the physical forces to which we are subjected is a fundamental prerequisite for moving safely and efficiently.
In this workshop, I would like to provide a general view of the conception of the body and movement through the lens of the Axis Syllabus.Starting from a solo work, individual movement, I would like to translate the learned mechanics of the body to apply them to a work of interaction, between partnering and contact improvisation.
The main theme of the first part of each lesson will be locomotion, that is, the translation of the body in space.
Understanding the most effective strategies for moving efficiently and safely, from my point of view, must be a priority before physically interacting with other bodies.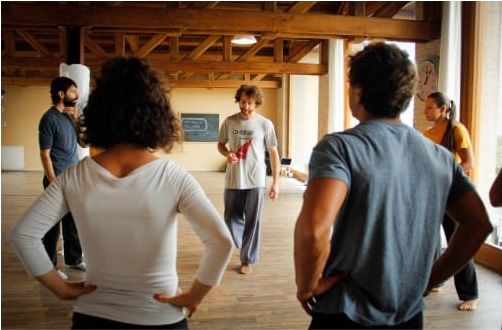 We will pay particular attention to what is commonly called "transition".
What happens from point A to point B?
How much can we zoom in, understand and refine this process to move in the most functional way possible?
How can we recycle the energy created by previous movements to power subsequent ones?
Can knowing the physioanatomical limitations of our body be a key to greater freedom of movement and consequently of interaction?
In each lesson, I would also like to add pills from my experience in the field of martial arts, of their state of alert presence that fits perfectly with the states of attention/perception that are elements of contact improvisation.
Know yourself…someone said…
Explore yourself, I suggest, for a greater understanding of who you are and where you are.
For whom is this workshop?
The most obvious answer to this question is…everyone!
Specifically, this information could be of great interest to those who, passionate about movement, want to obtain new analysis tools and immediate application. In particular, I appeal to those who dance Contact Improvisation and feel the need to structure their baggage of movement a little more.
uuuu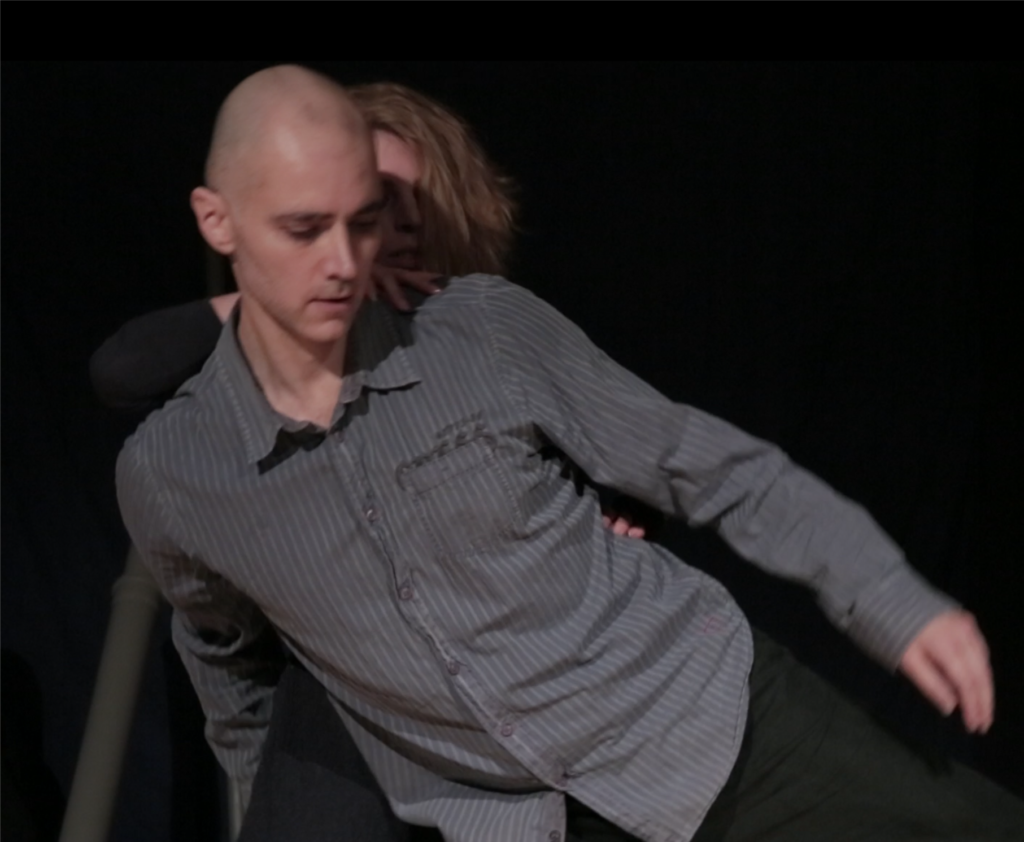 Ippokratis Veneris teacher, dancer, choreographer, has studied dance and other arts in depth for more than 20 years. In his lessons of Contact he inserts elements from the various disciplines that has studied extensively over the years, such as: floorwork, release technique, experiential anatomy, applied anatomy, Dupuy technique, acro-balance, martial arts, afro dance, ballet, Alexander technique, Chi Kung, dance theatre and much more.
– In the past he has collaborated with the UNIVERSITY OF ROME "Roma 3", department of "Philosophy of Education" giving lectures about "Pedagogy, Contact Improvisation and personal research on teaching".
– he received a 2-year open scholarship in Brussels (PARTS-ROSAS Dance Company) and in Rome by the Lazio region to continue his research on dance theater projects. His original works ("Buongiorno Amore", "Afroditi", presented at Olympic theatre and Theatre Greco) combine together elements of theatre and dance.
– Professor in the theatre school "il Cantiere Teatrale".
– 2018 award: His work as choreography director for the Pina Bausch "The Nelken line in Rome" (an international project of 25 dancers of 11 different countries) received the second award of Lazio Film Festival Commission.
– In March 2014 he was invited together with Giulio Tremonti (former Italian Minister of Economy), Romano Prodi (the former Italian Prime Minister and former President of the European Commission) and Ermanno Olmi (film director) in the TV show "the wind whistles" of Gad Lerner, for Repubblica television and for the art channel Effe tv.
– He has collaborated in teaching and improvisation- with the Italian National Organization of Theatre.
– He regularly teaches Contact Improvisation developing his own methodology.
– He teaches in different places around Europe.
– Has collaborated with Roberto Castello-Aldes for "Narrate" premium UBU as the best dance theatre production of the year in Italy and many others.
– In 2011 decided to stop performing in shows and concentrated his energies on the research of the human nature and the wisdom of our bodies.
– Co-founder of CORE, an association of choreographers of central Italy to promote the rights of the live performing arts
– Co-founder of RomaContact a collective of dancers who promote andperforms improvisation and Contact Improvisation.
– Organized over the last years many events of art and workshops, inviting teachers from all over Europe.
– Lives in Rome where graduated at school "l'Officina" where he studied release technique, Dupuy technique, Contact Improvisation, instant improvisation and composition.
– As a choreographer, dancer and improviser he has organized and participated in different events, in the last ten years.
– He has studied with many choreographers and participated in numerous workshops of physical-theatre, contemporary dance, choreographic composition and Contact Improvisation.

Title of the workshop of Ippokratis Veneris: "Where am I?"
In this workshop we will work on presence. Are we really in the present while we dance? Or are we in our minds? ..
Questions we will address: how can our body, our energy, our sensations be involved in the flow of dance and what connection do we create with ourselves and with others?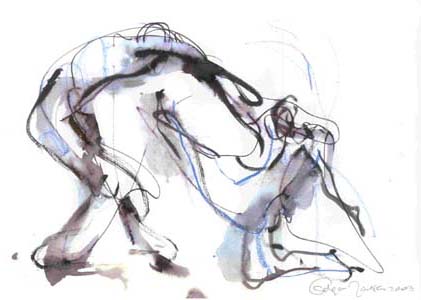 Through technical exercises and experiments we will learn how not be framed in repetitive mental patterns, not to "hide" behind standard forms of interactions but be able to surprise and rediscover ourselves every time. How each dance/encounter may become a way to both fully live our dance (with sensitivity, freedom, spontaneity, joy and genuinity) and come out of that dance feeling more fulfilled and more aware of the beauty of life, of the beauty of ourselves and of the enormous regenerative power deriving from interacting, from being next to / with another Being.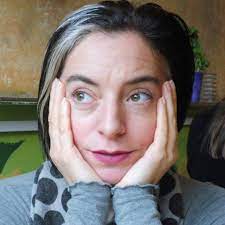 Elena La Puca: dancer, "tailoring" psychologist, art and Dance Movement Therapist.
For more than twenty years she has been involved in research around the expressive and therapeutic possibilities of movement, from the invisible one within the body, through small or large gestures, to dance as commonly defined.
She studied classical, modern, contemporary dance and Contact Improvisation.
For several years she went through the experience of research theater that brought her to meet the Buto dance of Tetsuro Fukuhara, Ko Murobushi and Masaki Iwana.
The curiosity for the poetics of this expressive modality led her to Japan, thanks to the winning of a post-graduate specialization scholarship, where she deepened the study of its aesthetic, performative and therapeutic aspects by studying with Natzu Nakajima, Yoshito Ohno, Min Tanaka, Itto Morita and Mika Tacheuchi.
The free research bridging art and therapy has acted as a compass pointing towards her increasing curiosity for the practice of improvisation, specifically in the interaction between dance, theater and live music, where she continues to focus on their development and potential.
She organizes didactic and experiential workshops focused on the relationship between internal and external space in movement and dance, as well as on the use of Art Therapy as a tool for psycho-physical well-being through the exploration of the deep breathing, the use of drawing, the vocal skills and the handling of clay.
Sheis a teacher of "Experiential Anatomy" in the 3-year Master in Art Therapy with Integrated Psycho-physiological orientation in Rome and "Dance Therapy" at "Imago" – School of Psychotherapy, Psychodrama and Arttherapy in Naples.
https://www.psicologiasartoriale.it/

Theme of Elena La Puca's workshop: The Skeletal System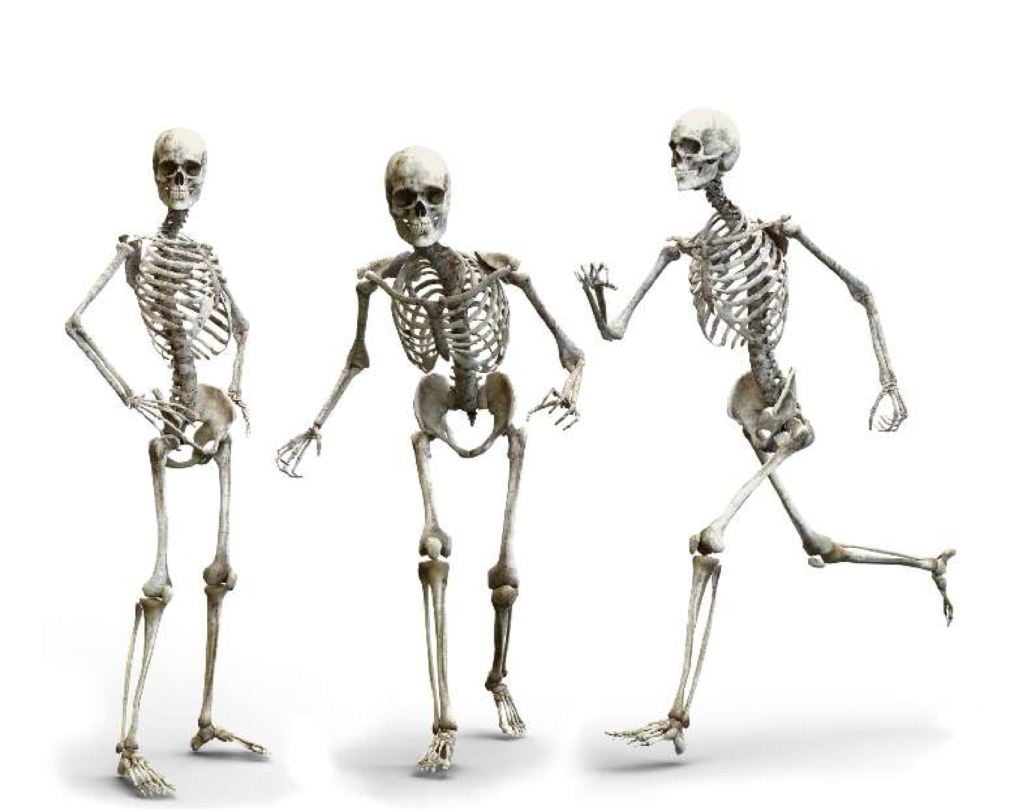 From the "macabre dances" of medieval Europe to Josè Guadalupe Posada's illustrations, we observe how the iconography of death is always associated with the presence of the skeleton … probably because it is what remains of us longer!
The workshop is dedicated to the exploration of one's skeletal system, to the characteristic quality of movement in space that is stimulated by the profound perception of its presence.
We will play with its Matters and dance with its Nature!
We will duelve into the Pleasure of Article-Action and rediscover how, despite the association with death, the skeleton represents a very vital dimension of ourselves, giving us support, protection, structure and extremely varied mobility …
I consider this work a "preliminary space" to any work on dance.
tttttttt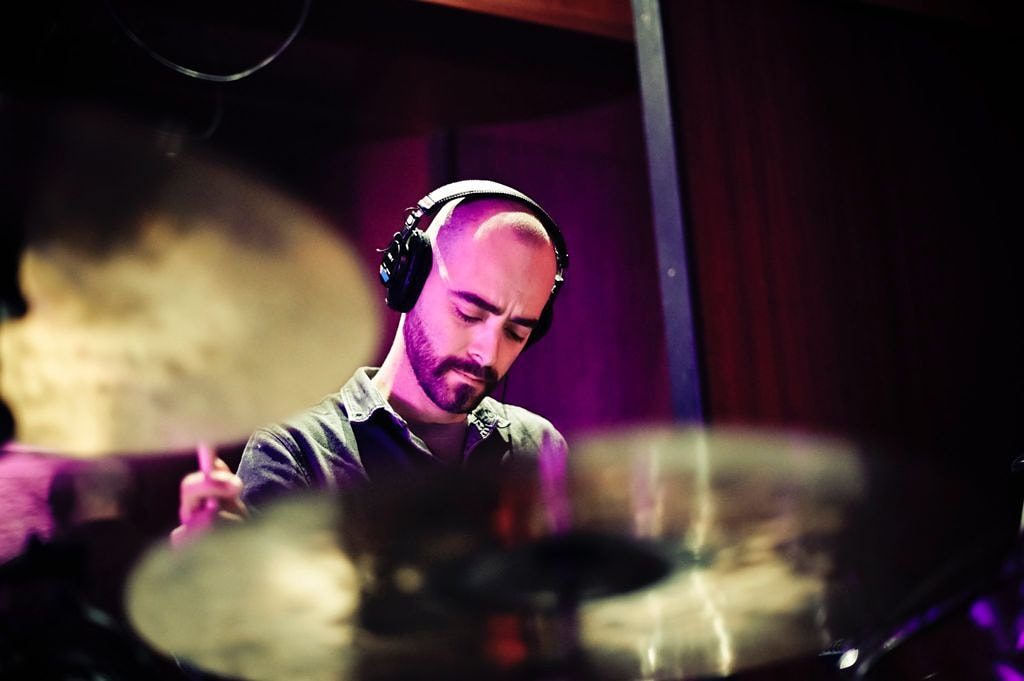 Alessio Brugiotti multi-instrumentalist, drummer, percussionist of long experience.
Attracted since his childhood by the sounds that make up the space in which we live, with particular attention to anthropological genres and musical styles.
He attended the Saint Louis College of Music in Rome for five years following a course of Pop/Rock Drumming with Daniele Pomo and the study of musical theory with Pierpaolo Principato, analysis of rhythm with Claudio Mastracci. Then he discovered and studied Sound Engineering, the recording techniques, physics, acoustics and sound synthesis with professors Fabio Recchia, Luca Proietti and Vincenzo Lombardozzi and eventually he had multiple workshop experiences and structured improvisation.
In 2009, together with the collective Undersea_Era he wrote the music for the short film " Act V " by Piero Messina , produced and supervised by Marco Bellocchio and presented at the Turin Film Festival.
He attended the Training Course Orff-Schulwerk "Education in elementary music and dance" created by the CDM Music Learning Center with professors Andrea Sangiorgio, Valentina and Marco Iadeluca, Georgio Adamo (Elements of Anthropology of Music), Ignazio Volpicelli (Elements of general Education), James Hennessy (Music Drama) in collaboration with the University of Rome Tor Vergata. After this experience, the laboratory of experimental music education "Playing the Body Electric" in co-production with Psy+ Onlus and Possbilmente was conceived. He is currently studying to become a Drum Circle facilitator.
Theme of the workshop of Alessio Brugiotti: SONIC GESTALT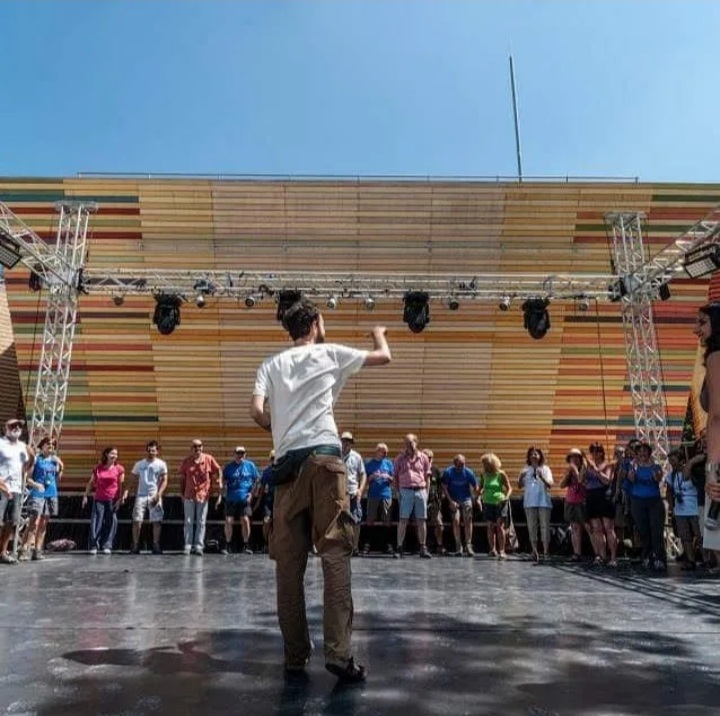 In this workshop, we will focus on presence and on listening to oneself and to the other, starting from silence.
We will focus on sound space intended as a sounding board for the action. Sound objects and percussions will be made available to use and to interact.
The individual is situated in the collectivity. The sense of sound is related to interiority and is therefore able toex evoke an instinctive and profound memory that we will explore.
The experimentation will be accompanied by simple exercises and practices of movement, spatial orientation, imitation and literacy of rhythm. We will discover how pulsation transforms into movement, how movement generates sound, and how this sound is  becoming harmony.
Cancellation policy: if for any reason a participant cancel his/her participation we hold 40%  of the participation fee