Next event in the same place: Jamuary 2015, for informations:   http://www.romacontact.com/eventi/winter-jam-of-arts-2015
Rome 3-4-5-6 January  2014
Hello everyone!

We are very happy to announce you an event in a beautiful farm in north Rome surrounded by a big park. Event that includes contact, workshops, many jams, use of hot thermal pool, sauna, turkish bath, live music and plenty of organic food! You are all invited to dance, swim and play (take a look at the workshops to see what we mean!).
Lets experiment the relation with the water, lets experiment everything.
thanks
Ippokratis Veneris – Francesco Schiano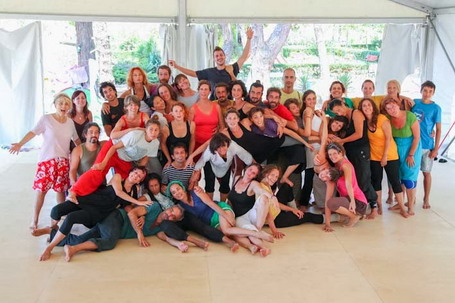 Clicking on the picture you will see a photo album (will follow another one!) of the summer Jam of Arts festival held in Greece which was a great experience! www.jamofarts.com 
Follows the schedule of the event that includes several surprises!
Note: For who arrives before the begin of the event in Rome,  we can find a free or cheap accomodation in houses of friends.
3-4-5-6 January
Friday 3
16:00 Arrival – accommodation
17:00 to 19:30 Opening Circle – jam
19:45 to 20:30 Dinner
21:00 to 21:30 warm up with Caroline Waters
21:30 – 23:00 jam with
electronic atmospheres and live music with Francesco Schiano
23:00 to 00:00 Pool*
Saturday 4
8:30 to 9:15 Breakfast
9:30 to 11:00 massage – water exploration
11:30 to 13:00 workshop of sound and music
created by everyday objects with Alessio Brugiotti
13:15 to 14:00 Lunch
14:00 to 16:00 break and/or walk in the park
16:00 to 17:30 lesson of contact improvisation
with Ippokratis Veneris
17:30 to 19:00 jam
19:30 to 20:30 Dinner
20:45 to 22:15 * pool and use of the spa with turkish bath,
emotional showers, sauna and relaxation room
22:30 to 23:00 warm up with Caroline Waters
23:00 to 00:30 jam with
electronic atmospheres and live music with Francesco Schiano
Sunday 5
8:30 to 9:15 Breakfast
9:30 to 10:45 Yoga with Fabrizio Pisasale
11:00 to 12:30 workshop of sound and music
created by everyday objects with Alessio Brugiotti
12:30  to 13:00 sound jam session
13:00  to 14:00  Lunch
14:00 to 16:00 break
16:30 to 18:00 lesson of contact improvisation
with Ippokratis Veneris
18:00 to 20:00 jam
20:00 to 20:45 Dinner
21:00 to 23:00 jam with
electronic atmospheres and live music with Francesco Schiano
23:00-00:00 pool *
Monday 6
8:30 to 9:15 Breakfast
9:30 to 10:45 Yoga with Fabrizio Pisasale
11:00 to 12:30 open space
12:30 to 13:30 water jam
13:45 to 14:30 Lunch
14:30 to 16:00 break
16:00 to 18:00 jam with
electronic atmospheres and live music with Francesco Schiano
18:00 closing circle
*Note 1: timetable of the pool and the dinner will be decide by all together or: if we want to switch the time of the dinner with this of the pool.  
Note 2: The thermal pool is next to the dance studio and is about 145 cm deep so is not important if somebody doesn't know how to swim and everyone is free to decide whether to participate or not to the events in the pool.
Food: we will have at our disposal a professional chef (traditional italian cuisine) and the ingredients used in the meals will be those produced from the farm that will host us (synergic and biodynamic cultivation) and at kilometre zero.                                                            
December 15th
info: For more information's and registration, you have to write an email to veneris.i@romacontact.com  tel: 0039 3287213546 Arrival: From Fiumicino Airport and from the center of Rome departs every 15 minutes a train and takes about 25 minutes to arrive to the farm where will be the event.
For info about the last summer Jam of Arts festival see at: www.jamofarts.com 

Part of the facilities at our disposal (72sqm heated swimming pool with thermal water)
 part of the dance room
Part of the structure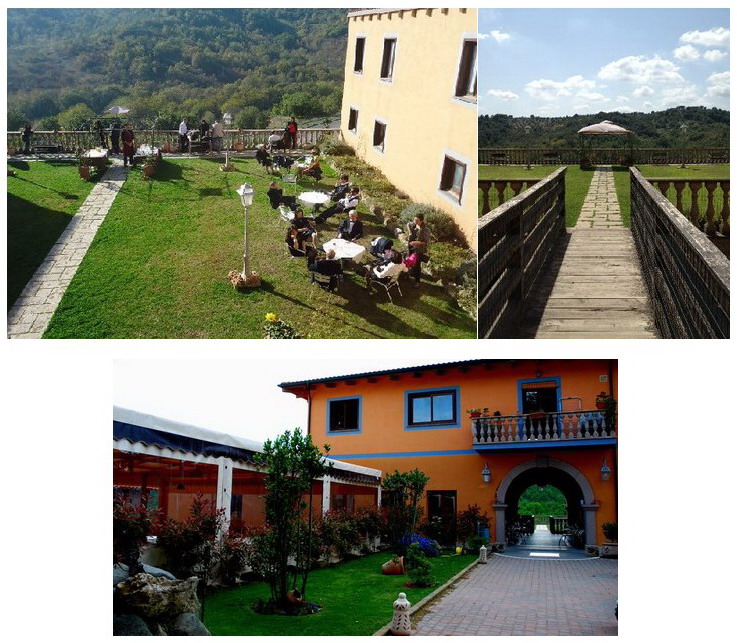 apartments
apartments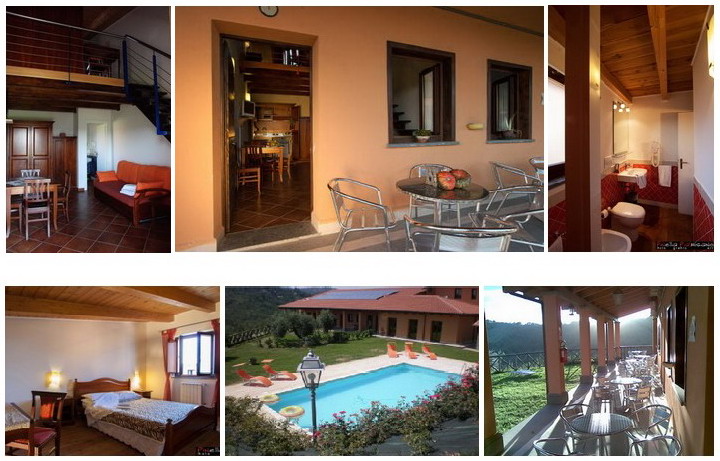 part of the dance room
part of the dance room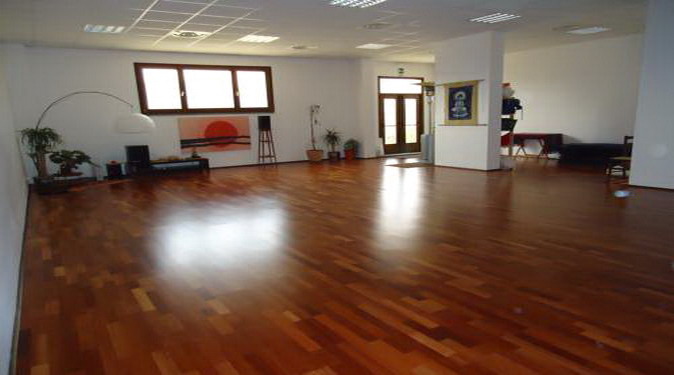 f the inhabitants of the farm
Some of the inhabitants of the farm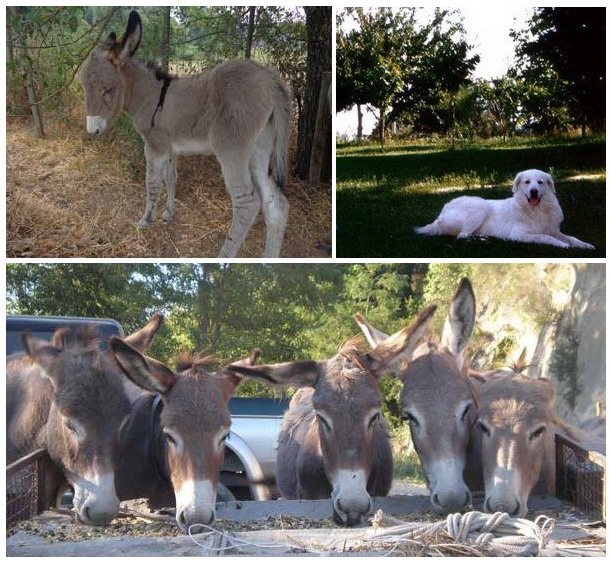 Descriptions of the workshops
Descriptions of the workshops (follows at the end the curriculum's of the artists participating in the event)
Found Objects: Workshop of sonic reinterpretation
with Alessio Brugiotti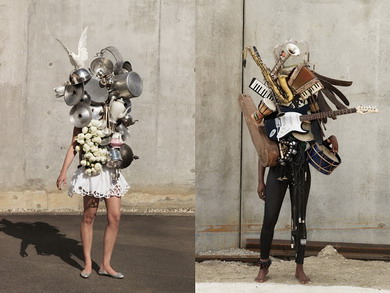 Bring an object from your house that produces a sound (a bunch of keys, a book, a plastic bag, a jar) or we will find it on the spot.
In the workshop we will be encouraged to listen with attention objects chosen randomly creating ways to play based on ergonomics, gestures and structured experimentation.
Everyday objects transformed into sound objects.
The sense of sound is related to interiority and is therefore able to evoke an instinctive and profound memory. If you do not want to bring an object then you'll be the object item-body. The trial will be accompanied by simple exercises and practices of movement, voice, spatial orientation, imitation and literacy.
Lessons with Ippokratis Veneris: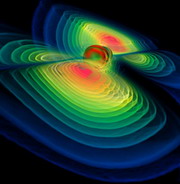 Lesson 1: The waves
At this meeting we will explore the matter or better, how every being and every object is made up of waves. We will explore our vibrational body and its relationship, coexistence and exchange-connection and communication with other vibrational bodies.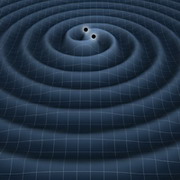 Lesson 2: The point
We will work on the various possibilities that offer us a point of contact for dancing through it, explore, communicate, challenge us, play and surprise us.
 Teachers – Artists involved: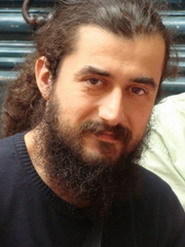 Fabrizio Pisasale takes the spiritual name of Siri Narayan Singh in 1999, when he began his training as a trainee and later taught Kundalini Yoga at the Kundalini Research Institute, inspired by the teachings of Yoga Bhajan. Yoga enthusiast since childhood has been practicing Hatha Yoga, Raja Yoga. He graduated in Thailand as a teacher of Tao yoga following the path of internal alchemy of master Mantak Chia. Martial arts teacher participated in theatre and as a street artist with physical performances for 5 years. He is currently a teacher trainer of Kundalini Yoga, webmaster of the blog of the company's information and yoga therapist through the web site:www.taoyogaterapia.com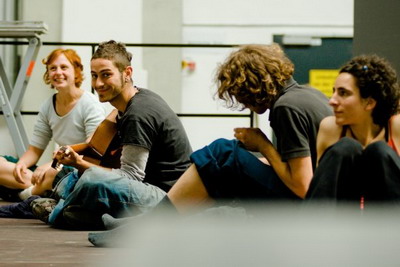 Francesco Schiano multi-discipline artist and performer.
Formed in Circus arts , theatre, dance , BMC in Italy, Spain , Holland and Germany.
He has taught Contact Improvisation and worked as a dancer and actor for various groups, artists and companies in Italy and in Europe (ARS Ludi, 99 Posse, Raiz, Meg) participating in various festivals such as the Roma Europa Festival, Half Machine (Copenhagen) .
Develops performance and projects on new technologies, creating Happenings, events and performances. In recent years turn his attention to music performance.
Guitarist with Brigade Sound (playing original pieces of dub, Reggae, afro-jazz).
Produces own or in collaboration with other artists, compositions for electronic music under the pseudonym of EKI.
Always been active in Multimedia projects, currently develops research in the new dance and the new electronic music. Is interested in the relationship between sound and movement through the use of musical instruments, synthesizers, samplers, sequencers, digital audio, space and body. Member of RomaContact.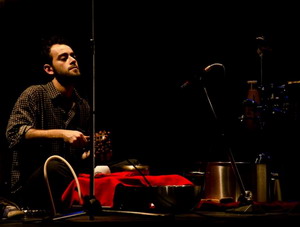 Alessio Brugiotti multi-instrumentalist, drummer, percussionist of long experience.
Attracted since his childhood by the sounds that make up the space in which we live and with particular attention to anthropological genres and musical styles.
He attended the Saint Louis College of Music in Rome for five years followung a course in the fields Pop/Rock Drumming with Daniele Pomo and the study of musical theory with Pierpaolo Principato, analysis of rhythm with Claudio Mastracci. Then he'll discover and study Sound Engineering, the recording techniques, physics, acoustics and sound synthesis with professors Fabio Recchia, Luca Proietti and Vincenzo Lombardozzi and finally multiple workshop experiences and structured improvisation.
In 2009, together with the collective Undersea_Era writes the music for the short film " Act V " by Piero Messina , produced and supervised by Marco Bellocchio and presented at the Turin Film Festival.
He attended the Training Course Orff-Schulwerk "Education in elementary music and dance" non-profit organization created by the CDM Music Learning Center with professors Andrea Sangiorgio, Valentina and Marco Iadeluca, Georgio Adamo (Elements of Anthropology of Music), Ignazio Volpicelli (Elements of general Education), James Hennessy (Music Drama) in colaboration with the University of Rome Tor Vergata. After this experience come to life the laboratory of experimental music education "Playing the Body Electric" in co-production with Psy+ Onlus and Possbilmente. analoguelemont.wix.com/lemontanalogue    soundcloud.com/analoguelemont/  soundcloud.com/dunia_lab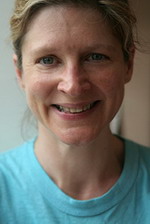 Caroline Waters originally trained in Mime and Physical Theatre; she has constructed a body of work located in the use of improvisation in performance as a context for physical research. She trained with the likes of Steve Paxton, with whom she co founded Touchdown Dance, a company that works with sighted and non-sighted dancers. 
Caroline is an International Dance/Theatre Practitioner dedicated to the craft of Improvisation in Performance and the study of Contact Improvisation. Mainly drawing from Contact Improvisation and New Dance practices, Caroline teaches, performs and directs in various situations ranging from the performing to the therapeutic. The work often focuses on collaboration and working with other Art forms. She is especially interested in working with musicians, video makers and writers, and she has experience with a range of non-theatre spaces as a locus for performance. 
Was an Associate Lecturer at DarlingtonCollege of Arts UK for 11 years. Most recently has been an intensive teacher at the Israeli Contact Festival and is currently teaching at ChichesterUniversity in the UK.
Caroline continues to develop her own body of work internationally as a freelance improviser in performance, both as a dancer, teacher and musician.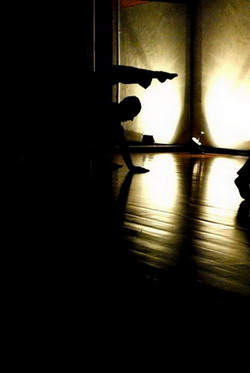 Ippokratis Veneris (Born in Greece lives in Rome)
– In 2011 he collaborated with the UNIVERSITY OF ROME "Roma 3", department of "Philosophy of Education" giving lectures about "Pedagogy, C.I. and personal researches on teaching".
– In 2009 and 2010 he received an open scholarship in Brussels (PARTS-ROSAS Dance Company) and in Rome by the region of Lazio to proceed with his research. His original works ("Buongiorno Amore", "Afroditi", presented at Olympic theatre and Theatre Greco) combine together elements of theatre and dance.
– Has collaborated -teaching and making shows of improvisation- with the Italian National Organization of Theatre.
– Teaches regularly twice a week Contact Improvisation developing his own method.
– Teaches in different places around Europe.
– Has collaborated with Robesto Castello-Aldes for "Narrate" premium UBU as the best dance theatre production of the year in Italy and many others.
– In 2011 decided to stop making shows and concentrate his energies on the research about the human nature and the wisdom of our bodies.
– Co-founder of CORE an association of choreographers of central Italy to promote the rights of the live performing arts
– Co-founder of RomaContact a collective of dancers who promote and give shows of improvisation and Contact Improvisation.
– Organized the last 8 years many events of art and workshops inviting teachers from all Europe.
– Lives in Rome where graduate at school "l'officina" where study release technique, Dupuy technique, contact improvisation, instant improvisation and composition.
– As a choreographer, dancer and improviser has organized and participated at different events, in the last ten years.
– Has study with many choreographers and participating at numerous workshops of physical-theatre, contemporary dance, choreographic composition and contact improvisation.