COSTO : tutto incluso* / PRICE : all included°
125  euro
:: iscrivendosi entro il 20 aprile :: subscribing before 20th April

150 euro
:: iscrivendosi dopo il 20 aprile :: subscribing after 20th April
*colazione (sab e dom), pranzo (sab e dom)  e cena ( ven e sab) – per l'alloggio ci  sono a disposizione stanze da 6 posti, è necessario portarsi l'asciugamano.
° breakfast (Sat&Sun), lunch (Sat&Sun), dinner (Fri & Sat) – sleeping will be in 6 bed's rooms, it is necessary to bring your own towel.
Per iscriversi è necessario scrivere a info@romacontact.com con i tuoi dati e riceverai le informazioni necessarie
per il versamento dell' acconto di 60 euro.
If you want to subscribe send a mail to info@romacontact.com with your personal data.
You will receive a confirmation mail with the payment details. The deposit is 60 euro.
Panta Rei
centro di esperienze per la formazione e l'educazione allo sviluppo sostenibile
Località Le Pierle, cap 06065
Passignano sul Trasimeno (PG)
come arrivare in macchina | how to get here by car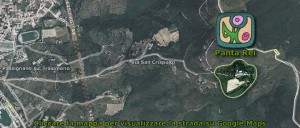 con il treno | by train
stazione di Passignano o Terontola – Cortona