LEZIONE  CON  BARBARA  LUCARINI  :::::  MASTERCLASS  WITH  BARBARA  LUCARINI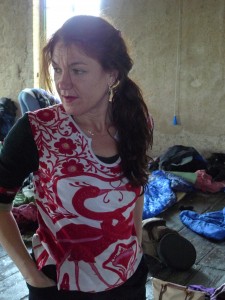 La lezione che intendo proporre è rivolta a tutti coloro sono interessati  a sviluppare un ascolto costante e sensibile al divenire della danza, alle trasformazioni della composizione, al ritmo della creazione, al contatto con il proprio stato interiore e i propri strumenti espressivi. Lavoreremo ad occhi chiusi per dare valore a tutti gli altri organi di senso e per cercare una maggiore intimità con noi stessi e con l'altro.
The class I propose is interested in developing our sense of listening, an awareness specific for the development of the dance. We will work with our eyes closed and focus on our internal state to create more intimacy with ourselves and with the other.
BARBARA LUCARINI danzatrice, coreografa e danzaterapeuta, si è formata negli Stati Uniti dove ha conseguito una borsa di studio quadriennale presso il Dance Space Studio di New York. In seguito ha studiato con maestri quali Frey Faust, Susan Klein, Kirstie Simpson, Julyen Hamilton e Nancy Stark Smith.
Ha collaborato come danzatrice con diverse compagnie di danza contemporanea partecipando a molte rassegne sia in Italia che all'estero.. Nel 1995 fonda la compagnia Komic Co., con la quale ha partecipato a molti altri eventi e rassegne dando luce a nuove creazioni alcune delle quali sono state premiate dalla giuria e dalla critica.
Si diploma in danzaterapia presso Art Therapy Italiana e si laurea in psicologia. Da dieci anni svolge attività d'insegnante di danza contemporanea, composizione istantanea e contact improvisation, a Roma e su tutto il territorio nazionale.
Partecipa come insegnante a festival internazionali quali Zip festival, Orvieto e Friburg Festival, Gernania. Insegna periodicamente le lezioni per danzatori professionisti in attività presso lo IALS di Roma. Nel 2006 diviene co-fondatrice del gruppo RomaContact.
BARBARA LUCARINI started dancing 23 years ago in NYC, practicing release technique and Klein technique among others. She discovered CI with Andrew Hardwood and Randy Warshaw.

Since then she has been studying with many different teachers such as Kirstie Simson, Nancy Stark Smith, Julyen Hamilton. She is teaching CI for about 13 years through out Italy and was invited to festival such the Zipfestival in Orvieto and Friburg festival in Gernany.

She is member and co-founder of RomaContact  which is a collective of dancers whose aim is to promote the practice of CI through workshops, jams and performances.
Her use of contact improvisation is extended in her work as a psychologist and dance therapist.