PARTNER YOGA  CON/ WITH  ANTHONY TRAHAIR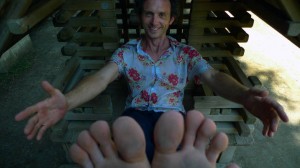 Partner Yoga crea un ponte perfetto tra lo Yoga è la Contact Improvisation. Lo Yoga in coppia permette di connettersi in maniera nuova e divertente, favorisce un allungamento più profondo grazie all'aiuto del partner, aiuta a e trovare posizioni in equilibrio che non sarebbero possibili da soli. Attraverso il respiro troviamo una piacevole senso di tranquillità ed armonia. Impariamo molto dal partner, troviamo modi di comunicare, positivi ed efficaci, verbali e non. Anthony ama il partner Yoga per le sue infinite possibilità di creazione ed applicazione per relazioni tra amici, sconosciuti e coppie.

Parnter Yoga creates a perfect bridge between Yoga and Contact Improvisation. Yoga in pairs allows us to connect in a new and fun way, we stretch deeper thanks to our partner and find balances that would be impossible on our own. We learn a lot from our partner and positive and efficient ways of communicating, spoken and not. Anthony loves Partner Yoga for its infinite creative possibilities and it's applications for relationships between friends, strangers and couples.
ANTHONY TRAHAIR porta lo yoga nella danza, la danza nel clown, il clown nello yoga.. insegna yoga ai bambini e non è sicuro chi impari di più tra lui e loro.. E' un praticante appassionato di Yoga e Taiji-Quan (dal 1997), ha due lauree una in chimica e una in teatro del movimento (Scuola Teatro Dimitri Svizzera 2006).
ANTHONY TRAHAIR juggles with Yoga, Yogas his dance and dances his clown.
He teaches courses for professionals, novices and children. He is a dedicated and passionate Yoga and Taiji-Quan practitioner and has two degrees, one in Chemistry and the other in Movement and Theater (Dimitri theatre school, Swizerland).