LEZIONE  CON KATRI LUUKKONEN :::::  LESSON  WITH KATRI LUUKKONEN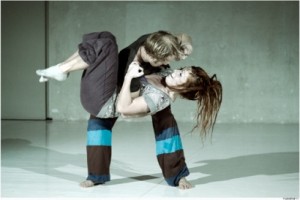 Seguire the honey-flow
il centro è la base della mia danza.è il punto da dove partono tutti i movimenti. quando siamo connessi con il nostro centro possiamo facilmente muoverci con dinamiche differenti, rotolare e scivolare sul pavimento in maniera organica. un centro mobile ci permette di cambiare livelli e viaggiare nello spazio senza sforzo.
la spina dorsal, morbida e viva, accompagnata dal respiro che ossigena il corp e dalle, articolazioni libere saranno il back ground del nostro lavoro.
il movimento libero e rilassato ci permette di attraversare velocemente cambi di stato e di assaporare tutti i dettagli del delicato scambio di peso e nella qualità del tocco.
Center – Following the Honey-flow
Center is the base of my dance. It is the strong point, where all the movements are related. When we are connected to our center, we can easily move with different dynamics, roll and slide on the floor organic way. Mobile center ables us to change levels and fly effortlessly. All this requires also the other parts and elements of the body to be organized as needed to support the economical movement. Soft alive spine, breathing open joints, released muscles… Relaxation in movement brings us the ability to react fast in the changing situations and use soft strenght. When we are relaxed, we are able to adapt the tone of our body in each moment – we are able to sense the small, delicate details in weightshift, bodytone and quality of the touch.
KATRI LUUKKONEN is a dancer and danceteacher from Helsinki, Finland. She graduated from Theatre Academy of Finland 2008 (MA). She has been teaching at various contact- and dancefestivals all over Europe, Russia, India and Finland. As well as "SkiingOnSkin" the finnish contactfestival, she is also one of the organizers of "GOA-ContactFestival" in India and "InTouch"-festival in Berlin. Besides contactimprovisation, contemporary dance and theatre, she has been practicing aikido and yoga, OSHO's active meditations and authentic movement.
KATRI LUUKKONEN, una danzatrice e insegnante di origine finlandese di è diplomata presso l'accademia teatrale finlandese nel 2008. ha preso parte come insegnante in molti festivall di C.I. in Europa quali: festivall di Mosca, Friburgo,Finlandia. Oltre ad essere una delle organizzatrici del festivall Skiing on Skin, Katri organizza anche il Goa-contact festivall a Goa e In-Tuch festival a Berlino. Katri si interessa anche di Aikido, Yoga,  meditazione attiva di Osho e di movimento autenti